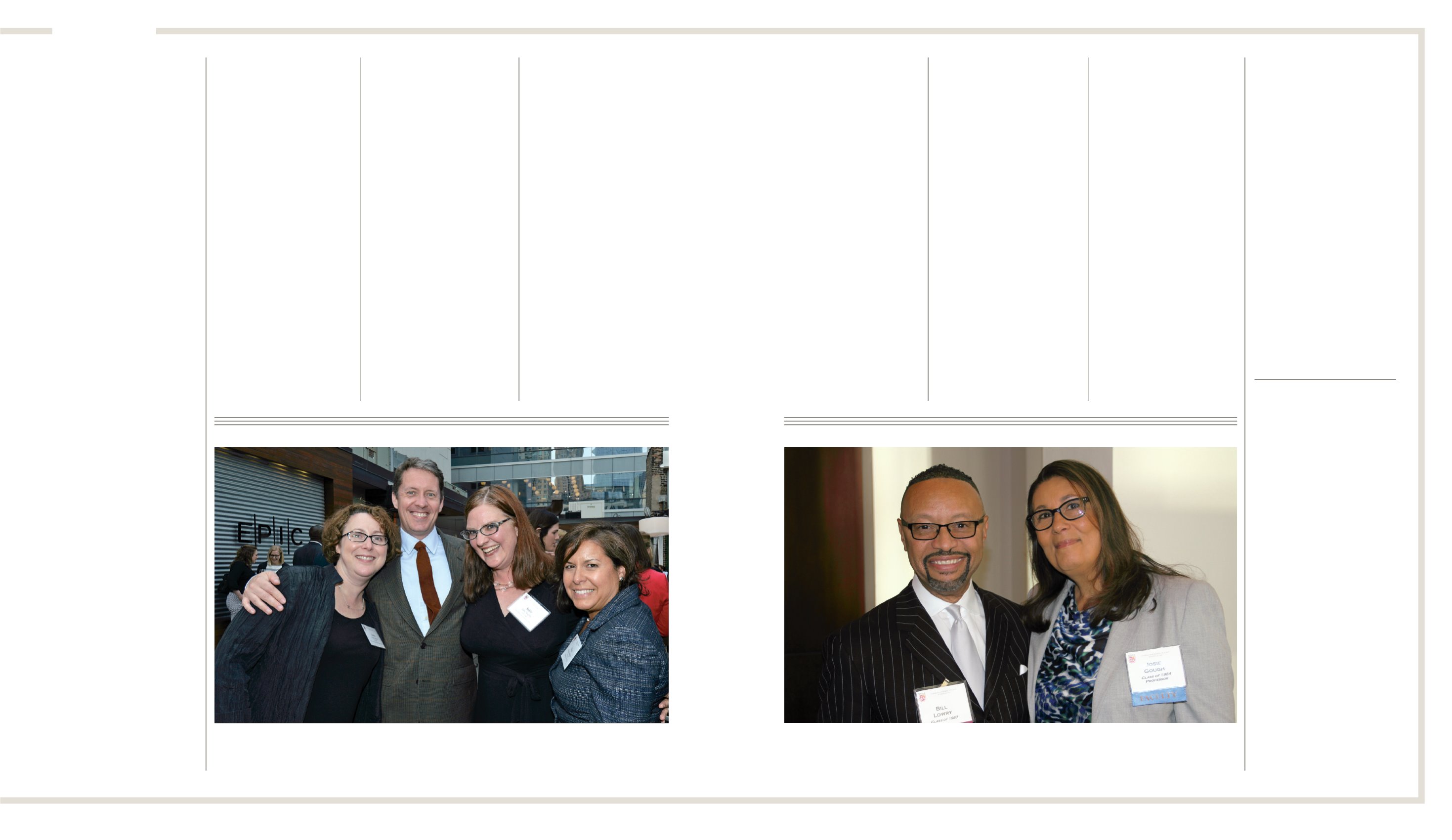 Maura D. White (JD '06)
the Civil Rights Division of the US
Department of Justice as a trial
Jose J. Alonso (JD '07)
presented with the Chicago Bar
Foundation's 2015 CBF Sun-Times
Public Interest Law Fellowship.
Conor J. Heaton (JD '07)
to the list of 40 Under 40 Illinois
Attorneys to Watch by Law Bulletin
Publishing Company. He is
an attorney at Dudley & Lake.
Robert W. Hernquist (JD '07)
named to the Mountain States Super
Dennis M. Lynch (JD '07)
to the Illinois State Bar Association
Assembly from Cook County.
Malini Rao (JD '07)
Paxson LLP as an associate in the
firm's litigation department.
Jordan Shea (JD '07)
to partner at Williams Montgomery &
John Ltd. He is a member of the firm's
commercial litigation, toxic tort, class-
action, product liability, and labor and
employment practice groups.
Jennifer M. Ballard (JD '08)
elected as a partner at Hinshaw &
Culbertson LLP. She practices in labor
Patrick A. Brennan (JD '08)
joined the Chicago-based law firm
Much Shelist PC. He will help clients
accomplish their business objectives
while navigating the transactional
and legal issues associated with
commercial real estate acquisitions,
dispositions, leases, and financings.
Elizabeth J. Osborne (BBA '04,
JD '08)
has joined Chuhak & Tecson
PC as an associate. She will focus her
practice on estate planning and asset
Tamara A. Brey (JD '12)
joined CareFusion, a subsidiary
Company, in December 2014
as an advisor to regulatory
management in the Interventional
Specialties Business Unit.
Cynthia Cornelius (JD '12)
presented with the Chicago Bar
Foundation's 2015 CBF Sun-Times
Public Interest Law Fellowship.
Angela C. Inzano (BA '09, JD '12)
started a new position as program
manager at the Chicago Bar
Foundation in August 2015.
Marina Karp (MJ '12)
Navigant's Center for Healthcare
Research & Policy Analysis as an
associate director, leading the
center's primary research and trend
Matthew G. Jones (JD '13)
joined Brinks Gilson & Lione. He
Colin P. Gainer (JD '09)
was promoted to partner at
SmithAmundsen LLC. He practices
in health privacy law compliance,
patient privacy concerns, and
electronic medical records.
MatthewT. Glavin (JD '09)
named director of government
affairs for Illinois American Water.
John E. Maki (JD '09)
by Governor Bruce Rauner to
head the Illinois Criminal Justice
Information Authority. He was
the recipient of Loyola University
Chicago School of Law's 2015
St. Robert Bellarmine Award for
his distinguished service to the
community and the legal profession.
Lisa I. McLeod (JD '09)
selected for the National Black
Lawyers Top 100, joining the ranks of
exceptional black lawyers across the
country who epitomize exceptional
skill and outstanding achievements
focuses on labor and employment
law, defending claims of employment
discrimination, retaliation, and
sexual harassment in state and
federal courts and before
Candace C. Moore (BA '09,
BS '09, JD '13)
Anderson and Karen Gatsis Anderson
Public Interest Law Fellowship
from the Chicago Bar Association.
Peter C. Nozicka (JD '13)
recipient of the William J. Harte
Amicus Volunteer Award. This
award is presented by the Illinois
Trial Lawyers Association and
recognizes individuals for their
dedicated volunteer service and
Gabriela M. Schultz (JD '13,
MBA '14)
Mayor Rahm Emanuel for her work
on a case in which she represented
Hillary D. Phelps (JD '09)
joined the US Securities and Exchange
Commission in Washington, DC, as an
attorney-adviser fellow in the Office
Anna B. Sutti (JD '09)
the board of directors for the Filipino
American Lawyers Association.
Jennifer L. Bekkerman (JD '10)
added as a partner at Bekkerman Law
Offices LLC. She focuses on complex
plaintiff personal injury matters.
Susan E. Bowman (MJ '11)
the great honor and privilege of
being invited to testify before
the US House of Representatives
Energy and Commerce Committee's
Kristin A. Finn (JD '11),
her Loyola colleagues Larry Singer
and Megan Bess, has written a new
Samantha L. Thoma (JD '13)
Nisen & Elliott LLC as an associate.
Caitlin E. Cipri (JD '14)
Protestivo & Associates PC as
an associate in the firm's
Marcus R. Morrow (JD '14)
Segal McCambridge Singer &
Mahoney as an associate. He focuses
his practice on the defense of civil
litigation and toxic tort claims.
Calli Burnett (JD '15)
a 2015 Post-Graduate Legal
Fellowship Program grant by the
Illinois Bar Foundation. She will
support the Community Law Center
Clinic at Loyola University Chicago
Justin D. Gingerich (JD '15)
joined Howard & Howard Attorneys
PLLC in the firm's Chicago office.
He will concentrate his practice in
business and corporate law.
book published by the American Bar
for students and practitioners
interested in the expansive field
of health law. Finn is the assistant
director of the Beazley Institute for
Leslie A. Gutierrez (JD '11)
the litigation practice group of Whyte
Hirschboeck Dudek SC. She helps
individuals, families, and owners
of closely held businesses prevent,
manage, and resolve disputes.
David P. McKinney (JD '11)
moved his practice to the Minneapolis
office of Ogletree Deakins Nash
Smoak & Stewart PC, an international
labor and employment law firm
principally representing Fortune
Don V. Villar (JD '11)
named president of NABET-CWA Local
41, Chicago's Broadcast Union.
Alexandra K. Hunstein (JD '15)
was awarded an Equal Justice Works
Fellowship. She will work with teen
moms through Cabrini Green Legal
Erin G. Sutton (JD '15)
an Equal Justice Works Fellowship.
She will establish a medical-
legal partnership between Rush
University's Road Home Program
and the Legal Assistance Foundation
of Chicago to improve mental
health outcomes for veterans and
Amanda M. Walsh (MSW '14, JD '15)
has been awarded an Equal Justice
Works Fellowship. She will expand
the Family Preservation Project to the
reach of the Chicago Medical-Legal
Partnership for Children with a goal of
improving the overall outcomes and
family stability of children living with
INMEMORIAM
Lewis W. Terlizzi (JD '50)
F. Vern Lahart (BA '50, JD '51)
James D. Hodapp (BSC '55, JD '56)
John M. Hastings (JD '59)
Frank J. McNamara (JD '61)
John L. Dentzer (BA '59, JD '62)
Kathleen A. Johnston (JD '69)
Lawrence T. O'Brien (JD '70)
Douglas E. Anderson (JD '73)
Jeffrey B. Levens (JD '75)
Richard A. Kimnach (JD '80)
Kenneth A. Latronico (BA '70, JD '81)
Ronald J. McDermott (JD '91)
Jean Prendergast Rooney (BA '93, JD '94)
Bradley A. Richards (JD '07)
HEARSAY
FIRST-YEARDINNER
William Lowry (JD '87), pictured with Josie Gough (BA '74, MEd '78, JD '84), spoke
about his legal education at Loyola at a dinner this fall for new students.
ALL-ALUMNI SUMMERSOCIAL
Judith Dever (JD '94, left), James Doppke (JD '95), Julie Welsh (JD '95), and Rosa Tumialan
(JD '94) caught up this summer on the rooftop of EPIC in Chicago's River North neighborhood.
40
LOYOLA LAW
WINTER 2016
41