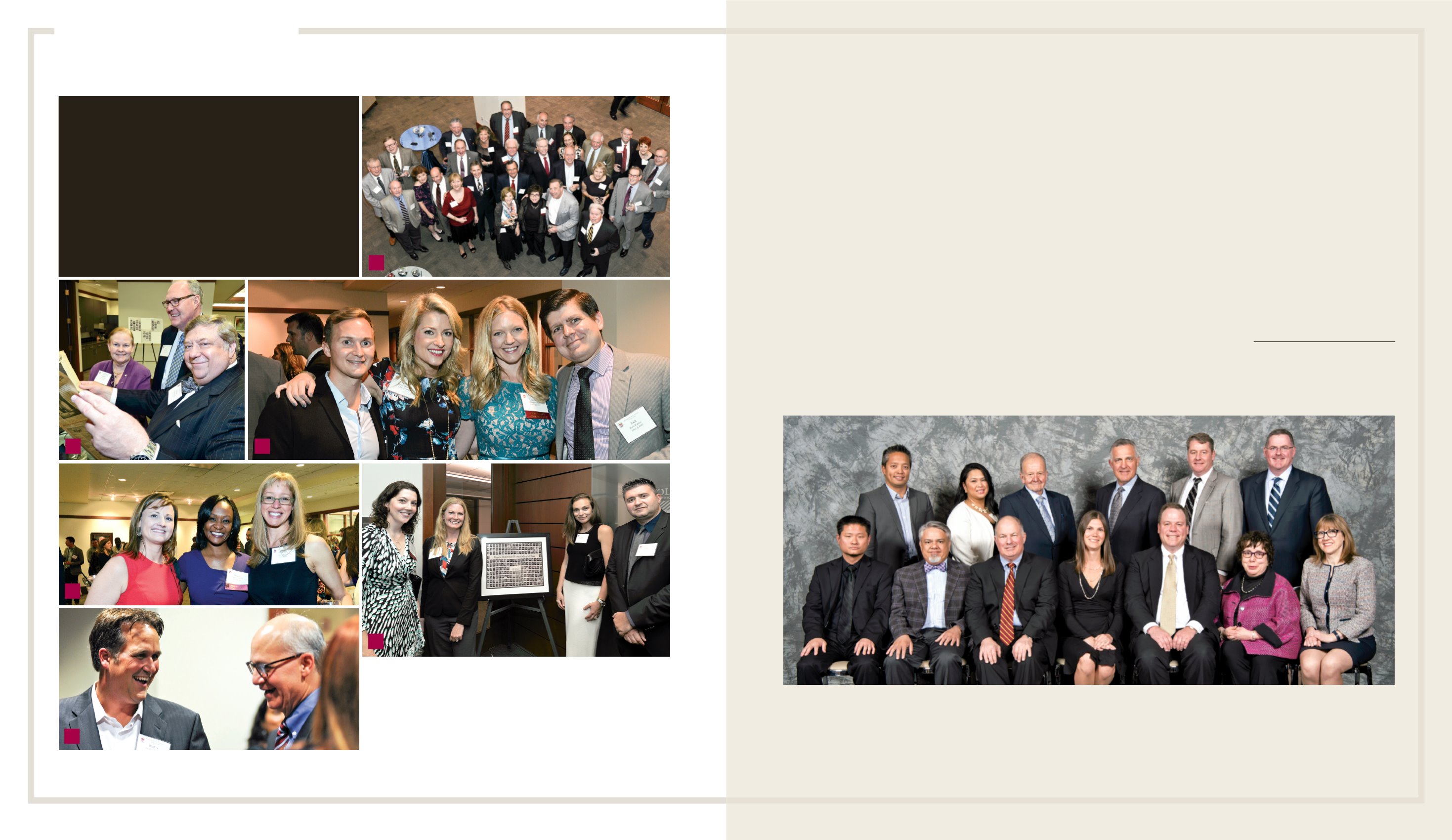 Law alumni gathered at the Philip H. Corboy Law Center
in September to celebrate the classes of 2010, 2005, 2000,
1995, 1990, 1985, 1980, 1975, 1970, 1965 and Emeritus
Classes. The evening included an optional Mass, class
cocktail receptions, and a reunion dinner. To view all
photos from the event, visit
LUC.edu/law/reunion.
Highlights from
LawReunion 2015
1
Members of the Class of 1975
2
Suzanne Poulos, Tom Brabec,
and Michael Poulos (all JD '80)
3
Clay Rehrig, Kristine Reveille,
Elizabeth Nelson, and Zach Watters (all JD '10)
4
LaKeisha Marsh, and Anita Mauro (all JD '05)
5
Sarah Condon, Irena Berezin, and Alex Volkov (all JD '00)
6
Bradley Pollock (JD '95) with Associate Dean Michael Kaufman
T
he School of Law's Alumni
Board of Governors (BOG) is
organized to promote mutually
sustaining lifetime partnership
between law alumni and the law
school, and to foster and maintain
the honor, dignity, and integrity of
the profession of law. Board members
meet quarterly to discuss strategies
and initiatives of the School of Law in
partnership with Dean David Yellen
and members of the School of Law
administration. We are grateful for the
generous and enthusiastic support of
the alumni who serve on the BOG.
This fall, the board welcomed
newmembers Catherine Joyce
(JD '88), James Kopecky (JD '94), and
Ted McNabola (JD '92), and established
two young alumni positions held by
Caroline Kwak (JD '09) and Kathleen
In addition to the new members,
the board also acknowledges the
longstanding service and support
of those completing their terms on
the board at the end of the 2014-
15 academic year: Michael Cho
(JD '93), Annual Giving chair, and
Daniel Kotin (JD '91), immediate past
president. Through the support of
these dedicated alumni, the board
continues to uphold its mission and
expand its many initiatives.
The 24-member board recently
created two new committees,
Diversity Committee
Nominating Committee
continue to strengthen partnerships
with the School of Law and the
legal community. These new
committees join three others that
work alongside Dean Yellen and the
law advancement team to enrich the
School of Law for years to come:
»
Diversity Committee
with the Diversity Council to
develop and implement the
initiatives set forth by the council
»
Law Alumni Events
Committee
Alumni Awards Luncheon and
the Scholarship Dinner, and assists
in outreach and the organization
of young alumni events and the
annual Golf Outing and All Alumni
»
Nominating Committee
manages the ongoing election
process for candidates for the BOG
and nominates recipients for the
annual Medal of Excellence and
St. Robert Bellarmine Award. This
committee is also charged with
maintaining and updating the
»
The Professional Development
Committee
faculty, students, and Loyola's
Office of Career Services to host the
annual Meet the Alumni Networking
Reception for students, and
programming to promote placement
and employment in the field of law.
»
The Scholarships and Loans
Committee
and assistance to the law school's
scholarship program, and assists
Society (formerly Dean's Circle) to
acknowledge its continued support
Thanking our alumni partners
2014-15ALUMNI BOARDOFGOVERNORS
Front row, from left: James Chandler (JD '00); Jorge Montes (BA '85, JD '88); Dean David Yellen; Allison Fakhoury (JD '03), board president; Martin Snyder (JD '96); Freddi Greenberg
(JD '75); Julie Lepri (BA '78, JD '81). Back row, from left: Romeo Quinto (JD '00); Winnalynn Kantaris (BS '97, JD '02, LLM '09); Terry Moritz (BS '66, JD '70); Donald Brown (JD '73);
William Luby (JD '94); John Rock (JD '96). Not pictured: Michael Cho (JD '93); Matthew Devine (JD '04); Mara Georges (JD '88); Daniel Kotin (JD '91); William Lowry (JD '87), board vice
president; Honorable Thomas Mulroy (JD '72), board secretary; Honorable Andrea Schleifer (JD '79); Brian Speers (JD '93); Greta Weathersby (BA '82, JD '87).
ALUMNI UPDATE
LUC.edu/law/alumni.
42
LOYOLA LAW
WINTER 2016
43