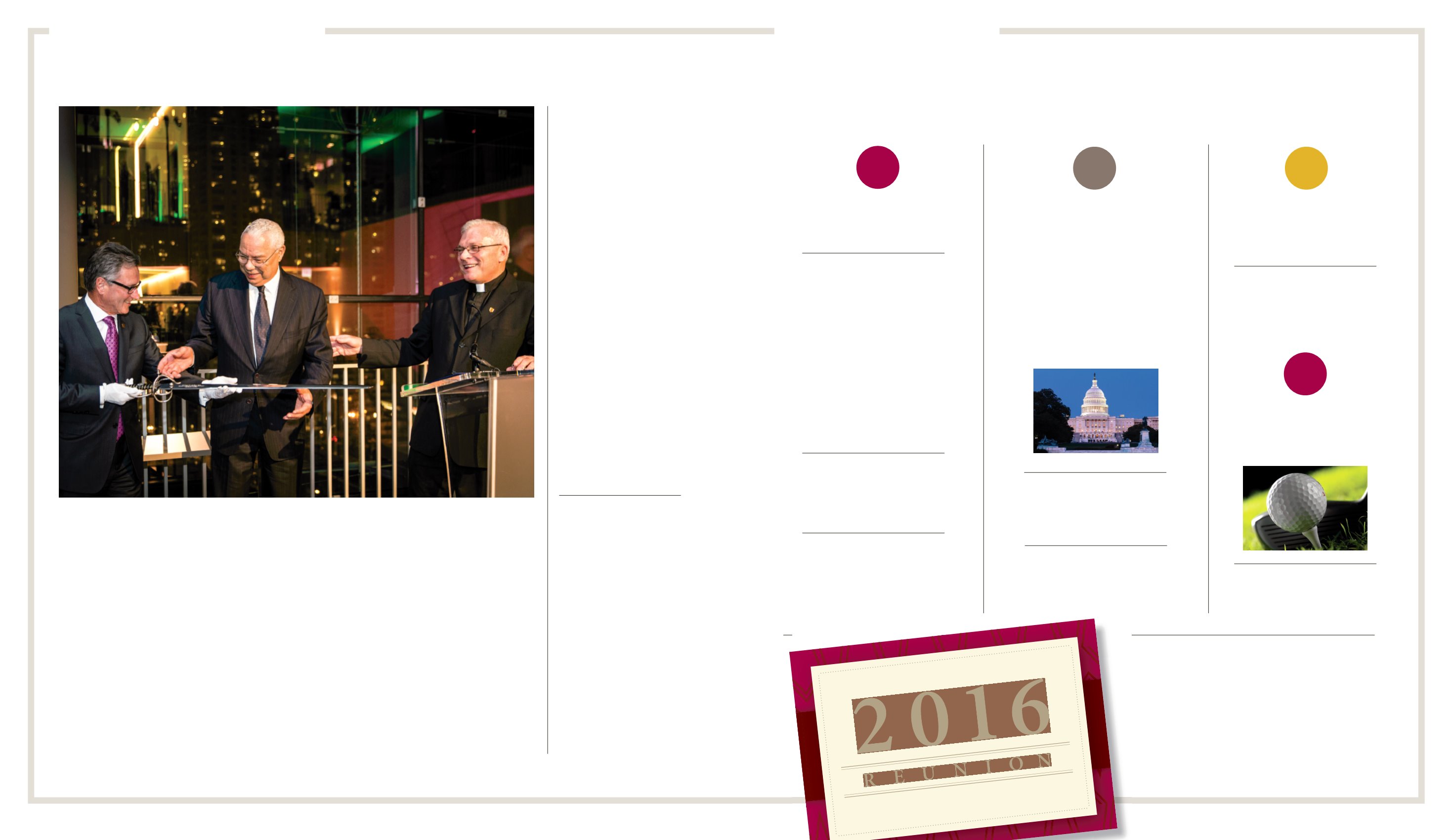 LUC ranked
among
top 100
Loyola University Chicago
came in at No. 99 in the latest
ranking of the top national
universities, marking the
first time Loyola has cracked
the top 100. The rankings,
which include 1,376 schools
grouped into four categories,
take into account a variety of
factors ranging from student
rates to peer assessments
administrators. "Over the
past few years, Loyola has
undergraduate educational
experience," says Interim
President John P. Pelissero,
PhD. "I believe our efforts
were noticed by our peers,
high school counselors, and
Phoenix
rises to
the top
the best non-daily student
of Professional Journalists.
society's 2015 Excellence in
Orlando, Florida. This marks
the second time in six years
Festiveopening for
Quinlanbuilding
The John and Kathy Schreiber Center, the state-of-the-art new building housing Loyola's Quinlan School of Business,
celebrated its opening with a day of festivities on September 15. WGN Radio broadcast live from the building during the
day. Nearly 100 of Chicago's corporate leaders attended a CEO Summit sponsored by AT&T Illinois and featuring General
Colin L. Powell, USA (Ret.), and a panel of executives. The evening was capped off by a gala dinner attended by nearly 500
people, including Chicago Mayor Rahm Emanuel, benefactors John and Kathy Schreiber, and Gen. Powell. In total, the
event raised $750,000, with the proceeds supporting business student scholarships.
Loyola Interim President John P. Pelissero, PhD (left), and Chancellor Michael J. Garanzini, S.J. (right), present
the Sword of Loyola to General Colin L. Powell during the gala for the opening of the John and Kathy Schreiber
Center at the Quinlan School of Business.
Thurs: 02.11.16
Young Alumni Networking Lunch
Tues: 2.23.16
Alumni Judges' Reception
Philip H. Corboy Law Center
Join us for this biannual event to
celebrate Loyola law alumni who have
served or are currently serving on federal,
state, or local courts. While the Alumni
Office strives to maintain an accurate listing
of alumni judges, some might not be
recorded. Please contact the Alumni Office
you have recently been appointed or have
not received an invitation to this event.
Thurs: 2.25.16
Public Interest Law
Society Auction
Fri: 2.26.16
International Law
Review Symposium
"Small Business in a Big World"
Philip H. Corboy Law Center
Tues: 3.22.16
US Supreme Court Trip
Alumni are invited to join the School of
Law Supreme Court swearing-in ceremony
in Washington, DC. Applications will be
accepted until Wednesday, February 10.
More information, including application
requirements, can be found online at
LUC.edu/law/SupremeCourt.
Tues: 3.22.16
Washington DC Alumni Reception
Wed: 3.30.16
Health Law Alumni Reception
Philip H. Corboy Law Center
Thurs: 3.31.16
Tax Law Alumni Reception
Philip H. Corboy Law Center
Thurs: 4.7.16
Intellectual Property Law
Alumni Reception
Philip H. Corboy Law Center
Fri: 4.8.16
Law Journal Conference
"Judicial Decision Making"
Philip H. Corboy Law Center
Fri: 6.24.16
62nd F. Emmett Morrissey
Golf Outing
Traditions at Chevy Chase
Wed: 6.29.16
All-Alumni Summer Social
Mark your calendar for the following School of Law events:
2 016
R E U N I O N
SAT U R DAY, S E P T EMBE R 2 4
L OYOL A U N I V E R S I T Y CH ICAGO S CHOOL
Feb
Apr
Jun
Mar
Sat: 9.24.16
2016 Law Reunion
Celebrating JD graduates in the
class years ending in 1 and 6 at
LUC.edu/law/reunion.
44
LOYOLA LAW