archive
Giving kids what they need most
When my son was born with cerebral palsy, I had to learn how to help him achieve independence. What I discovered led me to help hundreds of other children with physical disabilities.
By Patricia Chamberlain Herbst (BBA '83)
As told to Maura Sullivan Hill
My son, Justin, was born 10 weeks prematurely and had a stroke when he was only three days old. Within the first week of his delivery we knew he'd have cerebral palsy, a neurological disorder that affects body movement and muscle coordination. The effects can range from the very mild to the very severe, and at the time we didn't fully understand what the diagnosis would mean for our son.
Justin spent the first six weeks of his life in the NICU before he was strong enough to come home. When he did, he weighed only four pounds and was hooked up to these monitors that were beeping all the time. I remember feeling scared and anxious about the unknown, worrying if my baby wasn't going to live, and wondering, if he did, what was his life going to look like.
Because of the stroke, we learned that Justin would be a quadriplegic. By the time he was 9 years old, despite a lifetime of traditional occupational and physical therapy, he still could not sit independently. He was a very verbal and bright child, but he had to depend on others to do almost everything for him. Justin was stuck in a body that didn't move, and he didn't have the motivation to move.
My husband, Chuck, and I were concerned that Justin wasn't developing the skills he needed to be independent and successful in the long-term, both in school and in the community. That's when we learned about a conductive education program in Ontario, Canada—kind of like a boot camp for kids with cerebral palsy. We quickly signed Justin up, and there he worked on movement, motor function, and self-determination for six hours a day over five weeks, like a high-level athlete training through repetition. And at the end of that five-week session, Justin had made amazing progress: He could finally sit independently.
For a child who has quadriplegia, the ability to sit impacts everything: being able to eat on your own, to manage your wheelchair, to write, to type. We recognized the incredible difference this program made for Justin and knew there were other children like him who could benefit from this approach. So Chuck and I asked ourselves, "How do we bring this back to Chicago and into our own community?"
We started at our church, St. John of the Cross, in Western Springs, Illinois, with a small program in the summer of 1998. We had six children attend our program that first summer, and from the very beginning we were committed to making sure that income and insurance were not a barrier for children to participate. That summer program became the Center for Independence through Conductive Education, which is now in its 20th year. We've grown to serve children and young adults like Justin, with four different Chicagoland locations offering programs to help with motor skills and movement, parent education, and vocational training for young adults. Over those 20 years, we've served more than 600 children and young adults with physical disabilities, and have given away almost $11 million in charitable care.
I've learned so much over the years through my work, and as a parent, about children with physical disabilities. Sometimes people have the misconception that these children aren't happy, and as parents, all we want to do is make sure our children live full, happy lives. But children with cerebral palsy and other developmental disabilities are still first and foremost children—they are full of awe, wonder, joy, and laughter. And people with disabilities are just as happy as anyone else. Oftentimes, we fail to see the unique perspective and gifts people with disabilities bring to the table. We think that we should somehow remedy disability—that if we could take it away, a person would be better. But for many people with physical disabilities it is a part of their identity that they wouldn't want taken away. They value it, and so should we.
People with disability have so much to give to the world. What they want most is to be included, to participate, and to have choices, just like everyone else. It's not necessarily their disability that causes them frustration; it's the lack of choice and the feeling that they don't have control. Through the Center for Independence, that is something we are working to help people with disabilities achieve.
Today, Justin is a happy, independent, 31-year-old man who has come a long way from the four-pound baby I brought home. He is still a quadriplegic, but he learned the skills he needs to be successful and live on his own. He attended Southern Illinois University, earned a degree in history, and now works at UPS in the Human Resources Department. He requires the help of a personal care attendant in the morning and at the end of the day, but for the rest of the day Justin is able to function independently.
It makes me proud as a parent, but it is also my hope and dream for other people like Justin—to have the opportunity to make their own choices.
Never stop chasing your dreams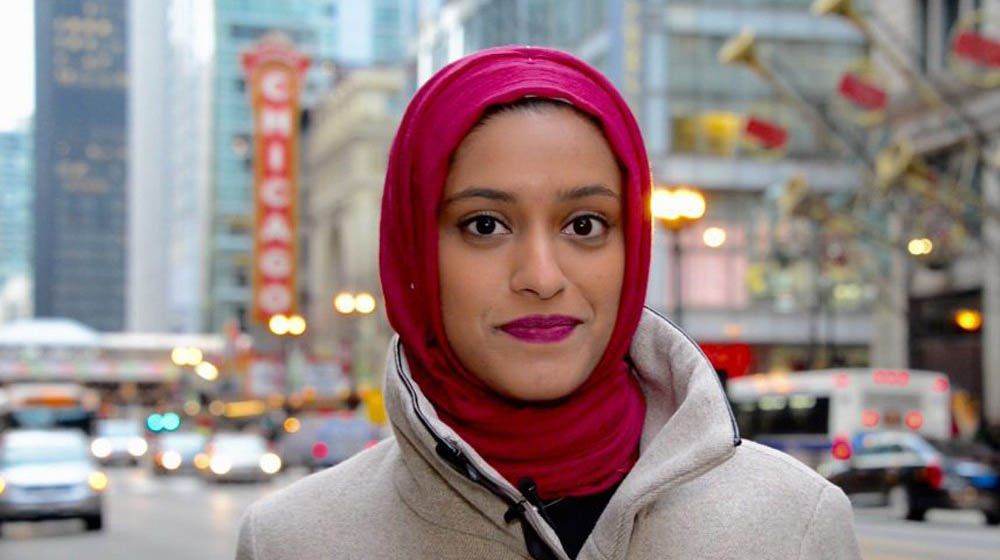 How did I become the first Muslim woman to wear a hijab on broadcast news? By never accepting 'no' for an answer.
By Tahera Rahman (BA '13, BASC '13)
As told to Maura Sullivan Hill
When I was an intern at the Chicago bureau of CBS Evening News, my producer asked me, "If you get your dream job offer and they ask you to take off your hijab, would you be willing to?" My answer was no, and that remained my answer as I endured numerous rejections from on-air reporting jobs over the past five years.
When I said no, my producer told me that he fully supported me, but also warned me that it was going to be hard. I had always known that there wasn't a broadcaster who looked like me, but that was the first time it was actually verbalized to me.
I am, however, pretty stubborn. I've done a lot of things in my life where I stuck out like a sore thumb. My parents never discouraged me from doing things that other people in our Muslim community hadn't done—like joining a sorority at Loyola, going on spring break, or studying abroad in Spain. Oftentimes, I was the only Muslim in the group, and definitely the only Muslim woman who wore a head scarf. I was used to that, and my parents had ingrained in me that my hijab was not—and should not be—a barrier. I'm not oppressed or extreme. Wearing the hijab is a choice I make in the way I practice my religion. That is part of what gave me the motivation to keep working toward my goal of being an on-air journalist, even though I knew it was going to be difficult.
After receiving a lot of "no's" in response to my applications for on-air reporting jobs, I ended up taking a producing gig at WHBF-TV, the CBS affiliate in the Quad Cities area. I wasn't giving up on my dream, and thought that putting in work behind the scenes could help me work my way to an on-air job. I was producing two newscasts a day, and came in on weekends to shadow reporters, practice with the cameras and editing system, and film my reel (a video resume for reporters).
Twice during my first year on the job I applied for on-air reporting positions. I didn't get it the first time, but by my second attempt I really thought I'd get the job. I had earned a good reputation around the newsroom, and everyone knew how much I wanted this job and how much I was working for it.
When I found out I didn't get the job again, I was devastated. As I drove home from work that day, I had to pull over on the side of the road in the middle of Iowa. I called my mom and broke down. I remember saying, "I can't do this anymore. Maybe I should just be grateful for what I have and keep going as a producer." My mom did not waste a breath in her response. She said, "No. Of course you will keep going. If you have to apply again, you will apply again, and you'll keep applying until you get it." So I wiped the tears from my eyes and continued driving. I obviously didn't bounce back in a day, but with my mom's help, I decided to keep trying.
Four months later, I was granted another opportunity to apply for a reporting job. When my general manager called me into his office and told me that I got it, I was almost in tears. When I called my mom to tell her, she was ecstatic. I would not have applied that third time if she hadn't encouraged me, and it was amazing to feel like my work had gotten me somewhere. Hopefully, this is only the beginning.
I started on air this past February, and the support from our viewers thus far has been amazing. It says a lot about where we live and about America, especially at a time when it is hard to talk about anything without being divisive. But the reaction to me wearing the hijab on air has been so overwhelmingly positive that it has shown me we can all land somewhere different on the political spectrum, but in the end, most of us have similar values. We can all see someone who has worked hard for their American dream and can respect that.
Now when I go out on a story, someone will always recognize me and come up to me to congratulate me. I have not had a single negative in-person interaction with anyone in the Quad Cities. Online is a different story, but I just do not engage with negative comments. Oftentimes, other people in the comments will respond to the negative ones, and that is really great to see. And it is not even just here at home—I'm waking up to positive messages from people in England, Sweden, and Turkey. I could not be more thankful.
I think it is important to recognize that I'm the first Muslim woman to broadcast while wearing a hijab, but I'm not trying to become a token. I want people to see me as a really great journalist who happens to be a Muslim. And I want there to be others, so I'm just the first of many. I'm very grateful to God that he opened this opportunity to me, and it can be the same for anyone else who has a dream and is willing to work for it. You should never have to sacrifice part of your identity for someone else.
A lesson in welcoming the stranger
Helping a Syrian refugee family resettle in the United States provided a valuable lesson for my daughter–and for me
By Alison Stankus (JD '08, MSW '09)
My daughter has been on this earth for two and a half years, unbelievably already closer to being three years old than to that tiny infant who came home from the hospital on a cool, rainy early summer day. One of her qualities that has emerged in that time is her empathy: She is acutely attuned to other children in restaurants, at the park, or in the airport terminal, who are upset and crying. Verbal from an early age, she acknowledges them and often is not able to continue with whatever activity we have been doing until we can assuage her concerns, for example, by pointing out the child's parents or rationalizing that the child is crying because she may be tired or hungry.
Though this empathy seems organic to her being, it is a quality that fits with the values that my husband and I have sought to teach her, or those that we hope we are modeling for her in our daily lives for her to learn in time. I have little doubt that the election and the events that have followed since November 2016 would have sat heavy with me no matter my stage in life. Yet experiencing it as a parent has stung even deeper–not only as an endorsement of so many values and qualities that are the antithesis to my beliefs and work for justice but as an antithesis to the values and morals I hope to instill in my daughter.
As I struggled with how to react, it ultimately was my role as a parent that first pulled me up and forced me to be hopeful when at times I did not feel much hope. It started out as a simple affirmative response to a post in an online neighborhood mom's group by another mom seeking others who were interested in becoming sponsors for a refugee family. We were matched with a Syrian couple with a toddler, a family composition that mirrored many of ours. Over the course of barely a few months, we worked to collect monetary donations, fully furnish an apartment, commit to a schedule of weekly mentoring visits to provide support once they arrived, and, as it got closer to the date in late January, stock the family's kitchen in anticipation of their arrival.
But then, on January 27, 2017, the family's travel plans to arrive in Chicago just three days later were halted by the executive order suspending the U.S. refugee resettlement program. Instead of welcoming the "strangers" we had been preparing for, the apartment remained empty while the family remained in limbo. Due to the reach of social media, the family's story quickly spread, most notably through a post by our group's leader reproaching the executive order accompanied by a photo of an empty crib and stuffed bunny intended for the toddler in the family. It was that image of the empty crib that resonated with so many. For me, there was no way of not thinking of my own daughter, who slept warm and safe in a crib just like that one, while not knowing the conditions in which their daughter slept near a refugee camp in Turkey. Nationality and circumstances seemed the only difference between my family and the family we were co-sponsoring.
Through the hard work of many and the grace of the TROs, the family arrived a little over a week later to the embrace of their extended family, to cheers–and some tears–from the resettlement organization and our co-sponsorship group (and also to the flashes and crush of media who had been following their journey). Since then, our group has had the privilege of not just assisting them with settling in the Chicago area but getting to know them and their extended family over coffee and tea, learning more about Syrian culture, and enjoying the gift of their delicious cooking. Our visits often center around playdates between the family's toddler and our own children. The formal co-sponsorship relationship with the family was for six months, but we continue to walk with them as they navigate creating a new life here, including finding a job and choosing their own space to live. This fall, we celebrated their daughter's second birthday–her first birthday in the U.S.–with singing and cupcakes.
Each encounter with the family is a reminder, especially when I have had moments of losing hope in the last year and a half, that the tenets of my Jesuit education will continue to provide guidance and light through this seemingly dark time. How could I not recognize the value of another, no matter their faith or background? It is also is a reminder for me to continue to take a cue from my daughter's concern for the crying child at the park. While my goal is to teach her through my words and actions to stand up for the rights of others, she is already modeling an understanding that in fact we are all interrelated and interconnected.
Thankfully, my daughter–like many of the children of the other members of our co-sponsorship group–is too young to understand the current political climate or that anything has significantly changed about the world since November 8, 2016. Despite that fact, the very reason I felt a pull to join my neighbors in sponsoring a refugee family was to set an example of love, kindness, and inclusivity for her. Welcoming immigrants and refugees, and seeing others we meet as a gift, is precisely what I hope to instill in her already empathetic being. At least a few times a week, I read my worries for the future, and concern for what I can possibly do in response, echoed in the posts of the many online parenting communities of which I am a member.
While I don't have any more of an answer than I did after the election, I am certain that the experiences and lessons of the Jesuit tradition have prepared me for this moment, no matter what turns our culture takes in the next few years. It is precisely because of my daughter that I must continue to advocate for the marginalized as a "woman for others."
A version of this article first appeared in May 2017 on Ignatian Solidarity Network's "Just Parenting" blog.
‌ ‌
About the author


Alison Stankus is a proud resident of the Northcenter/Lincoln Square neighborhood of Chicago, where she lives with her husband, Jeff, and daughter Zinnia. Since 2009, she has worked as an attorney and guardian ad litem representing children in abuse and neglect cases. Alison, a graduate of Boston College (2000) and Loyola University Chicago Schools of Law and Social Work (2008 and 2009), credits her Jesuit higher education with igniting her passion for social justice and inspiring her to live that passion in her everyday life.
My year of living simple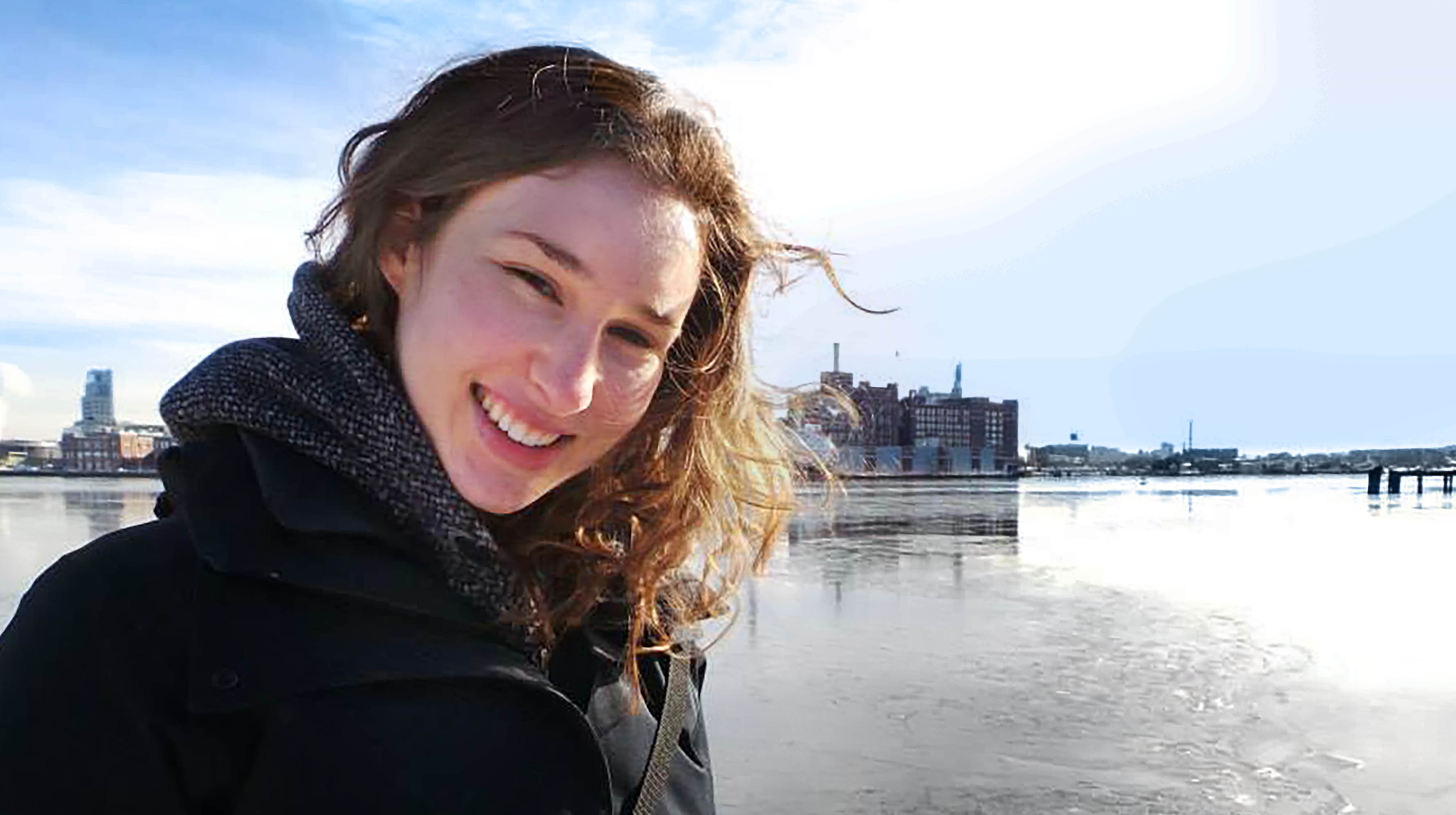 How my year of living with less helped me learn more about serving others—and about myself
By Elizabeth Modde (BA '15, BS '15)
"Doc Martins or rain boots?" I ask Mackenzie as she slides on her flats. My four housemates and I are at the front door, about to set off for a night out. Yet, this night is a bit different from when I went out with friends just months before as a senior at Loyola. While spending a year in service with the Bon Secours Volunteer Ministry (BSVM), I've made a choice to live more simply; to live with less. My choices have been simplified as well—what shoes should I wear with this skirt? Except that beyond selecting my pair of shoes, there lie much more complex questions.
A few months after graduating from Loyola, I arrived in Baltimore to begin my year of service. As we drove through what would be my new neighborhood, I saw sidewalks that were littered and crumbling. Soon enough, I would be discovering needles on my walks to work. But I would also discover a new perspective.
To prepare for a career of bringing healing to underserved populations as a physician, I wanted to get my feet wet in a hospital setting. Spending a year with the BSVM—an organization I first learned about during an Alternative Break Immersion at Loyola—seemed like an appropriate way to do it. More importantly, it is what I felt called to do.
I would be working full-time in patient advocacy at a community hospital that largely served an uninsured and underinsured patient population. Additionally, I would be living in an intentional community with four other recent college graduates. Together, we'd embrace and struggle with the BSVM values of community, service, faith, justice, and, of course, simplicity—like choosing between the Doc Martins and rain boots.
Defining "enough"
As I lace up the boots, deciding how to best tie them so they appear more feminine or at least sort of pragmatically edgy, I feel silly. Worried about how people might judge me, I have found myself defaulting to materials to feel more confident. This year, I've been challenged to define what is "enough" to live with. I've also been confronted with what not enough means to my patients.
On one of the first days with below freezing temperatures, a woman asked for shoes from the hospital's Good Help Clothing Closet, which I help to manage. I sent her out into the cold wearing a pair of Crocs, which is all that we had in her size. As I lifted the patient's dry, cracked feet to layer two pairs of socks on, I hoped she would be warm enough.
Wanting others to have their needs met encouraged me to make a conscious effort to understand my own true needs. Amazingly, by allowing time for the process, the mission "to live simply so that others may simply live" had the beautiful middle step of helping me to discover self-love. As I recognized myself as enough, I stopped seeking satisfaction in activities and material items. It has helped me make choices that harmonize my own authenticity with the world around me. Self-love enables us to love others more genuinely.
I remember sitting in Loyola's pre-health advising office with Jim Johnson, discussing theologian Frederick Buechner's definition of vocation: "Your vocation in life is where your greatest joy meets the world's greatest need." Up to that point, I had been blending my interest in health with the joy I found in dance. I spent a summer at a Bolivian orphanage, where I taught dance as a way to build community and improve people's health. Back in Rogers Park, I'd been teaching jazz at an assisted living home to improve residents' mental and physical health. I knew I also had the talents to collaborate on healing as a physician, but I needed to immerse myself in medical service before I could commit my life to it. So, I delayed my medical school applications for one year to join BSVM. Through BSVM, I confirmed that a career in poverty medicine would bring me great joy.
I will never fully understand the realities of what those living in poverty experience. For this, I am grateful. I am grateful that my survival needs have always been met and that I have always had the tools to thrive. At the same time, I must not ignore my privilege. The intentional choice to live more simply enables me to begin to live in solidarity with others. It says that others matter. My actions show that I will share our world's limited resources and that I respect that which I mindfully choose to use.
Loving myself and loving others
Seeking to live simply removes some of the chaos that surrounds us and begs those important questions of how I define myself and how that definition affects others. But these questions could really be asked as "How do I love myself more fully?" and "How does this enable me to love others better?"
After completing my year with BSVM, I continue to be challenged by these questions. Now attending medical school at the University of Missouri, I continue to approach service as a way of life. As a part of the St. Francis Catholic Worker community, I'm able to host people who are homeless in my new home, an experience that colors my medical education with compassion and deeper understanding of the social determinants of health. It helps me build trust with the patients I see at our student-run free clinic, MedZou, which I coordinate medical outreach for and will be a student director at this January.
Today, I am still reminded that a simpler approach to life, one that acknowledges my own dignity and the dignity of those around me, lifts and enriches us all.
From refugee to Rambler
I survived the war in Bosnia, left behind my homeland, and started a new life in America. But that was only the beginning.
By Alma Begicevic (BA '98)
Walking onto Loyola's Lake Shore Campus for the first time in 1995, I remember turning to my friend Tom, a member of a nearby Episcopal church who had been helping my family adjust to our new life in America, and saying, "I want to study here." At the time I didn't know much about the University besides the fact that it was close to where I lived. But the campus was calming, and I knew this is where I belonged.
I'd found myself in Chicago a year earlier as a refugee. Though I was young at the time, my experience of living in the center of the Bosnian War had left me feeling much older. Living in Sarajevo, I had studied fashion and majored in textile design, learned French, worked as a radio journalist, and survived the war. On February 5, 1994—only a month before we arrived in Chicago—my father was seriously injured in the Markale massacre when Serbs dropped mortars in the largest open marketplace in Sarajevo, killing almost 70 people and injuring 200. I was on an assignment that day when the television aired graphic images of the dismembered body parts.
When I found out my father was among the critically wounded, we had only a day to pack our things and leave the country. One of my father's legs had already been amputated by French military doctors at the NATO base in Sarajevo, and the other was severely damaged by the mortar. Doctors explained to me in French that my father had suffered a terrible infection, his condition was critical, and he may not survive. His only chance was to leave the country to receive proper medical treatment. U.S. President Bill Clinton had ordered an emergency humanitarian intervention, and we were airlifted first to the closest military base in Europe, then to the United States.

A new beginning
Being a refugee means leaving home simply to stay alive. Such dislocation is not intentional nor is it planned. It is not driven by a rational choice to start a new life, the pursuit of happiness, or the American dream. It is not driven by a desire to obtain wealth, become successful, or get an education. In my case, the choice to leave home in the midst of war was motivated only by the desire to save my father's life.
My mom was in shock, and she did not fully understand what was happening. My younger sister, an engineering student, was the only one of us who spoke English and could communicate on behalf of the family, but she was shy and wished to be left alone. My father was hospitalized, and his treatment would continue for many years. None of us had wanted to leave home, but we agreed that our only hope was to stick together.
Coming to Chicago meant feeling displaced, estranged, alienated; it was like being asked to play a role in a movie without ever being given the script. In Sarajevo, I was a third-year college student double-majoring in sociology and journalism. I had experience as a journalist reporting on the war. I'd spoken French since I was 9 years old. In America, however, none of this mattered—it was as if my credentials did not count.
That brings me back to the day I first stood on Loyola's Lake Shore Campus. Loyola represented hope for a much needed break from our harsh reality, an escape from my past. Little did I know the University had a mission of social justice that matched my own, along with faculty eager to make a difference.
Before I could enroll in a degree program, I first had to study the English language. I took out a loan to pay for a semester of intensive language courses including speech and pronunciation, writing, and reading. We read newspaper articles and discussed local news. We recorded ourselves as we learned to pronounce words correctly. It all prepared me to take the standardized English language test, an essential requirement for foreign students who wish to apply to American universities.
My first stop at Loyola was the sociology department, where I inquired about the transfer process. There I met Anne Figert, who is now the department chair. After she walked me through the procedures of transferring my courses from the University of Sarajevo, I was able to begin my coursework, but I soon realized I did not fully grasp the cultural and social complexity around me. I still didn't have full confidence in my English skills. Then came the moment when it all finally clicked.
I remember sitting in Professor Lauren Langman's class as he was talking about critical theory. As he described the Marxist concept of alienation, I was soaking in every word he said. I thought to myself, "Finally! This resonates." I loved his class. He was my favorite professor, an exceptional social theory scholar, and a major source of support in nearly everything I have done professionally since I graduated.
As refugees who were just settling into a new life, my family lived on a tight budget. The four of us lived in a one-bedroom apartment relatively close to Loyola's campus. Rather than going to the library, I did most of my studying on Granville beach, sitting on the rocks by the lake. I often say that I earned my bachelor's degree with honors literally studying by the lake.

Coming full circle
After graduation, I continued my academic journey by earning a master's degree from the University of Chicago and eventually, almost two decades later, getting my PhD from the University of Melbourne in Australia. But there was never a question in my mind about where the focus of my work should be. My personal experience has served as my drive to work in justice and human rights. I wanted to take the skills I learned in my new home and apply them to the home I'd been forced to leave many years earlier.
As part of my post-graduate training, I was awarded a human rights internship grant to do research with the United Nations High Commissioner for Refugees in Bosnia and Herzegovina. As a junior analyst returning to Bosnia, I reviewed laws to assess the legal and practical obstacles Bosnian refugees face upon returning home, to help create a policy to allow for displaced persons to return.
From there, I launched my career in human rights. I represented the U.S. government as the seconded expert to the U.N. Mission in Kosovo, where I was the key technical adviser on legal reform in the areas of anti-trafficking, gender-based violence, and human rights and rule of law.
My doctoral studies provided an opportunity to dig deeper in the post-socialist transformation of Bosnia and Herzegovina. As the state goes from war to peace, Bosnians who suffered terrible crimes are being ignored. Yet, recognizing victims' losses and injuries is essential for democracy building and future social and political stability. Because wartime crimes and injustices are widely denied, Bosnians are left to independently seek justice for rights violated using courts.
This February marked exactly 23 years since my family left Bosnia and Herzegovina, and a little over six years since my father died in Chicago. But it also marked a new anniversary. Last February, I found myself back on Loyola's Lake Shore Campus to teach part-time in the sociology department.
Being back in the place where I started out as a new refugee in America—and where some of the professors who helped me so much still teach—feels like coming home. I feel privileged to be able to help guide a new generation of young scholars in using the sociological imagination to look at the world in new, critical ways. They must learn to see beyond what is obvious and to recognize structural injustice. I want to teach them to know their rights, to advocate for themselves and others, and to help shape society into a more just place, one step at a time.
I imagine there are many other things I could be doing in my career. However, there is nothing else I hear calling my name. Human rights and justice work is not a matter of vocation for me; it is what my life is all about.
Leap, and your life will appear
ALUMNI VOICES

Taking risks can be daunting, but it can also open up a sea of opportunity
By Amy McCullough (BA '02)
When I was an undergrad at Loyola, people often asked me what I planned on doing with a creative writing degree. Only half-jokingly, I said, "Probably wait tables."
And, honestly, I did a lot of that. I worked a desk job for a year and waited tables for about two before figuring out that I might be able to mold my love and knowledge of music and knack for writing into a career as a music journalist. Shortly thereafter, I landed an internship (of the unpaid variety) at Willamette Week, a Pulitzer Prize–winning alternative newsweekly based in Portland, Oregon.
After a few months as a bartender/intern (followed by a few more as a bartender/freelancer), Willamette Week hired me on. Not only did I end up a full-time music writer, I was eventually in charge of the entire music section. I got what I wanted. I turned a degree I admittedly felt cynical about into a dream job. Then I ditched it all to go sailing.
That's right: in 2008, I quit my illustrious music editor job, sold all my belongings, and moved onto a 27-foot sailboat with my boyfriend, now partner of 10 years, Jimmie. Oh, and there's this important detail: neither of us knew how to sail.
So why on earth would I do such a thing? The short answer is love. I was head-over-heels for my main man, Jimmie, and we jointly decided that "regular" life—jobs, rent, bills, responsibilities—were eating up too much of our time—time we could be spending together. Togetherness became our ultimate goal. What started as a lovely afternoon of canoeing on Scappoose Bay ultimately led to our conclusion that living aboard a boat was the most realistic (read: cheap, immediate) means to this end.
So we set sail in the name of love. But there is another aspect we both found appealing about casting off: not danger or thrill-seeking, exactly, but the challenge—and deviance. Jimmie and I both loved the idea of doing something unusual and, perhaps most importantly, something no one else had the nerve to do.
It didn't hurt that it also happened to be something so many fantasize about: sailing away. Part of the appeal was taking a leap, having faith that we'd be alright, that our self-sufficiency and resourcefulness and sheer wills would get us through. (You can read the full story of our adventure in The Box Wine Sailors, available now from Chicago Review Press).
Strangely enough, ending up at Loyola—and in Chicago, for that matter—was a similar leap for me. For reasons I won't go into here, I dropped out of Illinois State University after five semesters and, on a whim, moved to Chicago. After a few months working at a record store, I considered going back to school. But for what? At this point, I was so dissatisfied, so disillusioned, so over it, to be frank, that I didn't really know where to start—or how to finish.
I had been a communications major at ISU (with a focus on radio); now, all I really wanted to do was write. I figured if I was going to have any chance of completing my undergraduate education, I'd better pick something I felt like doing—forthcoming waitressing jobs notwithstanding.
I talked to a Loyola advisor, was given a scholarship (which certainly didn't hurt), and, just like that, I was back in school. And this time, I did finish. My decision to leave ISU was personal (it was me, not them), but I did feel more myself in Loyola's urban environment. The small class sizes and wonderful professors—David Michael Kaplan, J.D. Trout, and Barry Silesky, in particular—engaged me enough to pull me through. The rest (and the best) was yet to come: my career as a music journalist, crazy young love leading to my year as a happenstance adventurer, and becoming an author.
College students are very focused on "success," no doubt, but perhaps they don't often stop to examine what that actually means to them. I always wanted to write a book and see it published—though, believe it or not, I had no intention of writing about our sailing trip until it was over. Now I have held a copy of The Box Wine Sailors in my hands, I've read from it to friends, family, and complete strangers on a three-week book tour. I also always wanted to fall in love. I've been happily in love with Jimmie for a decade.
That said, I often don't feel like a "successful" person; like most of us, I'm still figuring plenty of things out. Life is a process, one we only advance through by living. And for me, that living involves a degree of uncertainty, whether it's going back to school for creative writing and having no idea where it will lead, jumping on a boat with the love of my life, or trying my hand at writing a book. Those chances have led to some of what I consider my greatest personal successes. Taking leaps—including my leap to go back to school at Loyola—played a huge part in that.
---
‌ ‌
About the author
Amy McCullough (BA '02), an Illinois native, graduated magna cum laude with a major in English (Creative Writing Concentration). She is the former music editor of Willamette Week and has also written for SAIL Magazine, Eugene Weekly, and Finder, a magazine-style guide to Portland. Her first book, The Box Wine Sailors, was published by Chicago Review Press in November 2015 and spent over a month as Amazon's #1 New Release in Sailing. She is currently a graduate teaching assistant and master's student in the Department of Geography and the Environment at the University of Texas. She lives in Austin, Texas, with her partner (and former shipmate), Jimmie.
Cuban connections
Visiting a once forbidden land opened my eyes to a whole new world
By Donna Tobin Westemeyer (MUND '66)
Cuba always seemed a mystery to me. I knew about the history—the revolution ending in 1959, the Cuban Missile Crisis, and Fidel Castro's ties to the Soviet Union. But long after the Cold War ended, this little island just 90 miles from Miami was still closed to trade, talks, and travel. Cuba remained an unknown world that most U.S. citizens were not allowed to visit—until now.
Soon after the U.S. began restoring diplomatic ties with Cuba, a colorful brochure arrived in the mail from Loyola. As part of Loyola's travel program with Alumni Holidays International (AHI), the brochure promised an opportunity to immerse yourself in the culture, history, and people of Cuba. Without hesitation I turned to my husband (and fellow Loyola alum), John, and said, "Let's go!" Soon after we were packing our bags and preparing for the journey.
After a short 45-minute flight from Miami, we touched down at Aeropuerto Santa Clara with our group of 27 American travelers. The airport was simple and small, with security guards in their brown with red uniforms. Riding in our bus we could see the blue, white-capped Cuban waters with little cottages along the shoreline. But unlike the tourists who had been coming for years from other countries around the world to relax and enjoy the sun and sea, we were travelers—moving from one adventure to the next, making many personal connections along the way.
With the borders just beginning to be open to U.S. citizens, there are still restrictions on travel to Cuba. Our trip had to be an educational one, focused on getting to know the Cuban people and their culture. Although our beautiful Hotel Melia Cohiba was by the sea, we only experienced the waves hitting the wall in a way that reminded me of the waves of Lake Michigan crashing alongside Loyola's Lake Shore Campus.
As travelers we received an enriching educational exchange from the moment we landed. Since American credit cards are not yet accepted in Cuba, our first immersion into the culture was exchanging our American dollars for a tourist currency called a CUC (pronounced kook). From there our days were packed with activities and discussions, as we experienced the Cuban culture and the country's friendly people.
With the help of our excellent tour guides, Natalia Makarova and Jorge Perez Soria, we visited a range of sites and learned a great deal about Cuba's history and culture. It was so stimulating and energizing to learn and experience the Cuban life that one was not tired. However, we did sleep well at night.
We visited cathedrals in Trinidad and Havana; there was a dialogue with a rabbi in the synagogue and a priest in the Santeria temple. We discovered what makes the Cuban cigar special (the quality of tobacco and the climate) and saw the process of how each cigar is handmade and tested before being packaged. We learned how people crafted their own cars during the years that the embargo kept them from importing parts; those vintage cars remain the pride and joy of many Cubans. We experienced the local arts and entertainment scene, from salsa dancing to live music, and even visited the former home of author Ernest Hemingway, whose time on the island inspired his Pulitzer Prize-winning novel, The Old Man and the Sea.
A member of our group asked our tour guide Jorge why some people still risk their lives crossing the ocean from Cuba to come to America. He said, like other people in the world, they hope for a better life. I can understand this, as I have nieces and nephews who move from state to state for the same reason. Someone in our group pointed out that Cuban students get a free college education, but there is a lack of jobs for them in Cuba after they graduate.
My knowledge of Cuba and its people, their history and journey since Columbus visited here in 1492, has been inspiring and expansive. The insights gained over my eight-day trip were brought back to the U.S. and enable me to provide answers to the many friends who, like I once did, have questions about this mysterious island. Some discussions lead to more questions, and my trip becomes an ongoing journey.
Our little group of travelers were from all walks in life but we bonded over a common thread of excellent educational opportunities and intellectual pursuits. Our minds were filled with information; our hearts were filled with joy from our fellow travelers and the people of Cuba.
For many this was a first time with Loyola Travel but it won't be the last. Without a doubt, the trip was worth every CUC.
Learn about upcoming alumni travel opportunities at LUC.edu/loyolatravels
---
About the author

Donna Tobin Westemeyer (MUND '66) and her husband, John (BA '62), live in Woodbridge, Virginia. Both shared professions in education, and Donna credits her professors from the BVM community at Mundelein College with preparing her for her career and inspiring in her an awareness of humanity. An avid traveler, she and her husband have visited all seven continents and 49 U.S. states.
How one Loyola professor helped me transform my writing
ALUMNI VOICES

Sometimes it only takes one class—or one special teacher—to change a student's life
By Mara Martini (MA '92, MEd '98)
Before becoming a graduate student at Loyola, I remained uninterested and unconcerned about the quality of my writing—despite a poor grade in a college course at another university. However, at my first meeting with my graduate advisor in the sociology department at Loyola, he spoke these intimidating words: "If you get 2 C's you are out of the program."
Clearly, it was time for a change.
It was in the class of one sociology professor, Kirsten Grønbjerg, that I chose to begin to change my writing. Professor Grønbjerg was serious, genuine, and all business. In her course, I wrote a research paper on the book The Gold Coast and the Slum by Harvey Warren Zorbaugh, which described these geographic areas in early 20th century Chicago with the eye of an urban sociologist.
I started with the most common grammatical complaint of Professor Grønbjerg: the unnecessary use of the passive voice. With guidance from an English grammar book, I changed each instance of the passive voice to active voice. I also corrected my haphazard tendency to switch verb tenses and my sloppy transitions between paragraphs. Correcting all the errors led me to re-examine my thinking behind them and to change the entire trajectory of my paper.
Once I saw for myself the improvement in my grammar, sentence structure, and organization, I wanted to continue improving. With every subsequent paper I wrote, I tore up multiple drafts, felt mentally stuck, and made progress over time. It's been a frustrating and rewarding process.
After graduating from Loyola and beginning a graduate program overseas, I had enough courage to write book reviews for two international education journals. Based on these book reviews, my advisor asked me to review manuscripts of master's and doctoral students. In my professional positions I have used the skills gained at Loyola to edit recommendations letters, journal articles, and staff training manuals.
As both a student and alum, I have shared my story of Professor Grønbjerg with other students to encourage them with their own writing. I tutored a high school student in English and cast a critical eye on her college entrance essay. She was subsequently accepted to her first choice college.
Professor Grønbjerg took the time and care to show me that I could improve my writing. Fortunately, I had the opportunity to thank her in person at a Loyola alumni event a few years ago. Though she had already left Loyola, she had returned to attend a former colleague's retirement party. From her reaction, she had no idea that she had affected me so much.
---




About the author

Mara Martini (MA '92, MEd '98) lives in Chicago, where she works as a project manager in the Urban Education Institute at the University of Chicago. After graduating from Loyola, she completed an MEd in Practitioner Research at the Institute of Education in London England to obtain a first-hand international perspective on education. She has also published book reviews, revised graduate student manuscripts, and tutored a high school student.
Mother Teresa and me
The Church's newest saint was much more than just an inspiration


By J. Breezer Rickey (MSOD '02)
I was 12 years old when I first read about Mother Teresa in a Chicago newspaper. She was identified as the "Saint of the Gutters," and I was in awe of her love and compassion to serve the poorest of the poor. Frankly, I wondered if she was even real. So I decided to find out for myself by writing her a letter.
Dealing with my own struggles at the time, I poured my 12-year-old heart out to her. Sure enough, Mother Teresa responded to my letter, giving me hope to continue through the pain I was feeling. Over time, her letters became the strength I needed in the darkest times. With her inspiration and encouragement, I decided at that point that I would devote my own life to serving others.
Years later, at the age of 27, my dreams of serving the poor alongside Mother Teresa became a reality. I quit my job as a social worker in Chicago and hopped on a plane for Calcutta, India, to join Mother at one of her homes for the poor. Upon my arrival I was immediately put to work—my first stop was Shishu Bhavan, a home for orphaned and sick children where all volunteers must start out. Most volunteers only last a few days, as the work is not easy and is often psychologically and physically draining.
Because I was volunteering for longer than three months, I was able to work mornings at Khalighat, the home of the dying destitutes, and in the afternoons teaching math and English to children in the back alleys. But nothing, not even a master's degree in social work, could have prepared me for this.
I had the opportunity to be with people who were literally dying—holding their hands, putting oil on their rough skin, picking worms from their stomach and lice from their hair. It was what all Christians are called to do, and I had the privilege of doing it alongside Mother Teresa. Mother's mission was to care only for those most in need, such as the people at Khalighat who were in their final 48 hours of life and had no one else.
For some of my time in Calcutta I lived at a guest house, and the rest of the time I lived at the Mother House where Mother and the other sisters resided. Living there was another humbling but gratifying experience. We awoke at 4:45 for morning prayers and washed our clothes on hard rocks. Sitting on the floor of the simple chapel with Mother and the other sisters for morning Mass prepared me for the strenuous work ahead. After Mass each day Mother would bless us, and I felt the power of God come through her small hands. She was quite small in size but robust in power and prayerfulness.
Walking to work I stumbled over people dying in the streets. I had to choose among them to decide who I would pick up and bring to Khalighat so they could spend their last 24-48 hours dying with dignity, being cared for by myself or one of the sisters. As Mother always reminded us, each of these "untouchables" was Jesus.
After a year in Calcutta I returned to Chicago, where I took to heart Mother's words about serving those most in need. I worked as a therapist for children and teenagers with HIV and AIDS, then worked at a residential treatment facility for runaway teens.
Hoping to make a larger impact, I came to Loyola to pursue a second master's degree in organizational development and started my own consulting practice, which allows me to weave together my faith, passion for social justice, and leadership skills.
Today I serve in a variety of roles: as a management and leadership consultant for nonprofits, a therapist for families moving overseas, an administrator of bullying prevention programs in the Archdiocese of Chicago—all of which are an extension of my time in Calcutta and my Jesuit education. Loyola has given me the tools to truly implement the concept of being a person for others, and I've been privileged to pass that on to students in the School of Social Work graduate program as a professor for the past 10 years.
When Mother died, I returned to Calcutta and joined the sisters in preparing her body for visitors to pay their last respects. For the funeral, I rounded up some people from her homes to participate in the Mass, knowing that having some of her beloved people involved in the funeral would be just what Mother would have wanted. In 2003 I had the honor of attending Mother's beatification in Rome.
This past September I traveled there again to be present at the canonization where she became an official saint of the Catholic Church. Of course, I've always considered her to be a living saint, but it was still appropriate for her to be officially recognized by the Church.
I could go on and on about my time in Calcutta and how Mother inspired me as a child and, even now, as an adult. But Mother Teresa was not "just" an inspiration to me. She helped me through my darkest moments, filling a significant void—first through her letters and later as a personal role model.
Being a person for others is more than a catchy slogan. It is a way of life that isn't always easy, but one that is rewarding and life-giving. Along with St. Ignatius of Loyola, our new St. Teresa of Calcutta serves as a role model who taught me to see God in everyone. I can only hope that I might be half of the inspiration to my college and graduate students as Mother was to me.
---
About the author

J. Breezer Rickey (MSOD '02) is a licensed clinician and organizational consultant in Chicago. In addition to being a Loyola alumna, she is also on faculty at the University, teaching graduate and undergraduate courses in the areas of leadership, ethics, race, and culture.
What do you remember most about your freshmen dorm?
From embarrassing moments to forming lifelong friendships, dorm life creates lasting memories.
Everyone has a good freshmen year dorm story—even if it is one they'd rather not share in public. We asked alumni on Facebook to tell us what they remember most about their first year of living on campus.
» Mertz fourth floor—fire alarms were like a social engagement in the middle of the night. Yes they were a pain (and I always wished I could "pretend" to sleep through it) but getting up to see everyone in the building made it bearable. I wore a red plastic fire hat as our floor's fire marshal to keep myself entertained.
—Allison Reynolds-Berry (BS '06)
» Lived in Stebler Hall freshman year. Best girls bonding ever. Helped me grow as a new college freshman girl.
—Jennifer Rizzo Popp (BSN '86)
» I remember living in Campion. Me and my roommate were so cold that we would wear coats all day and to bed. A couple weeks into the semester we found out that the thermostat is in the closet and we can control the temperature.
—Angelica Kajderowicz (BS '09, JD '16)
» My roommate and I were randomly assigned to a room in my last choice dorm—Coffey. I was from San Diego and she was from Louisville. Turns out her great aunt had given my grandpa his first job during the Great Depression. The memories from that year, the lasting friendships, and the best roommate ever!
— Andrea Greenwell Grillot (BA '00)
» Lived in Lakefront Hall my first semester in '94. The view of the lake was breathtaking and my unit was the only one with a balcony. We quickly became a very popular unit.
—Victor Montoya (BS '01)
» I lived in Simpson room 307 my freshman year. The guy who ended up becoming my best friend to this very day lived upstairs on the fourth floor. We spent a ton of time on the fourth floor playing guitar together in
the TV lounge.
—Michael Jula (BS '97)
» Mertz 'til it hurts! I remember the communal feeling of each floor. Every one had its own vibe. That, and playing frisbee in the hallways!
—Chirayu Baxi (BS '09)
» Mike Kelly and I lived in Campion Hall in '87-88. We lived in the South Wing, which had just been renovated. It was called "The Love Boat" because of how new and nice it was. The North Wing, which had
not been renovated, was referred to as "The Garbage Barge." Good times, good times.
—Rob Kerr (BA '93)
» Lakefront Hall, third floor facing the lake. The storms where the waves would rise up past our windows, and the winters when the waves would freeze on our windows.
—Cathy Nathan (BS '87)
» We were Stebler girls! Everyone was kind to us freshmen, and the Masses in the basement with Fr. Cuehlo I still miss!
—Chris Hlinak (BA '74)
» Simpson, second floor, corner suite, single room. I thought it would be adorable and funny to tape cut-out letters to my window and have it say "I NEED CASH." I even left a donation envelope outside my dorm room door, and I think I made 78 cents over the course of the year.
—Aaron Tobler (BS '01)
» True lakeside living on the first floor of Coffey Hall. The BVMs on the third floor would invite us up for cookies.
—Megan P. Keeler (BA '02, MEd '06)
» I lived in Mertz my freshman year. When my roommate and I were asleep, we heard knocking outside our window on the 11th floor. We carefully opened the drapes as we were freaked out, only to see a mannequin head tied to a rope hitting the window. Great prank but we had nightmares for weeks!
—Lynette Wilkos-Prostran (BSN '84)
» Campion 3 South! No air conditioning and watching everything in the room shake when the Evanston Express flew by.
—Mark Snelling (BBA '96)
Want to see how much Loyola's dorms have—or haven't—changed? Check out a gallery of today's students living on campus.
To get in on the discussion with alumni, be sure to follow us on Facebook and Twitter.
A visit to the country
Alumni Voices
To get a true picture of China, take the road less traveled
By James O'Brien (BA '16)
The countryside filled my window as we left the busy metropolis of Nanjing. My neck began to ache as the ride wore on, but I couldn't stop watching the varied drama of the landscape. My friend Jacob Miller and I first traveled in China during our junior year at Loyola while studying abroad at the Beijing Center. The fall after our graduation from Loyola, we returned to China to continue searching for a full and honest picture of life there.
Jacob and I had a shared interest in going to places most travelers wouldn't visit, so we turned to the Lonely Planet guidebook to find a smattering of well-preserved historical countryside villages in the mountains of Jiangxi that were, as it so happened, almost unknown to foreigners.
That night we arrived in Shangrao, a city in Yushan County. We were the only passengers to arrive that evening, so taxi drivers jockeyed to draw us into their car. As tourists in an unfamiliar area, we represented a catch for any driver. After getting into a taxi, it occurred to us that we had no place to stay for the night so we asked our driver about hotels. He described a few local spots while smoking expansively, then took us to one of the hotels he had mentioned.
Despite the sprawling quality to the city and the presence of a surprising amount of amenities, including bakeries and coffee shops, the streets were surprisingly empty. While walking through the city we saw many older Chinese couples gathered in a public square dancing to music. Shangrao felt more like a small town that had gotten too big for its own good.
The next morning we boarded a bus. The city landscapes and broad boulevards rapidly gave way to lush green hills, bright blue lakes and rivers, and winding narrow mountain roads. Our next stop was a smaller town, where we caught a smaller bus with a short time to spare. Evening fell as our ride began. We were closer to our destination, the scenic villages of Wuyuan County—or so we thought.
We struck up a conversation with a young woman named Yanling who was seated next to me on the bus. She asked where we were going, and upon hearing our plans said there was no way we'd make it to the villages that night. But our disappointment was quickly met with a surprising offer.
"Why don't you come stay with my family for the night?" she suggested. "That way you can go visit the villages in the morning."
I couldn't believe our luck. Yanling then received a call from her mom, who only had one concern about us coming to their home, a question many foreigners in China will hear: "Can you eat spicy food?"
When met Yanling's family, they received us like old friends. We had a delicious dinner of tofu, shellfish, potatoes, and other delicacies that were unrecognizable to us yet nonetheless delicious. Yanling's dad poured Jacob and I a glass of sweet plum-flavored liquor. For himself, he poured cheap baijiu, a Chinese sorghum distilled liquor. He asked how to say "cheers" in English. We toasted.
The next day we thanked Yanling and her family. They drove us into the heart of their small town. Jiangwan had a two-lane street at its center; white buildings clustered around the road with colorful facades suggested supermarkets and tea stores. We walked to the bus stop, but were told that the bus wouldn't go to our destination today. Yanling had to leave, but she suggested we ask someone to take us to the villages. She wished us well, and we paced a bit on the sleepy main road, wondering if someone would really drive us.
Sure enough, a man pulled up in a car and he asked if we wanted to go to the villages. We negotiated a price and he drove us there, and I once again was surprised by our good fortune.
We were soon in a cable car lifting up from the lush valley into the green mountains. There in the mountains, nestled on terraces, we arrived in the first scenic village. Yellow flowers and red fruit lay drying in woven bamboo on the rooftops under a blue sky. A man walked up uneven stone steps amongst a throng of visitors. Two foreigners, and throngs of Chinese tourists, were admiring the white stonework, red brick homes, and black eaves of his village. His demeanor was noticeably different than that of anyone else present; this was clearly represented in his singular familiarity with the village.
Before I went to China, I read about its history and appreciated Chinese landscape painting. Reality, however, is not a landscape painting. And while the village had undeniable beauty, no painting could have prepared me for the true beauty we found in the people who live there.
---
James O'Brien (BA '16), a native of Portland, Oregon, graduated from Loyola with a degree in International Studies and a minor in Asian Studies. He studied at The Beijing Center for Chinese Studies and this summer returned to China with the Peace Corps. His friend, Jacob Miller (BA '16), also studied at The Beijing Center and earned a degree in sociology with an Asian Studies minor.
Views from the city
Growing up amidst urban poverty led me to ask all the right questions
By Pedro A. Regalado (BA '13)
On weekend mornings, I'd stare out of my fifth-floor tenement window in the Washington Heights neighborhood of New York City. My view was unlike those I noticed on my television set, which usually had front lawns, white fences, even a city skyline in the distance. Instead, I looked out through my fire escape and scanned the interior courtyard where other tenements disposed of their garbage. Bricks, cement, and one lone tree dominated my vantage point.
The New York City of the mid-1990s was not unlike my childhood view from my apartment window. Poverty and violence were daily realities that made it difficult to look far into the future. My parents made my world bigger though. Their strenuous labor and unyielding love became an ultimate necessary recipe of persistence for my older brothers and I. My curiosity also played a key role in my development—as a child, when I held my father's hand I'd often look up at the tenements. They struck me with awe and inspired so many questions. When were they built? Who built them?
As the years passed, financial hardship continued to plague my family, spurring what seemed like an endless migration. It began when I was 5 years old, as we moved from the Dominican Republic to New York City. Once there, we continued to bounce around from apartment to apartment.
When I was 18 we moved again, this time to Philadelphia, where I continued to wonder about the built environment of low-income neighborhoods around me. My desire to learn drove me to seek a college degree, but given my family's financial constraints, attending a four-year university wasn't going to be an option. Instead, I began my college career at the Community College of Philadelphia, where I began to study history. After graduating from community college—and thanks to a financial aid package that included an invaluable transfer scholarship—I was able to continue my journey at Loyola.
I arrived at Loyola in January 2012, and when I did, my life took a new turn. The questions that drove me to study history at community college found support in a department that is home to some of the premier urban historians in the country. The City of Big Shoulders also provided an engaging site for my studies, one that differed from New York and Philadelphia in terms of urban culture, race relations, and the built environment. Chicago inspired me to continue my search for what made cities function as they did.
My professors at Loyola opened my eyes to new opportunities and ways of thinking. Elizabeth Shermer revealed to me the rigorous craft of writing. Kyle Roberts trained me in how to direct those skills while embarking upon the journey of the research paper, showing me that writing history is a communal process. Yet, it was Michelle Nickerson's seminar "Rebels and Reformers" that instilled in me a passion for thinking with historical perspective.
Professor Nickerson masterfully demonstrated history's deeply contingent nature, rarely obvious and always volatile. My research on the city of Camden, New Jersey, which grew out that seminar, was guided by these perspectives. Along my journey of conducting oral histories, scanning decades-old newspapers, and attempting to piece my sources together to tell a compelling story, Professor Nickerson's mentorship was essential. She taught me—and still does—the broad definitions of justice, and I owe any success in the future to her.
Loyola had helped me take the next step, and with the integral guidance of the McNair Scholars Program I explored the possibility of going even farther by pursuing my PhD. In the spring of 2014 I received a phone call telling me that my journey, which had begun back in those tenements of Washington Heights, would next take me to the Ivy League as a doctoral candidate at Yale University.
Today, I use the tools that I learned at Loyola to understand the history of urban places. Loyola's historians helped me to historicize my life's own twists and turns, and to learn how to make a positive change in the world. My road to Yale wasn't easy, but with the lessons I learned at Loyola, I now realize the skyline in those television images I remember seeing as a child really was us.
"Go forth and set the world on fire;" I have not taken that call lightly. I now dedicate my days to telling stories of power, immigration, and capitalism with the most-marginalized groups at its center.
I could not do that without Loyola and their investment in the success of low-income urban communities—both in Chicago and beyond.
---
About the author

Pedro Regalado (BA '13) graduated magna cum laude in History from Loyola and is currently pursuing his PhD in American Studies at Yale University. He is interested in late 20thcentury urban history with a specific focus on questions surrounding race, poverty, housing, and migration.
Do you have a story to tell? We're looking for alumni who are interested in writing first-person essays about their experiences at Loyola and beyond. E-mail us to submit an idea.