archive
Breaking the cycle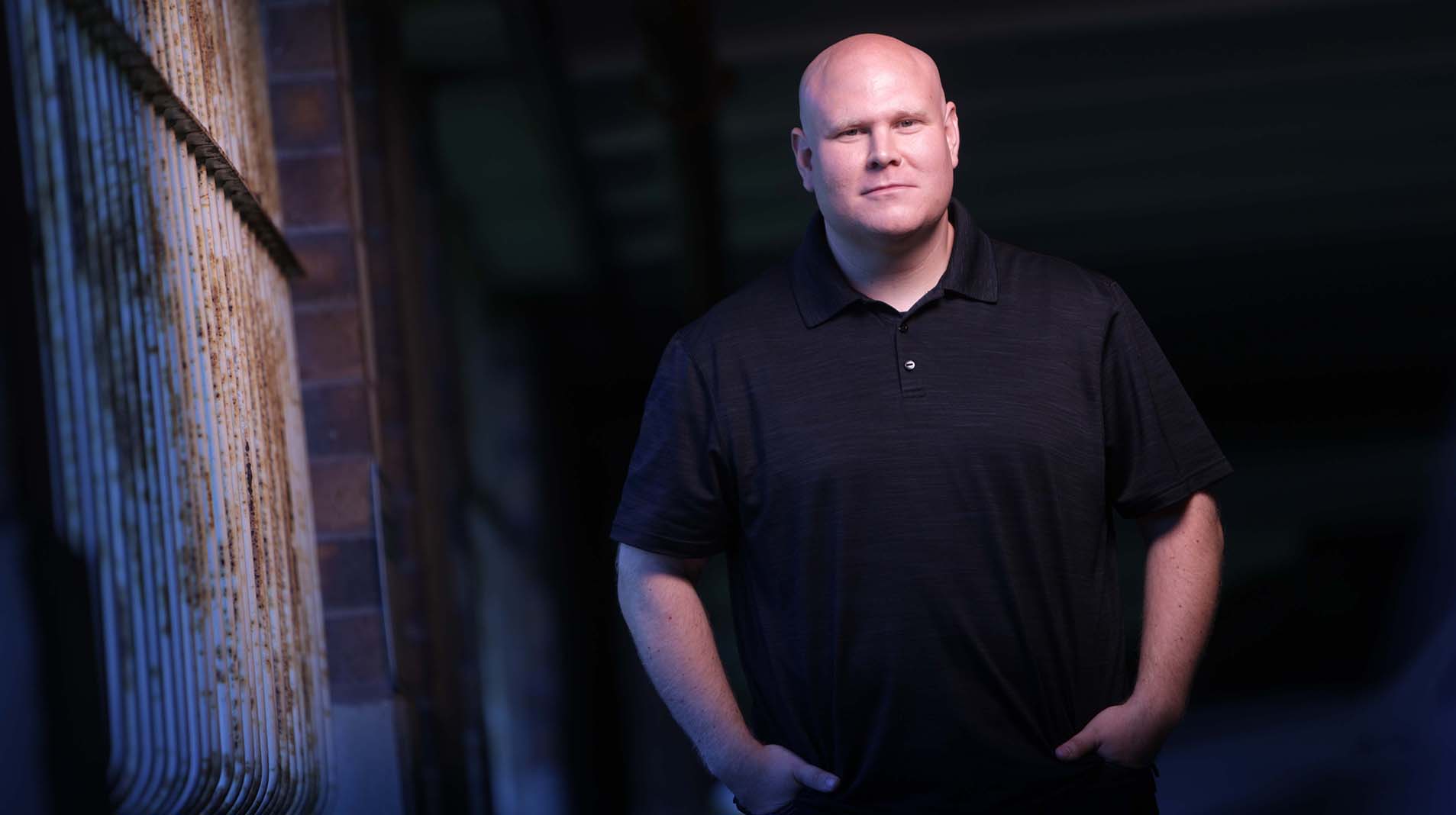 Alumnus Ken Cygan is helping to give inmates at DuPage County Jail a new lease on life
By Kristen Hannum
Ken Cygan (BA '07) never planned on spending his free time volunteering with a jail ministry. That's slightly ironic, since he's a planning specialist. A project management and learning and development leader with Nielsen Co., the measurement and analytics multinational, Cygan is comfortable in the world of business—not inmate rehabilitation. Beyond that, going into a jail, even as a volunteer, is not easy. "Not everyone has the heart for it," Cygan says. "It's an unsettling experience."
Despite his lack of intent, Cygan has found himself as the vice president of the board of JUST of DuPage, a nonprofit working with inmates of the DuPage County Jail. Two powerful motivations brought him to this point, the first being his experience studying at Loyola's School of Continuing and Professional Studies. He chose Loyola because of its reputation for excellence in academics, not because of its Jesuit tradition. But now, he says, the Jesuit mission of service to others is very much a part of him. "You don't go to Loyola for that, but you walk out with it all the same," Cygan says.
The other impetus was his family's story; his father had struggled with alcoholism until entering a transformative program. When Cygan was about 8 years old, his father was able to overcome his alcoholism, giving Cygan the happy childhood he remembers. "Dad went through a structured recovery program at the hospital. He became a loving father with the help of our church and that program," Cygan says. "I know those programs can work."
A couple years ago, a friend brought Cygan to a fundraiser for JUST (which stands for "Justice, Understanding, Service, and Teaching") and there he heard former inmates speak about overcoming their addictions. He understood the full impact of their recoveries, and could almost see the speakers' children as they told their stories. Cygan wanted to help. For him, it was an extension of his own Christian faith. "We enable life transformation, which we believe only comes from God," says Cygan. "If an inmate participates in these programs, they have more of a chance to turn their lives around."
JUST of DuPage began in 1986 when Franciscan Sister Juanita Ujcik got permission to do counseling and Bible studies inside the jail. The nonprofit was officially founded in 1987, adding education and chaplaincy support for the inmates. Thirty years later, there are four staffers and close to 100 volunteers who go to the jail every week, most of them offering courses for inmates. Every volunteer goes through a long vetting process and orientation classes that emphasize safety.
DuPage County Jail, which has 900 inmate beds, isn't the type of facility that would normally have such an extensive program. One of DuPage's neighboring counties doesn't even have a chaplain. Inmates who want to be part of the JUST "recovery pod" simply fill out an application form. But not every inmate is a good candidate for the program, Cygan says. "We don't have the bandwidth for everybody. The recovery pod is only for folks really serious about their addiction. They have to be willing to devote a lot of time."
In addition to the "recovery pod" program, JUST offers life-skills classes, one-on-one counseling, and Bible studies. Volunteers are in charge of the classes, which include anger management, decision making, and parenting. Every week a dozen groups meet for worship services.
For Marvin Joiner (not his real name), a journey to redemption began with waking up on a filthy jail floor covered in his own vomit. He'd been in prison before, but that December day in 2014 began the time behind bars that led him to the JUST classes. "I signed up for every class, every week," he wrote in a testimonial letter afterwards. A month later, Joiner still hadn't found his way. That's when Pastor Mary Ann D'Onofrio, JUST's full-time chaplain, visited him. "Talk about divine intervention," he wrote.
After talking with D'Onofrio, Joiner began attending meetings through Celebrate Recovery, a Christian recovery program that he says drew him closer to God.
As they've worked with inmates over the years, JUST volunteers and staff have found that a majority of inmates have substance abuse issues—at least 70 percent, Cygan estimates. JUST offers a variety of recovery programs, including Alcoholics Anonymous, Cocaine Anonymous, Narcotics Anonymous, and Celebrate Recovery. "We try not to dictate the program on anyone," Cygan says.
The substance abuse classes changed how Joiner, who had grown up in a troubled family in public housing on the South Side of Chicago, saw his place in the world. "Despite the hurt I caused myself, my loved ones; the numerous arrests, five years in prison, the stealing and selfishness, I never realized the problem was drugs," he wrote. "I always managed to blame everyone else — judges, D.A.s, cops, and my parents." Joiner now sees himself as a survivor. "I know the feeling of words like serenity, responsibility, integrity," he says.
JUST isn't only for Christians, as people of other faiths or no faith at all are welcome to apply. But the organization does stress the value of a church community in helping ex-offenders avoid ending up back in jail. The JUST board is working on a strategic plan for re-entry support to ensure that when men and women are released from jail they have access to a church community and additional resources.
"Every church should be looking at how to align with local jail ministry," Cygan says. "What better opportunity to reach people? They're at a point where they have so many decisions. In jail there's that brokenness. Christ can change their lives."
D'Onofrio says many churches welcome the former inmates—"returning citizens"—and that they can serve as a key resource for people after spending time in jail. "We all need to be thinking about how to help," she says. "They need housing, jobs, and to heal from the trauma of imprisonment."
Cygan isn't inside the jail as often as JUST's average volunteer. Instead, he supports the ministry through his work on the board, helping to set a strategic plan and ensuring its programs are in line with what inmates need. He's helped to increase the focus on female inmates, which has yielded great success stories, he says. And in the future, JUST hopes to address the mental health issues at the jail more concretely.
Cygan's older son, 13, has asked him about all those extra hours he spends working for JUST. "In this, I'm not working, I'm serving," Cygan tells him.
Another Loyola graduate, Illinois Circuit Court Judge Robert Anderson (JFRC Spring '69, BA '71, JD '74), an adjunct professor at the School of Law, is a JUST supporter from the other side of the bench. He came face to face with the results of its ministry one night in downtown Chicago when he and his wife were out celebrating her birthday. They'd gone to the theater and stopped at the hotel bar before heading up to their room. The waiter who served them recognized the judge, and asked if Anderson recognized him as well. Anderson apologized that he didn't.
"You should remember me, you sent me to prison," the man said, and then turned to the judge's wife.
"I thought it was going to be bad," remembers Anderson.
But the waiter said that Anderson had been respectful and fair, and going to jail allowed him to find JUST. The program helped him serve his prison sentence with a good attitude and turn his life around.
"JUST's work does impact people," says Anderson. "He was a living example. That interaction reaffirmed and deepened my support. Nobody is only the worst thing they've ever done. People's lives really can change for the better."