archive
Death becomes her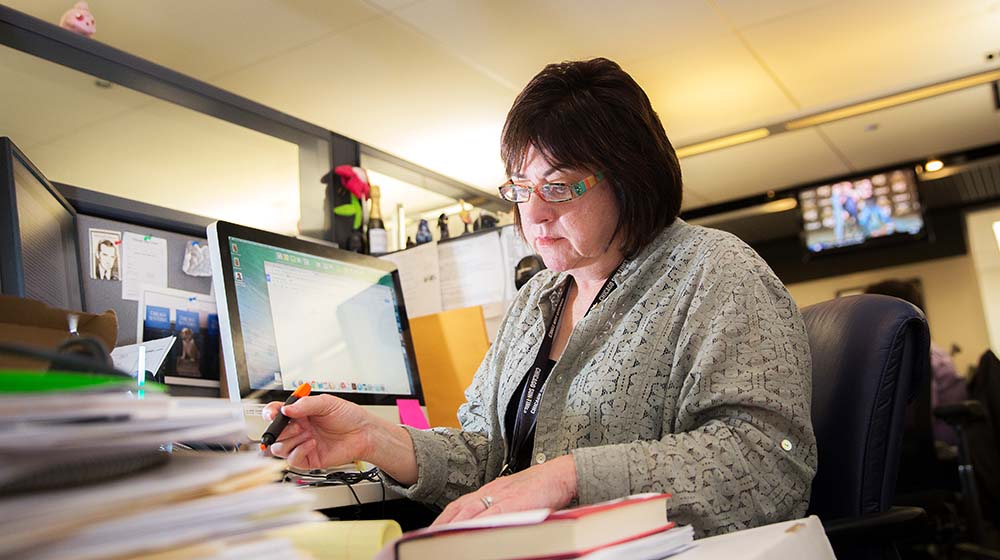 Writer Maureen O'Donnell found her true calling penning life stories on the Sun-Times obituary page
By Mary Ann O'Rourke (MUND '80)
Maureen O'Donnell (MUND '79) recalls the day she learned that her favorite college professor had died. English professor Michael Fortune, who had instilled in O'Donnell a love of writing and the English language, passed away on New Year's Eve in 2010. O'Donnell, upon spotting the death notice of her old professor, began composing an obituary for him.
The following month, the Chicago Sun-Times carried this piece of lyrical prose about Fortune's teaching of the Divine Comedy:
"For students encased in a wintry classroom overlooking the whitecaps of Lake Michigan, it was as if they were flying over the golden fields of Tuscany. Mr. Fortune was about to carry them along on Dante's journey to hell, purgatory, and paradise."
O'Donnell's skill at drawing out colorful anecdotes from people's lives has earned her a devoted readership in the obituary pages of the Sun-Times. After graduating with an English degree from Mundelein, she worked her way through a number of news organizations, including City News Bureau, The Washington Times, and the Milwaukee Journal until the Sun-Times hired her in 1989 as a general assignment reporter.
After years of covering education, crime, and politics (and collecting numerous awards along the way), O'Donnell was offered and took the obituary writing job in 2010. In a conference room at the Sun-Times offices on the 10th floor of the Apparel Mart, O'Donnell explains her eagerness to accept the job. "I've always known that obituaries have some of the best storytelling," she says. "When you're telling people's life stories, you have a long leash to use more of your skills as a writer."
O'Donnell's passion for writing obituaries is fueled by a keen appreciation of a life well-lived. She uses a number of strategies to find interesting Chicagoans who have recently passed, including scanning local daily death notices to find that golden nugget to make the recently-perished larger than life. She also fields calls from funeral directors who have tips on notable deceased persons in their care.
O'Donnell has earned a reputation as one of the best obituary writers in the business. She's currently president of the Society of Professional Obituary Writers, an organization that has given her numerous awards over the years. In 2015, she was recognized for her extraordinary skill and sensitivity in obituary writing with the Anne Keegan Award by the Chicago Headline Club. Judges cited O'Donnell's "gifts of inquisitiveness and eye for the perfect anecdote in her carefully researched and gracefully written obituaries."
From an early age, O'Donnell was interested in literature. Her father, an Irish immigrant who landed in Chicago's Portage Park neighborhood in 1952 with a ninth grade education, possessed a curious mind and a love of literature. In addition to some of his favorite Irish authors like George Bernard Shaw and W.B. Yeats, Mr. O'Donnell avidly read newspapers and magazines. "Anything he could get his hands on, he would read," O'Donnell says of her father. "He knew so much about history and current events."
That inspired O'Donnell to study English and pursue a career as a writer.
At Mundelein College, she was the editor of both Pace, the creative writing quarterly, and Hotline, the school's weekly newspaper. She also credits her Catholic grammar schooling with helping to develop her writing talent. "Although most kids hated it, diagramming sentences and spelling bees really paid off for a future writer like me," she says.
In addition to her love of storytelling, O'Donnell enjoys her latest beat for its regular hours. She and her husband, Mark Rosati, a former journalist (now a non-profit communications consultant and playwright), raised their daughter, Mairead, while juggling dueling late night deadlines.
As an obituary writer, her schedule is less hectic. Now she works four days a week, one at home. "My schedule is more predictable, and that's a good thing," O'Donnell says. "Now I have time to sink into a good mystery before bedtime."