archive
Jailhouse doc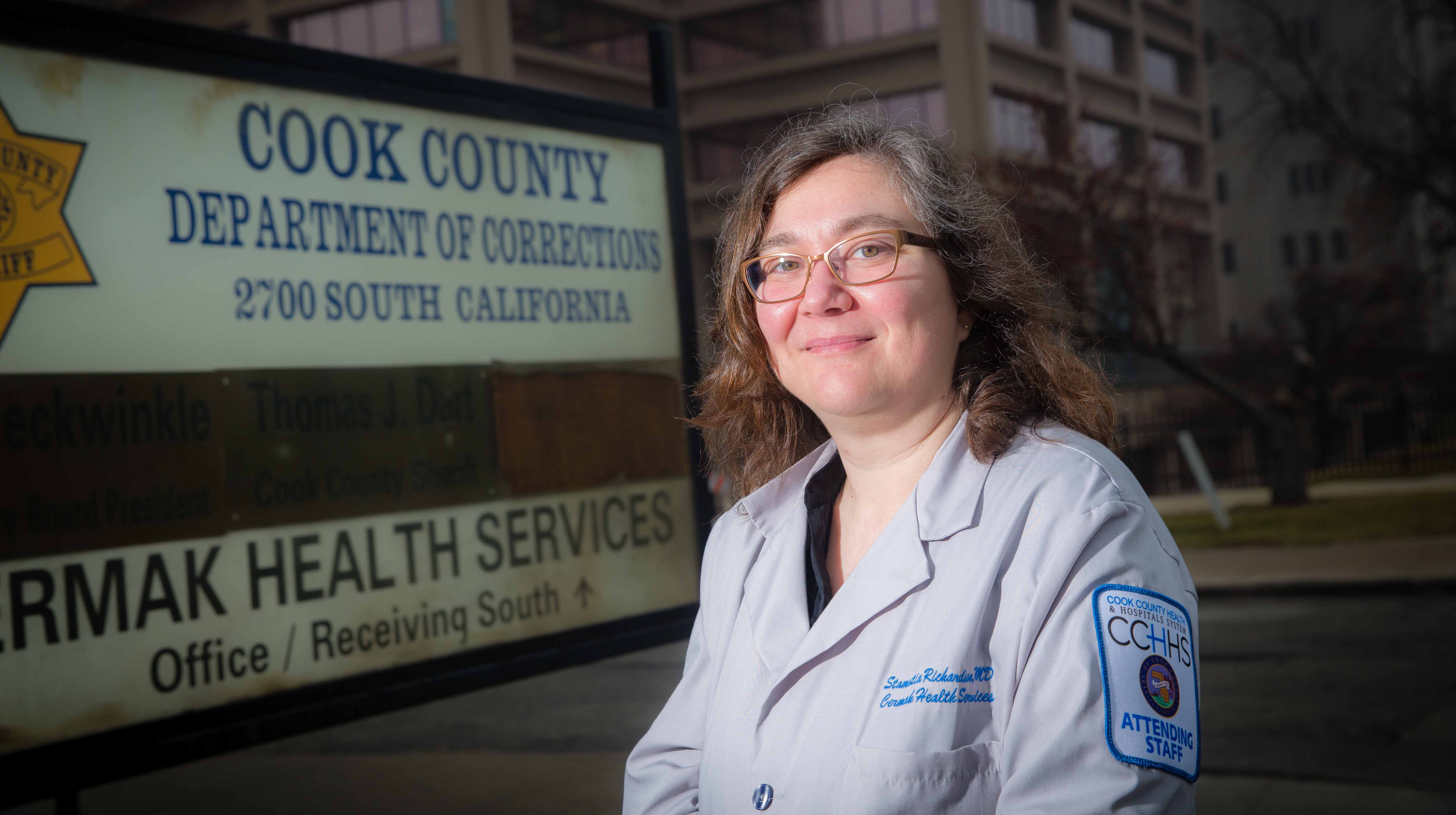 Inside Cook County's jail, Dr. Tina Richardson serves a patient population unlike any other
By Erinn Connor
Figuring out a course of treatment for a patient is one of the trickiest tasks of a doctor. But what happens when that patient has just been booked in jail?
That's the daily job of Tina Richardson (BA '86, MD '90), who works as a senior physician in women's issues at the Cook County Department of Corrections. It's a job she never intended to stay in for long, yet she's now spent nearly two decades in correctional medicine. "I just kind of got hooked on the work," she says. "It was never rote, and it was never boring."
At first, Richardson says going to work felt like going to a third-world country. But the facilities at Cermak Health Services of Cook County, the health care system within the jail, have improved significantly since she started there. Now more than ever, she feels that she is part of an important public health effort.
Richardson started as an undergrad at Loyola, receiving her Bachelor of Arts in Classics before attending Stritch to earn her MD. She had received a State of Illinois Public Health Scholarship, which came with a four-year post-graduation obligation of working in public health. She and her husband—and Loyola classmate—Dr. Lendell Richardson had both received the scholarship, and both ended up working at Cermak Health Services to fulfill their public health requirement.
As a primary care physician, one of Richardson's responsibilities is seeing patients once they arrive at Cook County jail, which is normally about 150 people a day. She goes through the available medical history of the patient and determines what immediate care they need. Inmates may have gone a few days without medication, or be going through drug withdrawal. Some have little or no medical history. Richardson also manages patients who are staying in the medical unit side of the jail and need constant medical attention or monitoring.
She notes that many female patients are dealing with mental illnesses, particularly post-traumatic stress disorder and depression. The female inmates also deal with more chronic health problems in general than men. For a majority of the inmates, Richardson and her colleagues end up being their primary doctors, since most don't have primary care providers in their community. This makes it difficult to manage chronic diseases like diabetes, asthma, and depression. "A lot of detained people come from poverty, are dealing with addiction, and don't have access to the same health care that we do," she says.
The care the patients receive in jail can provide important interventions. This may mean finally getting HIV treatments, going through a detox program, or staying on needed medications consistently. Good health care in the prison setting can help get detainees on track to managing addiction, chronic illness, and disease prevention.
Sometimes jail is even the first place where an inmate gets any kind of health care or interaction with a doctor. "This access to care and help with disease prevention," Richardson says, "can have a positive impact both on the inmate and the outside community."