archive
Never stop chasing your dreams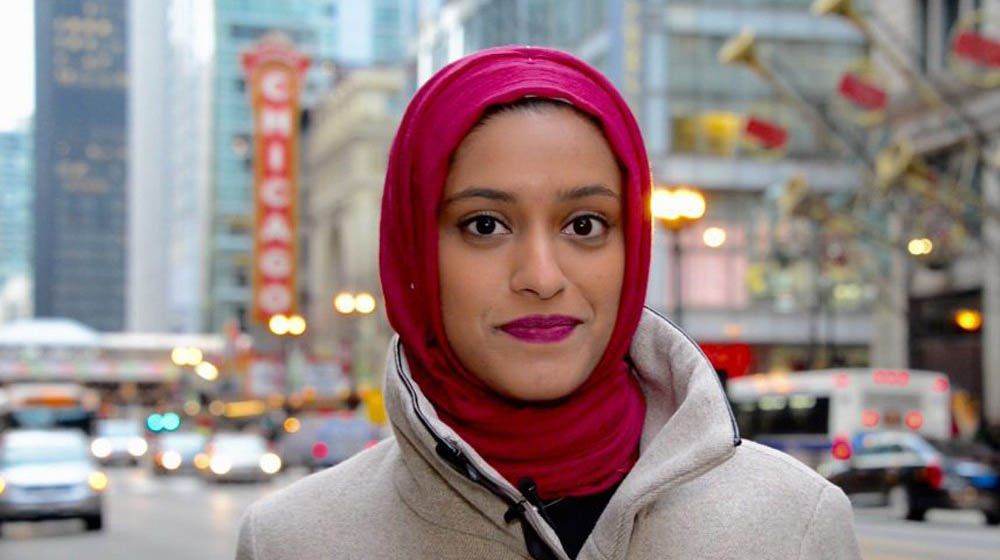 How did I become the first Muslim woman to wear a hijab on broadcast news? By never accepting 'no' for an answer.
By Tahera Rahman (BA '13, BASC '13)
As told to Maura Sullivan Hill
When I was an intern at the Chicago bureau of CBS Evening News, my producer asked me, "If you get your dream job offer and they ask you to take off your hijab, would you be willing to?" My answer was no, and that remained my answer as I endured numerous rejections from on-air reporting jobs over the past five years.
When I said no, my producer told me that he fully supported me, but also warned me that it was going to be hard. I had always known that there wasn't a broadcaster who looked like me, but that was the first time it was actually verbalized to me.
I am, however, pretty stubborn. I've done a lot of things in my life where I stuck out like a sore thumb. My parents never discouraged me from doing things that other people in our Muslim community hadn't done—like joining a sorority at Loyola, going on spring break, or studying abroad in Spain. Oftentimes, I was the only Muslim in the group, and definitely the only Muslim woman who wore a head scarf. I was used to that, and my parents had ingrained in me that my hijab was not—and should not be—a barrier. I'm not oppressed or extreme. Wearing the hijab is a choice I make in the way I practice my religion. That is part of what gave me the motivation to keep working toward my goal of being an on-air journalist, even though I knew it was going to be difficult.
After receiving a lot of "no's" in response to my applications for on-air reporting jobs, I ended up taking a producing gig at WHBF-TV, the CBS affiliate in the Quad Cities area. I wasn't giving up on my dream, and thought that putting in work behind the scenes could help me work my way to an on-air job. I was producing two newscasts a day, and came in on weekends to shadow reporters, practice with the cameras and editing system, and film my reel (a video resume for reporters).
Twice during my first year on the job I applied for on-air reporting positions. I didn't get it the first time, but by my second attempt I really thought I'd get the job. I had earned a good reputation around the newsroom, and everyone knew how much I wanted this job and how much I was working for it.
When I found out I didn't get the job again, I was devastated. As I drove home from work that day, I had to pull over on the side of the road in the middle of Iowa. I called my mom and broke down. I remember saying, "I can't do this anymore. Maybe I should just be grateful for what I have and keep going as a producer." My mom did not waste a breath in her response. She said, "No. Of course you will keep going. If you have to apply again, you will apply again, and you'll keep applying until you get it." So I wiped the tears from my eyes and continued driving. I obviously didn't bounce back in a day, but with my mom's help, I decided to keep trying.
Four months later, I was granted another opportunity to apply for a reporting job. When my general manager called me into his office and told me that I got it, I was almost in tears. When I called my mom to tell her, she was ecstatic. I would not have applied that third time if she hadn't encouraged me, and it was amazing to feel like my work had gotten me somewhere. Hopefully, this is only the beginning.
I started on air this past February, and the support from our viewers thus far has been amazing. It says a lot about where we live and about America, especially at a time when it is hard to talk about anything without being divisive. But the reaction to me wearing the hijab on air has been so overwhelmingly positive that it has shown me we can all land somewhere different on the political spectrum, but in the end, most of us have similar values. We can all see someone who has worked hard for their American dream and can respect that.
Now when I go out on a story, someone will always recognize me and come up to me to congratulate me. I have not had a single negative in-person interaction with anyone in the Quad Cities. Online is a different story, but I just do not engage with negative comments. Oftentimes, other people in the comments will respond to the negative ones, and that is really great to see. And it is not even just here at home—I'm waking up to positive messages from people in England, Sweden, and Turkey. I could not be more thankful.
I think it is important to recognize that I'm the first Muslim woman to broadcast while wearing a hijab, but I'm not trying to become a token. I want people to see me as a really great journalist who happens to be a Muslim. And I want there to be others, so I'm just the first of many. I'm very grateful to God that he opened this opportunity to me, and it can be the same for anyone else who has a dream and is willing to work for it. You should never have to sacrifice part of your identity for someone else.