archive
Where campus meets community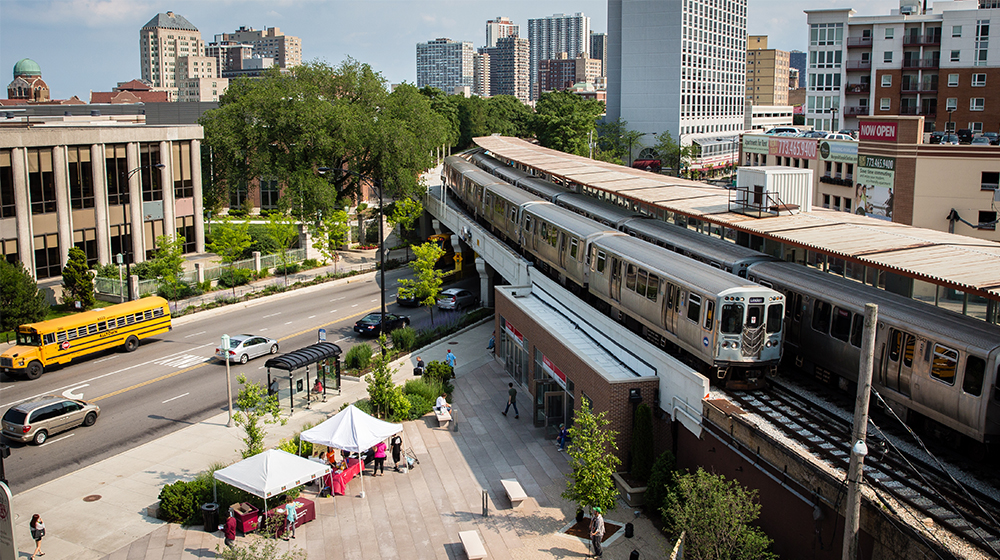 For 20 years, Loyola's Center for Urban Research and Learning has built lasting partnerships that have led to impactful social change
By Scott Alessi
When talking to people in Chicago who had recently experienced homelessness, researcher Christine George kept hearing the same complaint again and again. Individuals who found themselves in need of housing or shelter had attempted to contact the city's 311 helpline, only to be told they should find a nearby hospital or police station. Instead of directing callers to services that could help with their housing dilemma, operators were telling them to turn to someone else for assistance.
So George, an associate research professor at Loyola's Center for Urban Research and Learning (CURL), and her research team decided to test the system themselves. They placed 100 calls to 311, each time presenting the operator with a crisis scenario. And just like the people they'd interviewed, the researchers were given vague and unhelpful directions. For people in real emergency situations, the helpline was clearly not serving its purpose.
The finding was part of an extensive evaluation of Chicago's 10-year plan to end homelessness, a study commissioned to find where the city was succeeding in its efforts and where it could improve. A group of 550 people experiencing homelessness were tracked over a period of one year, with researchers looking at what worked and what didn't when it came to getting people into stable housing. Like all of CURL's research, the project was a collaborative effort between researchers, students, and community leaders aimed at finding ways to address urban issues.
It also sparked a significant change. When George and her team presented the results of their study at an event hosted by the Chicago Alliance to End Homelessness, the failings of 311 caught the attention of Chicago Mayor Rahm Emanuel. While Emanuel was pleased to hear that many of the city's efforts to end homelessness were leading to progress, he pledged to deal with the 311 problems immediately.
Sure enough, improvements to the system were quickly implemented. "Our report was the basis for that," George says. "It helped to move forward a bunch of important pieces in addressing homelessness."
It is this type of success that has made CURL, one of Loyola's Centers of Excellence, a respected partner in the local community for two decades. "We are the go-to people," says George. "We have formed these partnerships, and people really trust us."
Power of partnerships
Those partnerships are the heart of CURL's unique research model. Founded in 1996, the center was designed to bring together members of the University and leaders in the community for collaborative projects geared toward not just studying urban issues but finding solutions.
"The simple view is that there is knowledge in the university, but there is also knowledge in the community," says Philip Nyden, the founding director of CURL. Nyden, a sociology professor who joined Loyola's faculty in 1979, says university researchers might not get the full picture of what is happening in a community when conducting research on their own. But the community can also benefit from the expertise and credibility that comes from working with representatives of a major university. "The model in many ways is highly logical," Nyden says. "But around the academic world, that was a radical idea."
Nyden first tested this approach in 1989 when he helped to form the Policy Research Action Group (PRAG), a collective of local universities and community groups in Chicago. PRAG proved the model had merits and paved the way for the establishment of CURL.
It didn't take long for CURL to see the fruits of its partnership-focused model. An early project for the center brought together the Howard Area Community Center (HACC), a local social service agency, and Organization of the NorthEast (ONE), a political advocacy group, to study the potential adverse effects of welfare reform. A key finding of their report was that cuts of subsidies to legal immigrants for rent and food would lead to a $41 million loss for the local economy in the Rogers Park, Edgewater, and Uptown neighborhoods.
CURL's involvement substantiated the findings, but their partners helped to put the results into action. By calling attention to the impact on the local economy, ONE was able to get the attention of politicians, community leaders, and the media. As the story gained national and even international attention, elected officials who previously were uninterested in taking on the issue were pressured to act. Ultimately, Illinois legislators responded by passing a $10 million addition to the state welfare budget.
Such results wouldn't be possible without CURL's partners. "They were able to do things in Springfield that we as a research center and a University are not hardwired to do," Nyden says. "Research is a tool with which you can shape policy, but that only happens when you put it into play. We need community partners to do that."
Academic versus activist
Having community partners also helps CURL maintain its own distinct role. Nyden says that as academics they must remain objective in order to produce sound results, and there is a fine line between research and activism when it comes to some of the issues CURL studies. Nyden himself has turned down offers to join partners in lobbying or sit-ins at the mayor's office to avoid muddying the waters.
It is a lesson he is also careful to emphasize with Loyola students, who play a major part in CURL's research projects. In some cases, students may be eager to take on a project because of their own personal stance on an issue. When recruiting students for a study on the impact of Chicago's first urban Walmart store, for example, Nyden recalls one student enthusiastically saying, "I want to get Walmart!"
But as Nyden explained, CURL wasn't trying to take down the retail giant. The study was intended to research Walmart's effect on sales tax revenue and employment numbers in the neighborhood, and going into the project there was no way to tell what the results would be. "I didn't know if we were going to 'get' Walmart," Nyden says. "The results might have been positive."
It turns out the findings were fairly neutral—tax revenue and employment data were both virtually unchanged by Walmart's presence in the neighborhood—but the report didn't indicate the store had a profoundly positive influence on the community either. And that was enough to get Walmart's attention.
When an interim report was released halfway through the study, Walmart produced a 20-page rebuttal. Two days after the final report was released, the Chicago Sun-Times ran an editorial criticizing CURL's findings. But when the New York City Council was considering whether to allow Walmart to expand its presence there, they called upon one of the researchers on CURL's study for input. The Washington Post also asked the lead researchers on the report to write an op-ed about their findings.
Though the results weren't meant to attack Walmart, they still had a big impact. "I think we really rattled a few cages," says David Van Zytveld, CURL's associate director. "I don't know of a report we've done that had, quite frankly, such innocuous results that got so much attention."
Two-way street
Whether or not their work garners headlines, CURL maintains a commitment to research projects that have a tangible outcome—not only for the community but for the University as well. "I think we have been a benefit to a variety of communities, but it is not a one-way street," says Van Zytveld. "Our community partners have helped us—both CURL and the University—in our educational mission. We've been able to make connections and they have extended our classroom."
Part of the learning process involves being open to hearing the concerns of a community and following their lead on research projects. A 2002 collaboration with a group of teenage girls in the Uptown neighborhood, for example, focused on questions of race and culture related to how the young women styled their hair. It wasn't a topic CURL's researchers would have come up with on their own, but it proved to be a valuable learning experience for both sides.
Developing relationships with people in the community has been a highlight for Nyden, who this year will transition into retirement after 20 years as CURL's director and nearly four decades at Loyola. At times, he admits, the work can be disheartening, as it provides an up-close view of the toll that issues like poverty and domestic violence take on people's daily lives. "You put a face on these problems and sometimes that's disturbing," he says. "But there's also a lot of hope there too. That is really critical in the kind of work we do. And it keeps you going."
It also adds pressure to work toward change. And looking back, Nyden sees the great strides CURL has made both locally and beyond. The center has been a model for researchers at universities nationally and internationally, and its work has had far-reaching policy implications.
"You've got to make gains," Nyden says. "They might be small gains, but those small gains shared with thousands of people are really going to change the quality of people's lives."