archive
The shopper's dilemma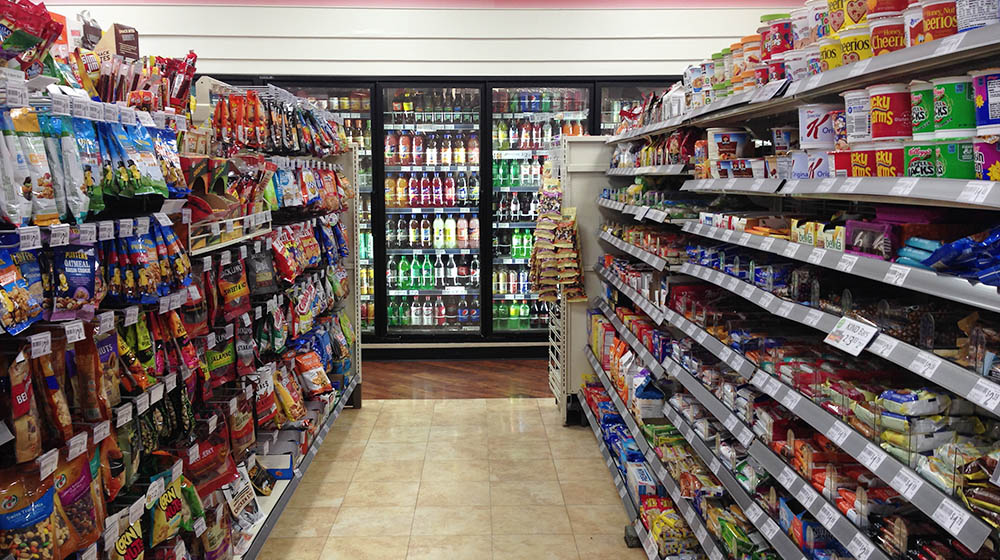 Maintaining a balanced diet poses a unique challenge in communities with limited food access
By Zoë Fisher ('17)
Eating healthy starts with picking the right foods from grocery store shelves, but what happens when the options in the aisles are much more limited? Joanne Kouba, PhD, RDN, LDN, associate professor and director of Niehoff's dietetics education programs; and Annemarie Cahill (BSN '98, MSN '06), FNP, MSN, RN, clinical nursing instructor; sent a group of 20 dietetic, nursing, and medical students from Loyola to find out.
As part of a research project on food availability in Maywood, presented at this year's Palmer Research Symposium, students were sent into the neighborhood with a shopping list. They quickly discovered there are no grocery stores in Maywood and instead found that most residents do their shopping at mom-and-pop shops, gas station mini-marts, or dollar stores. The research project is similar to one Kouba managed in 2007, where she compared food availability in Chicago's Austin neighborhood to that of Oak Park.
The 2007 study paired Loyola students with community residents and a geographer. In the new study, students were separated into collaborative teams with at least one representative of each discipline and sent out to collect data. Early on, the students found it difficult to confirm the location of food sources. Some places they found listed on the internet had closed, and when students drove through the neighborhoods, they also discovered stores that weren't listed online.
Searching the shelves
Once in the stores, students shopped for 60 items from the USDA Thrifty Food Plan and checked the availability, price, and quality of each item. They found that the most common food source, gas station mini-marts, don't sell fresh fruits or vegetables. The only two items from the list that they found in all surveyed stores were juice and salt.
An unexpected finding was that many items in stores weren't priced. While students were surveying one convenience store, they found a carton of expired eggs. When they asked the store manager the price, he shrugged and said, "'I don't know, $8?'" Another team of students had a similar story, but this time the eggs were $1.
Students were surprised to learn that neighborhood residents encounter these types of barriers on a regular basis when shopping for food. "It makes getting what you need more difficult and intimidating sometimes," says Kouba.
Alternative options
Currently, Kouba is working with the Proviso Partners for Health (PP4H) community group to address chronic disease in Maywood. When it comes to managing and preventing diseases, she says, there's nothing more crucial than a healthy diet. A recent PP4H project provided 100 salads a day for students at Proviso East High School, providing a faster, healthier lunch alternative.
For Maywood residents with limited food access, Kouba suggests they seek out food at community gardens or farmer's markets. She also says residents could connect with community organizations or shop owners to explain their needs.
One goal of the project was to bring students of different disciplines together to understand their different professions. Cahill adds that the experience left many students awestruck. She says it was important for the students to learn about the obstacles patients face in order to advise them more effectively. "Practitioners of the future should understand the community," she says.