archive
Your neighborhood nurse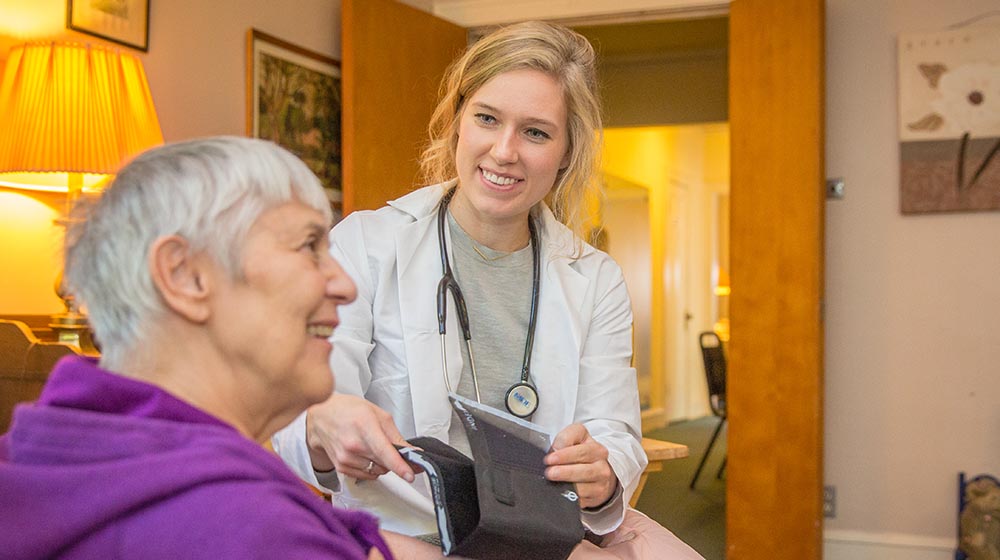 For more than three decades, Niehoff students have been gaining experience outside the classroom—and transforming lives in the local community
By Anna Gaynor
On a bright Thursday afternoon, a small group of students meet on the first floor of Pat Crowley House, a Rogers Park apartment complex for seniors who need assisted care. Sitting in the community living room for their first day, the nursing students get debriefed on the home's residents and their daily activities. Walking in late are Katie Kazimir and Sara Reilly—Kazimir's first home visit went longer than they expected thanks to a talkative patient and a temperamental little dog. "He was very protective of her," Reilly says, half-joking.
Fortunately, Kazimir and Reilly weren't checking up on the dog. Once a week for the next semester, the two will come to that patient's home to help her manage her chronic health problems.
All of these students are part of Loyola's Community Nursing Center program. Throughout this semester, they will do home visits in the Rogers Park, Edgewater, and Uptown communities for those who cannot afford home health care. Students, like Kazimir and Reilly, will look at a number of things for each patient: their general health, housing situation, mobility, and ability to do daily chores. If students find that a patient can't manage certain activities or afford certain necessities anymore, they will work to match that patient with a government agency or nonprofit that can help.
"We keep people out of the hospital by intervening earlier with chronic diseases," says Monica Dillon (BSN '82), project director of the Community Nursing Center. "We do a lot of education, but we do a lot of assessments and try to intervene before the diabetic becomes out of control."
For Kazimir's patient, she will need to assess her vitals, change bandages, answer questions, and help with any other health issues she might be having. "It's a much slower environment," Kazimir says. "The pace is more relaxed, where as in the hospital everything is going really quickly and your day flies by. You have to be constantly thinking on your feet. This is stopping and being with the patient."
Every semester, roughly 40 students are divided into groups to be led by instructors like Jennifer Lucas (BSN '02, MSN '07), a Loyola alum who is working with the Pat Crowley House group. Each of these students is assigned two patients, one at the house and another in the community. Students make visits in pairs, which means four home visits per week.
This experience teaches students what happens when patients leave the hospital. During visits, a student will ask patients to show them the medications and instructions they received from their doctor or the hospital. For financial reasons or due to a miscommunication, patients might not have gotten a prescription filled, didn't make that follow-up appointment, or don't have the support system in place to follow a doctor's instructions. It's a lesson that Lucas finds stays with them after graduation.
"Even some former students who are now nurses in the ICU, as they're discharging a patient they start to think, 'Oh wait, is home care set up?' Are the supplies there? Do you have a home health nurse? Who's going to help you with your bandages?' " Lucas says. "So they start thinking more holistically."

Humble beginnings
The Community Nursing Center started in the unheated basement of St. Ignatius Church in Rogers Park, but since its beginning in 1981, it has grown into an integral part of the north side community. Dillon was a student at the center in 1982, started working at the nursing center in 2014, and was named director this summer.
"You'd be surprised how much it hasn't changed," she says. "We still have the same mission to reach out to probably the most vulnerable seniors in the community. The Nursing Center continues to be a critical safety net."
Today, students have started seeing patients with increasingly more complicated health issues. For many, the visits are what allows them to stay in their homes. "There's nothing else like it," says Pam Andresen, who was the director of the center from 1988 to 2010. "We have had grant funding over the years, but we're mainly supported by the University, and they have supported us since 1981."
New students don't just treat individual patients, most of whom are seniors. They're teaching public health classes in addition to those home visits. Classes have taught preschoolers the best way to brush their teeth, wash their hands, and even cough and sneeze. Students might do a series of prenatal classes, talk about healthy eating at Loyola's farmers market, or discuss treating arthritis at senior centers.
For all of these programs though, the Community Nursing Center makes sure listen to the community first and foremost.
"In community health, it's important to know what the population needs so we're not going to teach them something they have no interest in," Andresen says. "At the senior center, if we had gone and talked about preventing falls, which would be actually a very good thing to teach, but if they felt like, 'oh I'm safe, I'm not going to fall,' they probably would not have even shown up."

A lasting impact
Dillon, Andresen, and Lucas all have stories about the work students have done—whether it was helping a veteran get reconnected with a VA hospital, finding pro bono help for a patient who hadn't been to a dentist in over a decade, or convincing a patient to visit the ER where she was told her body was in the process of shutting down.
Nursing students take pride in changing someone's life for the better, but sometimes these changes take place over years, not weeks. During Lucas' first semester at the Nursing Center, a new resident moved into the Pat Crowley House. When Lucas and her students sat down with the woman, they asked if there was any health issue she wanted help with.
Turns out, the resident had a goal: lose 100 pounds using a food journal. For that first semester though, she just wrote down her meals in the journal. The second semester, she asked the students to circle foods she shouldn't be eating. Next, she wanted to know what she could have to replace the foods previous students had circled. And after she had lost those 100 pounds, another group of students helped her revisit and lower the amount of medications she was taking.
"Sometimes the students only see a small piece of the puzzle. They may say, 'I don't think I'm really helping this person or doing much,' " Lucas says. "As an instructor, I can see over the last six years, all of the little semesters add up. Everything that they've done each semester has now completely changed this person's life."

Next up
Back at the Pat Crowley House, Carla Dannug and Lauren Baranovskis are still sitting in the living room while some of their fellow students are being introduced to their patients. The residents Dannug and Baranovskis have come to meet are out, so they're writing brief notes introducing themselves to leave behind. This is a big leap from their previous classwork. Before this, these students were primarily in a hospital environment working alongside a nurse.
"I definitely think that this experience of being on your own, it gives you a wakeup call of, 'Oh, I'm actually graduating next year,'" Dannug says. "There's so many preventative measures that you can take in helping them from ever even going to the hospital."
The two are joining a long line of nurses who have benefited from the center—no matter what path or specialty they choose afterward.
"I'm kind of realizing this is the reason I went into nursing," Baranovskis says. "This really pins it on the head: getting out into the community and preventing people from getting into hospitals to begin with."