archive
The Jesuit next door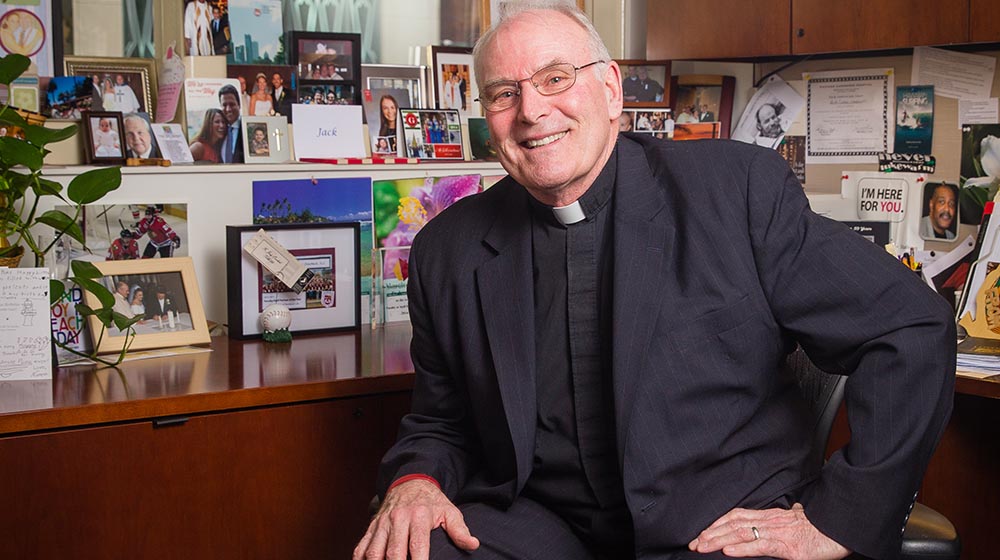 Over his 40 years at Loyola, Jerry Overbeck, S.J., has formed lasting relationships with generations of alumni
By Maura Sullivan Hill
He's known as Fr. Jerry, Fr. J, even Dr. J. Others call him Padre, or Padrecito. At the Cathedral Basilica of Our Lady of Peace in Honolulu, Hawaii, he is Pono. Some teasingly refer to him as FJSJ, with the last two letters standing not for Society of Jesus but "surfing Jesuit."
No matter which name you know him by, he's Rev. T. Jerome Overbeck, S.J., a beloved chaplain and professor who has been a part of Loyola since August 1976. He's comfortable with whichever name people use; he's just happy to be talking to them.
"My name is Thomas Jerome. I'm a junior, and they called me Jerry from when I was little," he explains. "As I became an adult, I learned more about St. Jerome and, honestly, I think it names who I am."
St. Jerome is known for translating the Bible into Latin, then the common language of the people, to make it more accessible. In many ways, that's the work Overbeck has been doing at Loyola for four decades. "My method of working is: Go where the people are," he says. "Whether it's food courts, Starbucks, Pippin's, wherever. The place isn't important."
That's why you'll find Overbeck at Starbucks on State and Pearson at 6:30 every weekday morning (except for Thursday, his one day off) for what he considers his office hours but what students have dubbed "Java with the Jesuit." He says he sees the early birds, and those who haven't been to bed yet. There is always a seat at his table, whether it is for someone who needs to talk about a personal problem or a student with a question on a class assignment. "Truly, I see more students, faculty, staff, administrators, alumni, neighbors, and baristas at that Starbucks than I ever see in my church, classroom, or office," he says.
For Overbeck, any conversation is his classroom, and he never stops teaching and learning. "I've loved teaching for all of my Jesuit life, but I think there are different ways to teach," he says. "It's the variety of venues that I find so interesting, where people learn how to put life learning together with classroom learning."
Many of these conversations occur in Baumhart Hall, where Overbeck lives. He's spent 30 of his 40 years at Loyola in residence halls. He lived in Mertz Hall at the Lake Shore Campus with 700 freshmen, then helped the University open Simpson Hall and later Regis Hall before moving downtown.
Brian McFadden (BBA '99) lived a few doors down from Overbeck on the 10th floor of Mertz, and it was the beginning of an enduring friendship. "I find our conversations as meaningful now as they were 22 years ago, just in a completely different context," McFadden says. "Then, I was a freshman from Omaha, Nebraska, with no ties or friends in Chicago. Now, I'm a parent with four kids."
Overbeck presided at McFadden's wedding, baptized his children, and blessed the family's first home. McFadden's wife, Jackie, says Overbeck cultivates a relaxed, comfortable environment with their kids. That's something McFadden also witnessed at Loyola. "He's visible and approachable, whether it's with freshmen or graduate students or graduates, of faith or not of faith," he says.
Every Tuesday night, Overbeck makes a home-cooked meal at his apartment and brings it around the residence hall to offer to his neighbors, going door-to-door until the pot is empty. Chicken stew is on the menu in the winter, and he often defaults to his specialty, Italian cooking. He's also been known to make Moroccan dishes, a skill he picked up while living and studying in Casablanca.
"I knock on every door, ask if anyone is hungry, and offer whatever I made that night," Overbeck says. "Believe me, this connection feeds more than the body."
Beyond their shared address, Overbeck has something else in common with students: He is a graduate himself, earning his degree from what was then Loyola's Bellarmine School of Theology in 1970. He decided to become a Jesuit around the time he started college, and feels he's perfectly suited to the order.
"I'm called to be a contemplative in action," he says. "The chapel that is right down the hall from my office is a good symbol of Ignatian spirituality, in the sense that it has a contemplative quality to it and there is a stillness in the room, yet if you look out the window, you're clearly in the middle of a vibrant city. Being a Jesuit is finding God in the middle of all that."
At Loyola, Overbeck has taught courses on theology, anthropology, counseling, and social work. His official titles have varied over the years, including professor, University Liturgist, and chaplain of the schools of law and social work, his current role. He's such a fixture, in fact, that Lu's Deli and Pub in the Terry Student Center even named a sandwich after him—the "Fr. J."
Although his titles have changed, one thing has remained consistent: Overbeck's dedicated presence on campus. Generations of alumni cherish his influence on their lives, as evidenced by the packed house at Madonna della Strada Chapel for the celebration of his 50th year as a Jesuit in 2014.
"He is multidimensional. He's an authority figure, yet he mixes really well with the students and is dedicated to that," says Mike Calsin (BBA '93). "I'm sure there are days when he'd really like to be by himself, but he's with the student body almost all the time because he thinks that's where he needs to be."
"He's a common thread through a lot of Loyola experiences," adds Maria Calsin (BBA '93), Mike's wife.
The Calsins remember encountering Overbeck for the first time at the 10:15 p.m. Sunday Mass as undergraduates. They found his homilies relatable and relevant. When the couple got engaged, Overbeck was a natural choice to preside at their wedding.
That would be the first of many sacraments he would perform for the Calsin family: he's baptized all three of their sons, heard the boys' first confessions, and gave them their First Communion. The family's eldest son, Jack, even asked Overbeck to be his confirmation sponsor.
"I couldn't even respond, I just got up and gave him a hug," Overbeck recalls. "I was just so moved."
It's an annual tradition for Overbeck to accompany the Calsins to a pumpkin patch and corn maze every fall, and he's always a guest at their extended family celebration of St. Joseph's Day. They invite him when they bring their sons to campus to cheer on the Loyola basketball team. And beyond the fun family, Overbeck still supports and guides the Calsins like he did with those applicable homilies during their undergraduate years.
"When I was a student, I was comfortable talking to him. As a parent I've been comfortable talking to him, the same as a friend," Maria says. "He's just genuine." Mike adds, "He is a good listener and a good thought-provoker. He has in-depth conversations with people, and yet makes them feel really comfortable."
So comfortable, in fact, that Overbeck is in high demand for alumni weddings and baptisms. He's never taken the time to count up the ceremonies, but if it is a weekend between April and October, odds are high that he's presiding at a sacrament for Loyola alumni.
June and July, however, are the exception. For the past seven years, Overbeck has spent those two months in Hawaii. He works on research and writing, and also presides at the cathedral in Honolulu. That's where he got the name Pono ("righteousness" in Hawaiian), bestowed upon him by a friend who was a high priest in the indigenous Hawaiian religion.
It's also where he hits the water. Remember the "surfing Jesuit" nickname? Overbeck took up the sport in the '60s on the West Coast, and fell more in love with surfing when he spent a summer working at a parish in Hawaii during the early years of his priesthood. Surfing actually reminds him of Jesuit discernment. "When you are surfing, you have to learn to spot the wave you think has the most power, and you can feel it as soon as you catch the wave," he says. "If you don't lean in to it enough, you're dead in the water. If you go too far, you tumble [off the board]."
Just like discernment, he says. "You'll feel it when you catch the wave, when you catch where God is working in your life and you're on a roll, man. If you don't lean in enough, or you lean too much and try to control things, uh oh. There's only one God, and lest there be any confusion, it would not be you!" he laughs.
With Overbeck's willing laugh and engaging storytelling, it's easy to see why students and alumni have been drawn to him for so long. But he is also a rock in difficult moments.
Troy Fleming (JD '13) and his wife, Dawn, turned to Overbeck when their youngest son, Garrett, was born with meningitis and it was unclear whether he would survive. Overbeck dropped everything to go to the hospital to pray with the family. He remembers cradling Garrett in his arms, with the other two Fleming children hugging his legs, and Dawn and Troy standing close, all fervently praying.
"It was what we needed and it gave such peace and comfort to us," says Dawn. "We had already spent some years together, and this was something that now binds us for a lifetime."
Today, Garrett is an energetic, completely healthy four-year-old. Last year, on a family trip to the pumpkin patch with Overbeck, Garrett was scooting around a corn pit and happily riding down the slide. "My heart was so full of gratitude I almost cried, just to see this kid healthy as a horse," Overbeck says.
Inside the Terry Student Center, Overbeck's office is decorated with photos, cards, and notes from the families, alumni, and students who love him. There are wedding and baptism pictures, family photos, Christmas cards, and more, hanging on all four walls of the room; a visual representation of the love and appreciation the Loyola community has for him.
And the feeling is mutual. "What I don't make in dollars and cents, I do make in job satisfaction," he says. "I feel like God has lavished me with so many gifts by being here for 40 years—mostly the relationships."