archive
Defending the freedom of the press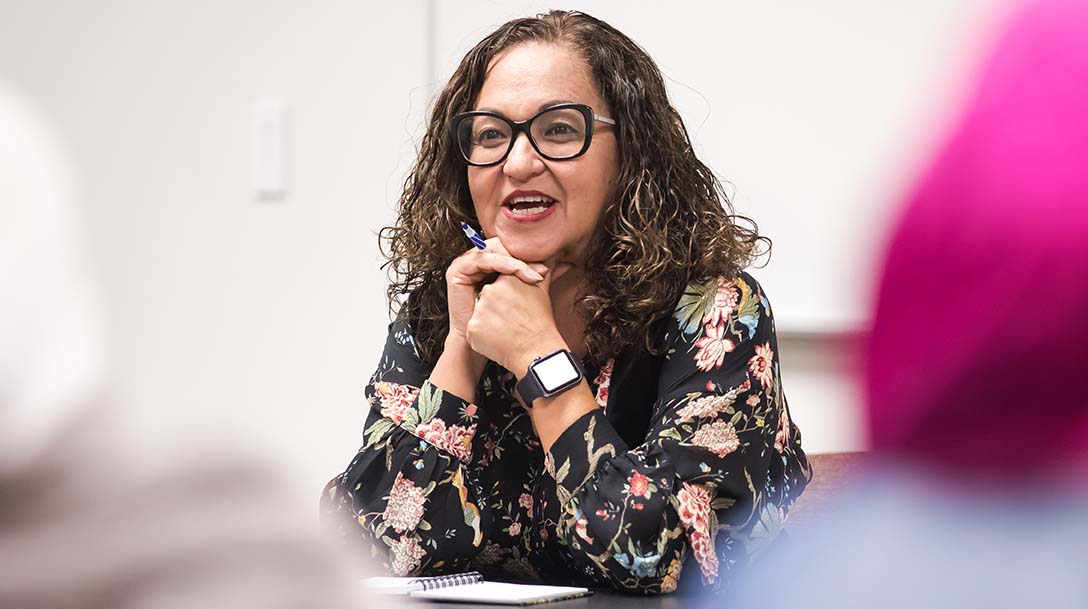 5 Questions with...
Sanjuana Martinez is committed to putting the truth in print—even if it puts her own life in danger
In 2017, 11 journalists were killed in Mexico—a statistic that makes the country second only to Syria in its danger to reporters. And yet, Mexican journalist Sanjuana Martinez remains steadfast in her commitment to reporting and maintaining the freedom of the press.
Martinez has reported from Europe, Africa, the Middle East, and South America, covering hard-hitting subjects like corruption, human trafficking, and sexual abuse in the Catholic Church in her native Mexico. Her investigative work exposes her to severe danger, resulting in numerous death threats and often sending her into hiding to escape the revenge of those who have been exposed by her reporting.
Martinez recently visited Loyola University Chicago to speak to students about social justice in journalism, discussing the challenges she faces in her work. Following her talk we asked her about her commitment to quality journalism in the face of danger.
1. Why is it important for you to report on what is happening in Mexico, despite the dangers you face?
It is our mission (as journalists) to defend freedom of expression—even if you die—and it is very important. This is our mission: to put light into dark areas and show the truth. It's very important because journalism is a social change agent.
2. When did you decide to become a journalist?
I've always wanted to be a journalist. My mother remembers me at 6 or 8 years old, interviewing all the people that came to my house where I grew up in Monterrey, in the north of Mexico.
3. You write about people who do not have a voice. What draws you to that type of journalism?
That is being a real journalist—to give a voice to people who don't have a voice. That's why I became a journalist. You can believe in objectivity, but you can take a side for the big things. In my work, I always take a side for them. They are suffering so much, and they need a journalist to share the suffering and pain they are going through. I've had people tell me, 'I was crying when I was reading your story,' and I say to them, 'I was crying when I was writing it.'
4. What is the biggest challenge in your reporting?
Right now, the big challenge is to stay alive—to keep safe and keep doing my job. It is hard to know that when you go out of your house, you don't know if you'll get back. I was in Europe for 20 years, covering different wars, and I never felt the fear like I do in Mexico. It is very unsafe, because of the murders of my colleagues, and the violence against women journalists is worse than anything else. This is a different type of violence—they want to create fear and stop the flow of information. It is barbaric.
5. How can people support freedom of the press?
Give us visibility. Visibility of our situation is the most important—reading, speaking about it, supporting us. Support journalists. It is part of our democracy, because our job is to defend freedom, especially freedom of information. We need the support always.