archive
Suspending discipline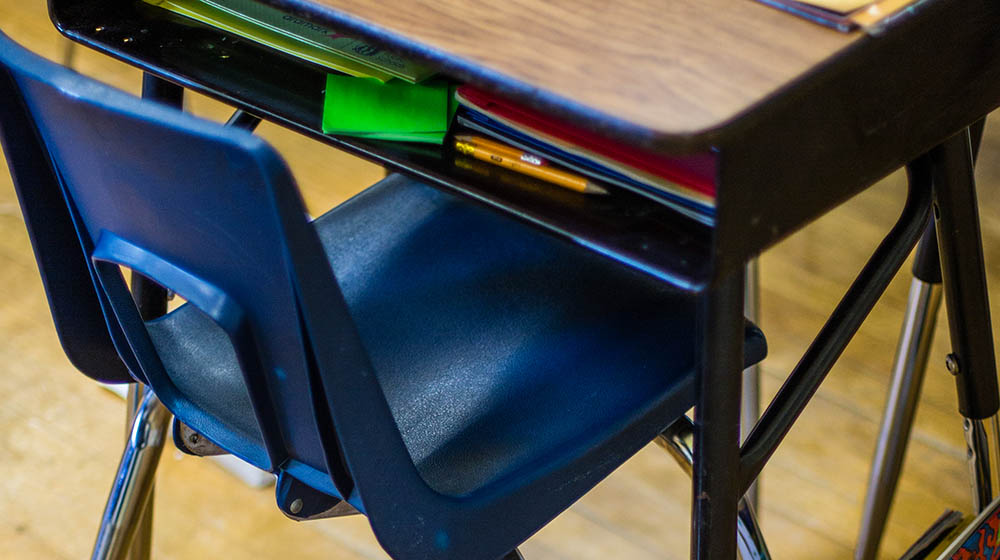 School of Law/School of Education
Punishments that remove students from school can do more harm than good. Two Loyola professors are working to find a more positive approach.
By Anna Gaynor
Finding research showing the consequences of suspensions and expulsions isn't difficult. The role of discipline in the school-to-prison pipeline has become a national talking point for educators and legislators. There is, however, limited data showing schools what might work better.
Pamela Fenning, a professor in the School of Education, and Miranda Johnson, director of Loyola's Education Law and Policy Institute, are making it their mission to address what they call exclusionary discipline, or punishments that take students out of school. "You need to think about what's happening with those young people in school and how foundational education is to their life outcomes," says Johnson, an attorney who has handled school discipline and special education cases in New York and Chicago. "From working with students individually and hearing their stories, I think for many of them school is one of the few safe places that they have in their lives."
In addition to showing that students can feel more isolated and fall behind in schoolwork, research has found that just one suspension in ninth grade can affect a student's likelihood of graduating or attending college. But discipline often begin much earlier—Fenning says that some are starting to use the term "cradle-to-prison pipeline" based on suspension data in preschool.
As students get older, they often start acting out more in class—either out frustration or to hide that they're struggling academically. Getting suspended for that misbehavior, however, just lets them fall further behind, exasperating the problem.
Collaborating for change
To start addressing these issues, recent Illinois legislation will change how students are disciplined in schools starting this fall—and Fenning and Johnson's research, recently published in the Children's Legal Rights Journal, is hoping to show administrators just how to handle that change.
Both professors helped found the Transforming School Discipline Collaborative, which brings together attorneys, school psychologists, policy advocates, and other community partners to help school districts lower the number of suspensions and expulsions. A large part of that work has been developing a standard set of guidelines for educators and administrators to help misbehaving students, not just punish them.
The new Illinois law will limit the length of student suspensions and expulsions and require school administrators to release data categorizing which students are being disciplined. "What our collaborative would like to see happen is that districts not only comply with the strict letter of the law," says Johnson, "but also incorporate the decades-long research on the negative impacts of exclusionary discipline together with the emerging research on promising practices to do discipline differently."
Unfortunately, there is no one-size-fits-all approach to creating a discipline program that works. But the collaborative's "Model Student Code of Conduct" provides administrators with a framework based on the latest research.
A better approach
Fenning, who worked as a school psychologist before coming to Loyola more than 20 years ago, has conducted a number of studies looking at the issue of school suspension and discipline. Her research has looked at policies, high rates of disproportionality in discipline, alternatives to out-of-school punishments, and ways to address behavior in a more proactive way.
In any given school, the code of conduct outlines its policies on student behavior and discipline guidelines—but rarely are they uniform in how they deal with offenses. The collaborative's model student code addresses a number of issues, specifically preventing students from being suspended for minor offenses; asking administrators to look for a root cause to student misbehavior; and preventing more vulnerable groups—such African American boys, those with disabilities, and LGBT students—from being disproportionately punished.
This summer, Fenning, Johnson, and others from the collaborative are leading training sessions across the state for school administrators, and they are putting finishing touches on a toolkit that will offer additional resources and information on topics like restorative justice, implicit bias, new discipline strategies, and data collection and analysis.
"When schools start excluding students, it leaves them feeling like they have no good options and no real future," says Johnson. "I think that is both dangerous for our communities to have young people feeling that sense of hopelessness and also a sad testament to what school should be."