archive
Teachable moments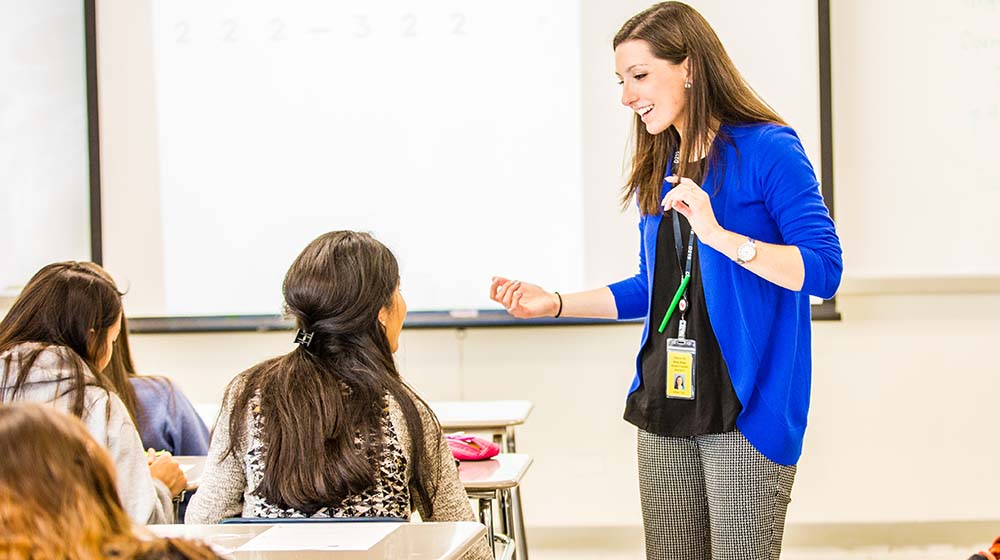 Inside classrooms at schools on Chicago's North Side, Loyola students and faculty are helping to advance education—and learning valuable lessons in the process
By Maura Sullivan Hill
When Symone Smith arrived at Edgewater's Nicholas Senn High School in the fall of 2013, she was a quiet freshman who had never envisioned journalism as a potential career path. Then she enrolled in Senn's digital journalism program. Today, Smith is a senior, juggling college applications and homework with her spot as an anchor on the school newscast. She wants to be a broadcast journalist and even hopes to host her own television show someday.
"Before this program, I didn't know anything about journalism," she says. "[Now] having an idea for a story, like a profile piece or a feature, and then doing every step to put my story out—interview, film, and edit it—is very rewarding."
Senn's digital journalism program is one component of a successful partnership between the high school and Loyola's School of Education that started in 2011. Since then, the partnership has served as a model as Loyola revamped its curriculum and partnered with more local schools. In 2013, the School of Education launched its redesigned teacher preparation program—known as Teaching, Learning, and Leading with Schools and Communities—with a focus on field-based, urban education.
"Almost all courses happen in school sites, community organizations, or cultural institutions," says Ann Marie Ryan, the associate dean of academic programs in the School of Education. "We're committed to preparing teachers in urban settings."
Loyola currently has more than 50 partnerships with local schools—including Chicago public schools, Catholic schools, and independent schools—which serve as a training ground for the Loyola students and an opportunity for the partner schools to tap into the University's resources and expertise. These community-building efforts are part of Loyola's Lake Shore Community Partners initiative, a component of "Plan 2020: Building a More Just, Humane, and Sustainable World," the University's five-year strategic plan.
The heart of these partnerships is that they are mutually beneficial. "We don't want it to be a one-way relationship, where Loyola is only considering what resources to share," says Jon Schmidt, coordinator of the partnership with Senn and a clinical assistant professor in the School of Education. "We're asking, 'What do they have to share with us? How can our students learn and grow through this partnership?'"
Senn students enroll in one of four programs at the school: an international baccalaureate (IB) program (similar to an honors or advanced placement track), an audition-in arts program, STEM, and the digital journalism program. Loyola takes an active role in supporting the IB, STEM, and the digital journalism program, which began in 2013.
Michael Cullinane, the journalism and marketing director at Senn, is completing a master's degree in digital storytelling at Loyola. He wrote Senn's program curriculum alongside Loyola journalism faculty, and it includes both print and broadcast journalism classes and reporting for the Senn Times, the school's online newspaper, and SennTV, their YouTube news channel. In the classroom, Cullinane emphasizes the importance of telling stories.
"[The journalism students] take ownership of it and they really enjoy it," he says. "It's been really awesome to see what young people can do with some encouragement. It doesn't always have to be worksheets and tests, it can be giving them the right tools and letting them make the products that, in the end, can hopefully inspire others."
Senn also plays host to Loyola classes for observation and student teaching internships, with their teachers and the Loyola students exchanging ideas and learning from each other. "It is a true partnership," says Mary Beck, Senn's principal. "Our students flourish because they have the ability to go to Loyola to use their library and journalism facilities. They feel connected to Loyola from freshman year on, and I think that's really powerful."
This connection is powerful on an abstract, personal level, but there is also data that affirms the positive effect of this partnership. Schmidt points out that Senn is trending upward in nearly every metric, including overall school attendance. "It's unusual to see an increase in students, especially at a local, neighborhood high school," he says. "And it is pretty significant."
The school's success was also reflected in the most recent ranking of the best public schools in the city by Chicago magazine. Senn was named one of Chicago's top three neighborhood schools and made the top 20 high schools list, coming in at number 12. The ranking was especially important, Beck says, because it took into account not only attainment scores and college acceptance numbers but also the school's significant growth.
"Five years ago, when this partnership started, we were not in the top 12," she says. "So it is a testament to the hard work of the teachers and students in this building. The support of Loyola has been fantastic and really led to this."
According to Cullinane, the partnership with Loyola has created an atmosphere of hope and inspiration at Senn. "Loyola has been a beacon for us and the students aspire to go there," he says. "When we visit Loyola, the students get excited about college."
Schmidt agrees, noting an increase in applications to Loyola from Senn seniors. Last year, 140 Senn students out of a class of 300—nearly 50 percent of the class—applied to Loyola. That's a dramatic increase from even a few years ago.
The Senn High School Scholars Program is another component of the partnership, and offers tuition assistance to at least five outstanding Senn students each year who attend Loyola. Juanito Boligor graduated from Senn's IB program in 2015 and is now in his sophomore year at Loyola as a Senn High School Scholar.
Boligor is both humble and grateful when talking about the partnership between Senn and Loyola. He knew he wanted to go to college, but wasn't sure how his family could afford the expense until he heard about the scholarship program. "I felt like, in the sea of students throughout the country, there was no way that a university would give an immigrant student from a Chicago public high school a scholarship," he says.
"But after hearing that the seniors in the graduation class ahead of me received substantial scholarships from Loyola, I knew that every decision I made from that moment on was to get that scholarship. The partnership made me incredibly driven and focused; the partnership gave me a chance."


And Boligor is not the only one. At St. Benedict Preparatory School, a pre-K through 12th grade parish school in the North Center neighborhood, a number of students do not speak English as their first language and need extra assistance in the classroom. In 2014, St. Benedict implemented their first English language learner support class—a direct result of their partnership with Loyola.
One of the main courses in the School of Education's teacher preparation program focuses on English language learning (ELL) and special education. The Loyola students conduct an in-depth research project that assesses the learning strengths and weaknesses of ELL students. Applying their own research and the expertise of their education professors, Loyola students present a case study to the teachers at the end of the semester, with recommendations about how best to work with each ELL student to meet his or her needs.
"From [this research project], we realized we needed to do more to support the English language learners we had on campus," says Rachel Gemo, St. Benedict's head of the parish school. "We were actually able to design a class based on what we learned from the Loyola students."
St. Benedict, or St. Ben's as it is affectionately known, has been involved with the Partners for Education initiative since the start, and before that St. Ben's was a host school for Loyola student teachers. Today, St. Ben's hosts Loyola students and faculty in some capacity every day. Education professors bring their students to to observe classes as early as freshman year, and several Loyola students complete their required yearlong student teaching internship at St. Ben's.
In their first semester, Loyola students will work alongside a cooperating teacher. By their second semester they are ready to lead the class. "It is a scaffolding approach," says David Ensminger, associate professor and program chair for teaching and learning in the School of Education. "Our candidates have the opportunity to get to know their students by co-teaching first and then taking over the classroom."
For Ensmigner, the advantage of this field-based approach is that students can see the lessons they learn in the classroom come to life. He recalls a visit after finishing a chapter on English language learners: "If I had been teaching that class on campus, we might have done a video or a written case, which is beneficial. But when the Loyola students are in a school watching a teacher work with a group of students who are English language learners, that textbook comes to life," he says.
"It fits Loyola's broader mission of preparing people for action. The more we can make a connection between conceptual and theoretical knowledge, the more students are going to act on that knowledge."
Senior Gianna Marshall is completing her student teaching internship at St. Ben's this year, in the third grade classroom of Loyola alumna Rachel Nemes (BS '11). Marshall feels ready to take over as third grade teacher next semester thanks to the many hours she has already spent in classroom settings throughout her four years at Loyola.
"We are put into that role [in the classroom] very quickly," she says. "On the second day of my freshman year, I was in a high school helping juniors prepare for the ACT. This year, I feel very comfortable in front of the classroom and creating lessons."
The St. Ben's students benefit from the extra help and attention, and veteran teachers can even learn a thing or two from Loyola students. Nancy Feely (MEd '05, MEd '11), a Loyola School of Education alum who earned master's degrees in elementary education and instructional leadership, says having teacher candidates in the classroom helps push St. Ben's teachers to reflect on and refine their own approach. It is in effect a form of continuing education.
"The student teachers and student observers from Loyola are learning fresh, new things. They have access to the newest methods in reading instruction, or new philosophies on social justice teaching," Feely explains. "They are sharing some of the most up-to-date practices on education policies and methods with our teachers."
Another component of the partnership is a dual-credit course in British literature, offered to seniors, which can count as a college-level course at Loyola and other universities. Loyola vets the syllabus and supports the teacher to ensure that the course is up to the academic standards of a college-level class.
Going forward, members of the School of Education are offering their expertise and assistance as St. Ben's works on a new strategic plan and vision for the future. It's a perfect fit, says Gemo, because the two schools have such closely aligned goals.
"The mission of Loyola is that they want their teachers to be able to teach every kid," she says. "And that really fits with us, because we believe that each child can learn. When you match from mission, everything else just fits naturally."
Loyola's commitment to urban education also extends into the communities where the schools are located. "Loyola, and the School of Education in particular, is really working to be ever more deeply embedded in our communities, with really deep commitments to social justice," says Schmidt, the coordinator of the Senn partnership. "We are putting experiences in place that encourage and support students who then, we hope, are making decisions to teach in cities."
Ensminger wants his students to understand not only the impact that schools have on communities, but their role in that impact as a teacher. "One of the underlying principles of our programs is that we try to support neighborhood schools, and you can't support neighborhood schools without considering the community that they are in," he says. "What we are doing, in very systematic and purposeful ways, is to support the schools in our area—and the communities themselves."
Read more about the other initiatives of Loyola's Lake Shore Community Partners