Past Exhibitions
Technotropic Romance: Andrei Rabodzeenko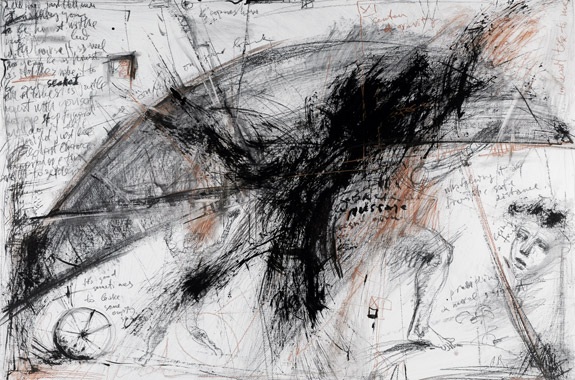 This exhibition by Chicago-based artist Andrei Rabodzeenko focuses on a series of graphic works in which the artist visualizes a "subtle side of being, something that is beyond verbal vocabulary." These graphic works—executed in charcoal, photography, ink, and ink wash—incorporate written word and embody impromptu, spontaneous action. Referencing apocalyptic themes, Rabodzeenko sketches people as small, ant-like beings focused on their desire to transcend all limitations.
In Technotropic Romance, Rabodzeenko also presents two Biblical references from the Old Testament: The Tower of Babel and the Book of Job. Both series are illustrated using a controlled palette of black, white, and red with such tonalities that the drawings appear more colorful than they really are. In Babel, tiny figures scramble amidst a chaos of forms alluding to architecture. In Job, dark, jagged swatches feel as though they are bursting with a bomb-like force. In both, we sense Armageddon or an apocalypse.
Since emigrating from the Soviet Union in 1991 where he trained, Rabodzeenko has become recognized as an emerging Chicago artist. He has participated in several group exhibitions, including: Not Just Another Pretty Face, a show of commissioned art exhibited at the Hyde Park Art Center; Background, an exhibition of four Ukrainian artists at the Butcher Shop; and Bratwurst, a presentation of prominent Chicago artists mounted in Philadelphia.
Technotropic Romance is on view May 23 through August 2, in LUMA's Harlan J. Berk, Ltd., Works on Paper Gallery, which is LUMA's gallery dedicated to exhibiting drawings, photographs, and prints by Illinois-based artists.
Image: Andrei Rabodzeenko, Carrying Day, tempera, charcoal, and sepia chalk on gessoed cardboard