archive
Are you interested in participating in math research?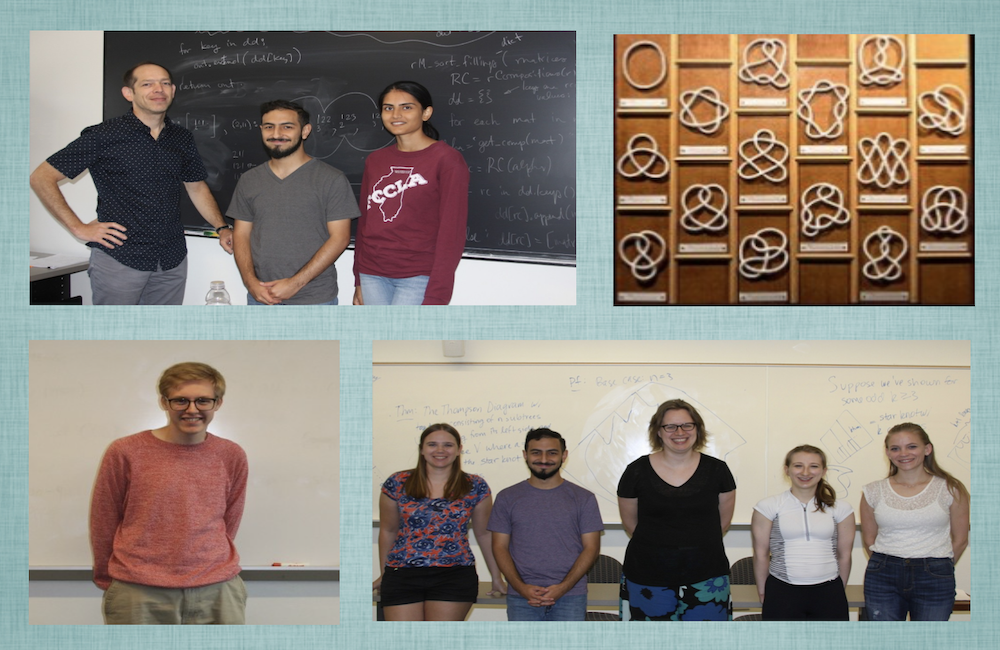 Pictured Top Left: Dr. Aaron Lauve, Anthony Lazzeroni, Pragna Bhatt
Pictured Bottom Left: Andrew Ducharme,
Pictured Bottom Right: Liz Jurkash, Anthony Lazzeroni, Dr. Emily Peters, Ariana Grymski, Madison McCallister
~~~~~~~~~~~~~~~~~~~~~~~~~~~~~~~~~~~~~~~~~~~~~~~~~~~~~~~~~~~~~~~~
Last summer, six students spent their break conducting research alongside professors. We interviewed them to get their take on their experience and how they spent their summer.
Please provide an short summary of your project and its long-term goals. Who did you work with? Did you make any new connections?

"I worked with Dr. Lauve and Anthony. My project consisted of working with a specific group of polynomials called r-quasisymmetric polynomials and our long term goal is to find a new basis for them." -Pragna Bhatt
"Ariana and I's project focused on using Thompson tree diagrams to find knots up to 6 crossings. Our goal was to find a simpler algorithm to generate knots. I'm a senior majoring in math and classes that prepared me the best for the project were number theory and abstract algebra." -Liz Jurkash
"I've been working in the field of knot theory trying to develop a program in Mathematica to compute the Jones Polynomial, a classification system which can distinguish between two non-trivial knots. The goal is to find a new knot invariant based upon how likely a knot projection will end up being a complex form of an unknot if the original projection is slightly altered and hopefully find a non-trivial knot which has a Jones Polynomial of one, proving that there exists a flaw in the Jones Polynomial itself." -Andrew Ducharme

What level of college study are you currently pursuing? Which Loyola courses prepared you the most for summer experience?

"I am currently pursuing a B.S. in mathematics and a B.S. in physics. Abstract Algebra I and II prepared me most for this research." -Ariana Grymski

"I'm an undergraduate math and physics major and a rising junior. Surprisingly enough, the class that was most helpful for my summer research was COMP170 with Dr. Honig since it taught me the basic computer programming principles that I've been using the length of this project. I had no coding experience in high school, so having that

class made it possible for me to do this research." -Andrew Ducharme

How did you get the position? Did someone offer it to you?

"I found this position through my math advisor after I told her that I wanted to see what it is like to research math, she told me that I should talk to Dr. Lauve because he was looking for a research assistant. After I talked to him and he explained to me what he was going to research and I was interested. I applied through LUROP and specifically to the Provost Fellowship." -Anthony Lazzeroni
"I got the position through the WISER (Women in Science Enabling Research) program." -Pragna Bhatt
"I got the position after talking to a few professors in the department about research this summer and after discussing with Dr. Peters, she was kind enough to offer me a spot working with her." -Andrew Ducharme

Describe your average day on the job.

"An average day on the job involved drawing lots of tree diagrams and talking with Ariana about strategies." -Liz Jurkash
"I wake up early in the morning and test Thompson diagrams to see what knots they produced, usually slightly varying diagrams I had previously worked on. I am a figure skater, so I would go off to skating practice, then continue my work on these diagrams at the rink during my breaks from skating. Then, I would drive to Loyola to meet up with Liz, where we would discuss what we were each working on, make suggestions, check each other's work. I would then go home and work on Liz's suggestions in the evening." -Ariana Grymski
"My average day is basically just pulling out my computer and working on the various programs I have or trying to fix some annoying bug. The best part is when some problem I've been toiling away on for the last few hours just starts working after dozens of screwy results and error messages. Of course, this requires a long time of working, hoping that your slight change did what you wanted and correcting every time it doesn't." -Andrew Ducharme

What was your favorite part? Were there any difficult or challenging tasks?

"The most difficult part for me was the beginning when there was a lot of information to absorb and understand in order to get to the main part of my research. A lot of it was at a level beyond me and it took some time to get used to thinking in the way my research required me to think. My favorite part was when I was able to understand enough background knowledge so that I could work on the actual goal of the project." -Pragna Bhatt
"My favorite part was when Liz or I first discovered the Thompson diagram for a new knot. We most often got either repeat knots, unknots, or links, so a new knot was a rarity! Since we kept getting the same knots over again, we had to really think out of the box about how to get new ones." -Ariana Grymski

What did you get out of it? Did you learn any skills or something about yourself?

"One of the big things I got from this half of the summer, was learning how to read math papers, it wasn't really taught to me in class, and it is a good skill to learn if anyone wants to go into the math field. After that half of the summer, the rest was trying to find a new basis, one that would be helpful, we had a set of rules that we wanted this new basis to follow." -Anthony Lazzeroni
"I got to have the thrill of working for a long time, and finally discovering something new! I learned how to work with a partner, and how to build off of other people's work." -Ariana Grymski
"I learned that I love coding. There's something really rewarding about getting your program to run and give you the output you expect. Once I got my program to run for lower order Temperley-Lieb algebras, I could then use it to predict higher order Temperley-Lieb algebras that are impossible to solve by hand." -Madison McCallister

Did you use any programming language(s)? If so, what language(s)? Did you already know them, or were you trained?

"To make these bases we used python. My MATH 215 class prepared me a lot for programming, and it was also taught by Dr. Lauve. For half of the summer, Dr. Lauve was teaching us everything about that topic and things leading up to that topic, our homework assignments were often reading math papers and coding exercises. Every week we would send him an email telling him what we learned, did, what we didn't understand, and ask him to talk about something when we would meet again." -Anthony Lazzeroni
"I also learned how to use LaTex and practiced my mathematica skills. I didn't use any other programming languages." -Liz Jurkash
"I've been using Mathematica, which I only had a little experience from previous classes at Loyola. I've far and away improved my ability in that language from highly inexperienced to semi-competent, which will be excellent for my life after Loyola." -Andrew Ducharme

Do you have any advice for undergraduate students when looking for a similar summer experience?

"For women in STEM, I definitely recommend the WISER program and for all undergraduate students, I recommend talking to your professors and getting to know about their research/other work they do outside the classroom." -Pragna Bhatt
"Advice I would give for other students trying to find research opportunities would be to have good relationships with professors and mention your interests. Let them know you'd like to work with them and if they don't have anything currently they could also recommend you for other ones." -Liz Jurkash
Each summer experience was unique and geared toward certain goals. Research opportunites are not limited to these areas nor locations. If you are in the market for research opportunities or summer experiences, check out our Summer Opportunities tab. If you are interested in looking into programs like WISER, check out our Scholarships & Opportunites tab. If you don't think research is for you but still are considering other opportunities, check out our Career Resources tab.
Math and Literature Contest 2018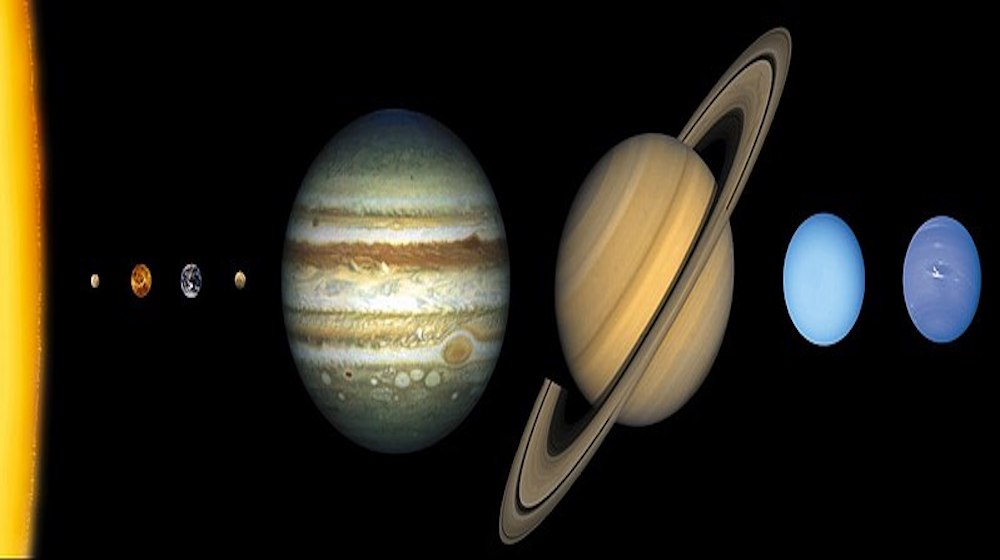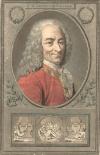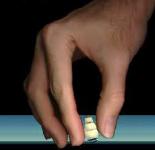 Contest: Literature and Mathematics
Voltaire's Micromegas
Math and Literature Contest 2018(Flyer, pdf file)
Topic: Response to Voltaire's Micromegas
Prize(s): Impressive award certificate, suitable for citing in your curriculum vita, application for university studies, posting on your refrigerator door.
Criteria: Original, thoughtful, and creative response to or analysis of Voltaire's Micromegas, focusing on the mathematical or philosophical metaphors.
Rules:
Any genre is acceptable, including an essay, poem, visual creation, fictional extension of Micromegas, or mathematical exposition. Submissions should be five pages or fewer

Contest submissions may be in English or French. Judges are fluent in mathematics.

This contest is open to the public.

If you wish to submit an entry by a team of people, that is fine. Just make that clear.

We will probably award prize(s) in categories of contestants. Therefore, please include a brief description of your mathematical education, e.g., "Completed one year of calculus," "Mrs. Morton's 6th grade class." If your contest entry uses rather advanced literary/historical analysis please indicate your background such as "I teach AP French literature."
Deadline: November 5, 2018

Contest Winner: Mark C. Fedota, alumnus of Loyola University Chicago - AB '66 in English Literature and Economics. He is a graduate of Georgetown Law School. Mr. Fedota is a prominent trial laywer, now in semi-retirement.
Winning Essay: Math and Literature Contest 2018 - winning essay
Source for text of Micromegas:
Knitting and Math
The Department of Mathematics and Statistics is hosting an event for the Math/Stat community on November 8: Knitting and Math. All students and faculty are welcome to attend.
Here's a brief agenda:
Learn to knit (needles and yarn provided!)

A fun presentation from Dr. Peters about connections between math and knitting

Community time to talk and share projects, with pizza and snacks
Time and Location: Thursday, November 8, 6:00-8:00 pm in IES 123.
To see some photos from the event, click here.
Rataj Lecture: Political Geometry by Bridget Tenner
Our next Rataj Lecture, Wednesday October 24, 2018, will be both excellent, timely, and accessible to anyone who has taken or is taking calculus -- all geometry will be discrete: https://arxiv.org/abs/1808.05860
Title: Political Geometry

Speaker: Bridget Tenner

Speaker Info: DePaul University http://math.depaul.edu/bridget/

Abstract:
Gerrymandering is the process of manipulating voting districts in order to gain political advantage. In the US, districts are supposed to be "contiguous" and "compact" -- but what, exactly, does that mean? In this talk, we will discuss geographic geometry, what it impacts, how it is assessed, and how it should be improved. No background in these topics will be assumed.

Date: October 24, 2018

Time (updated): 4:10 - 5:00PM (talk), 5:00-5:30PM (tea)

Where: Mundelein 204
Contact Person: Emily Peters epeters3@luc.edu

To see some photos from the event, click here.
IL-MO Regional Undergraduate Mathematics Conference 2018
IL-MO Regional Undergraduate Mathematics Conference 2018
IL-MO Regional Undergraduate Mathematics Conference is a great opportunity for undergraduate students to present mathematical research projects and expository papers, to meet with more established mathematicians and to network with their fellow students.
It is organized jointly by Southeast Missouri State University and Southern Illinois University. This year it will be held on the Campus of SIU at Carbondale, Neckers Building, Young Auditorium, Neckers 440 on Saturday, 27 Oct 2018.
This conference is open to anyone interested in undergraduate mathematics. Undergraduate students at all levels and graduate in their first year of the MSc are invited to discuss their work on any mathematics-related topic. High School students are also strongly encouraged to participate. A poster room will be provided for those who would like to display their work in a poster, whether they are presenting or not.
Check out the flyer for more information. IL-MO Regional Undergraduate Mathematics Conference 2018
Welcome New Faculty!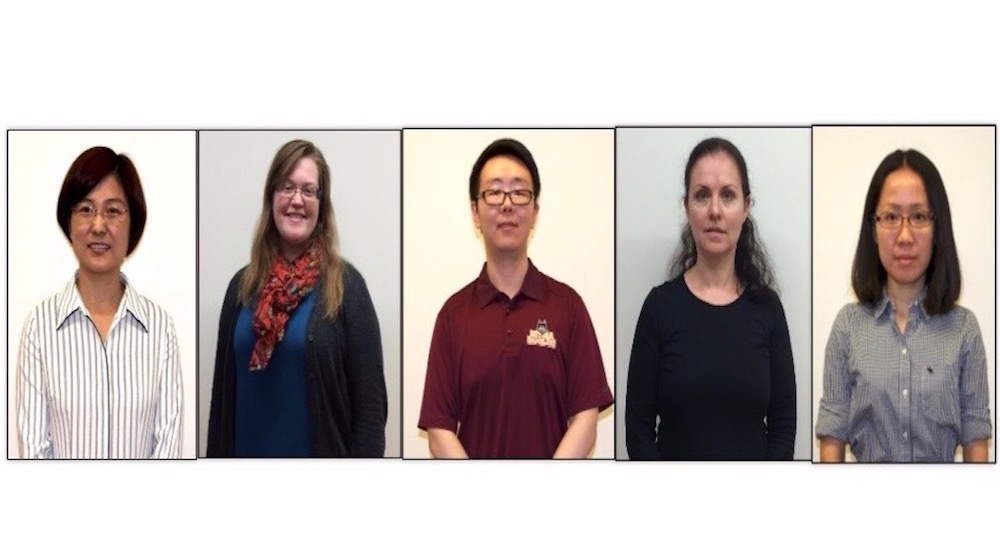 The Department of Mathematics & Statistics has some new additions this semester: Minhao Gu, Corinne Herrmann, Xiaoli Kong, Shuwen Lou, and Alla Podolny. Read more about their educational background and research interests!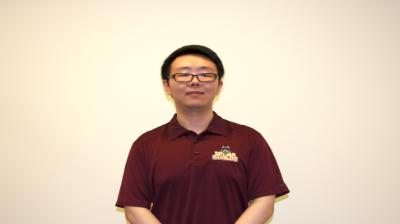 Minhao Gu
How did you get involved in teaching mathematics?
Upon graduation, I joined the Department of Mathematics and Statistics at Loyola as a part-time instructor. I also held a part-time teaching position at DePaul College Prep. This is my second year teaching at Loyola University Chicago, but first time as a full-time instructor.
What's your favorite part of teaching?
My favorite part of teaching is conveying new knowledge to students using easy-to-understand terms, having students communicate or demonstrate that they have grasped the material, and building up their confidence level in solving math problems. I love seeing students having the 'lightbulb' moment --- a moment that a students goes ''oooohhhh". Teaching is also a great opportunity to learn about myself, my strength, my weakness as a teacher and a person. I also enjoy getting unexpected thank you notes from my former students.
What classes have you taught?
MATH 100 Intermediate Algebra; MATH 108 Real World Modeling; MATH 117 Precalculus 1; MATH 131 Applied Calculus 1. (as well as Honors Geometry at DePaul College Prep)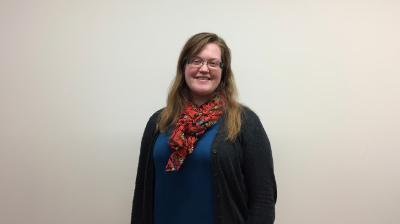 Corinne Herrmann
How did you get involved in teaching mathematics?
I started tutoring fellow classmates from an early age (in first grade)! I have always found joy in helping others understand concepts that they find difficult, generally mathematics but other subjects as well. I formally started teaching as an adjunct at a local community college and at an alternative high school, after completing my undergraduate studies. I continued my education into graduate work with the intention of pursuing a career in higher education.
What's your favorite part of teaching?
The interaction with students and developing an interactive class dynamic are often the highlights of my teaching days. I, also, enjoy seeing students confidently grasping concepts that they may have found difficult in the beginning.
What classes have you taught?
I have taught most of the developmental math courses that can be found at the university or community college level, Pre-Algebra, Beginning Algebra, and Intermediate Algebra, as well as College Algebra and Applied Calculus at previous institutions.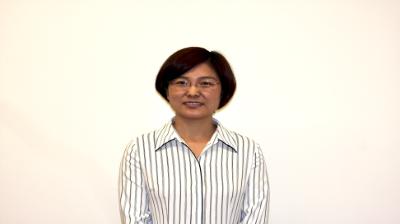 Xiaoli Kong
How did you get involved in teaching statistics?
Usually, I provide students theoretical result or analytic tool for each topic. Then I give them examples and practice problems. I let students work some of questions in class and share their work and result. I encourage students participation in class. I believe it is important for students to gain the ability to learn by themselves in future. So I would like to show them how to get help when they have problem, for example, refer the help file or manual if they are learning software packages or programming.
What's your favorite part of teaching?
My favorite part of teaching is "I can share the knowledge and skills in statistics or mathematics to help students solve real life problems. I hope that by the time students leave my class they have really understand relevant materials and are able to apply them in their future study or career"
What classes have you taught?
STAT 335 Introduction to Statistics; STAT 408 Applied Regression Analysis.
What is your research interest?
My research interests include multivariate analysis, non-parametric analysis, high-dimensional data, applied statistics; Lie algebra, Kac-Moody algebra and representation theory.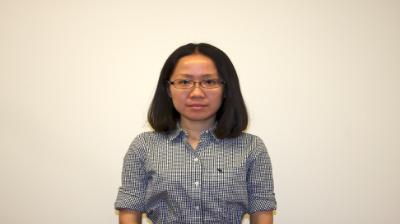 Shuwen Lou
How did you get involved in teaching statistics?
I started teaching probability classes when I was doing my first postdoc at UIC. The first statistics class that I taught was a class facing senior undergraduates, called statistics and finance. It was at University of Toronto.
What's your favorite part of teaching?
The most memorable part was once I found on my teaching form that one of my student put "I am actually starting to like math". That was my final year in graduate school, and the class was introduction to differential equations. I think this is the best reward a teacher can ever possibly receive.
What classes have you taught?
I have taught a variety classes in math and statistics as instructor, including precalculus, differential equations, introduction to probability, advanced probability theory (measure theory based), statistics and finance. Currently I am teaching introduction to probability and introduction to biostatistics.
What is your research interest?
My research interests span probability, statistics, and analysis. To be more specific, I am interested in Markov processes, rough path theory, and their applications in machine learning and data science.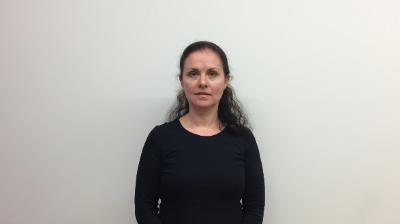 Alla Podolny
How did you get involved in teaching mathematics?
Teaching is a part of the academic profession that I enjoy enormously. I enjoy interacting with students, both inside and outside of the classroom, and I feel that I learn from my students. I have a definite conception of the essential nature of Mathematics and I try toconvey this in my teaching. I feel that Mathematics, at all levels, contains significant and beautiful ideas that constitute the essence of the subject. Thus, I tend to emphasize the conceptual, as opposed to the computational, aspects of courses that I teach.
What's your favorite part of teaching?
In my teaching, I always try to show the general importance and applications of the material I present in order to motivate the interest of the students. I always try to learn more about the majors of my students and I try to bring in examples connected with their major. I attempt to provide my students with the tools necessary to study real world problems rather than merely train them to perform mathematical exercises with no connection to science and technology. A clear view of the physical problem that we study helps the students to better understand the methods and models they are taught, and the mathematically derived results make much more sense when they are related to the underlying physical phenomena.
What classes have you taught?
Precalculus, Differential and integral calculus 1, Differential and integral calculus 2, Honors differential and integral calculus 1 and 2, Honors multivariable calculus, and Ordinary differential equations.​