archive
Mathematics and Statistics at URES 2017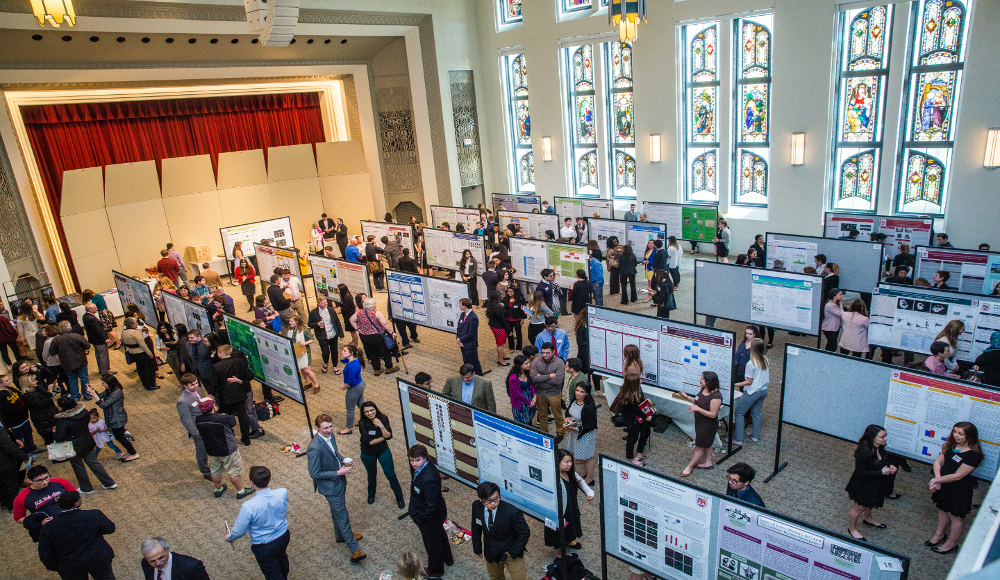 The Department of Mathematics and Statistics is proud to have had a number of students participate in the Undergraduate Research Symposium this past weekend. Students' research had a variety of focuses. While some undergraduates focused on their second majors such as physics, psychology, and chemistry, others had projects on pure math such as combinatorics as well as statistics. Take a look at the photos of our students participating in the Weekend of Excellence.
Some of the Mathematics/Statistics Students and their Presentations
Congratulations to all of the student presenters from the weekend (below)! Their project titles and descriptions can be found in the URES Program here!
Poster Session 1: 11:00AM – 12:30PM
Krishma Doshi (Mathematics) (1)
Erik Mainellis (Mathematics) (26)
Oral Presentation (Mundelein 406) (12:50 – 1:50)
Should You Vote? Mathematical Analyses of Voting and Abstention – Colin Williams (Mathematics)
Parallel and Distributed Simulation Methods for Granular Fluid Dynamics – Justin Stuck (Mathematics)
Poster Session 2: 2:00 – 3:30 PM
Sadia Ansari (Mathematics) (57)
Evelyn Cody (Statistics) (64)
Evan Cudone (Mathematics) (94)
Xianghong Luo (Applied Mathematics) (97)
Joseph Macaluso (Mathematics) (43)
Jon Matthew(Bioinformatics) (67)
Alexander Pizzuto & Barbara Skrzypek (Applied Mathematics) (37)
Shyam Shah (Statistics) (51)
Barbara Skrzypek & Justin Stuck (Applied Mathematics) (58)
Neha Siddiqui (Mathematics) (68)
More Featured Stories
School of Social Work

School of Social Work Professor Maria Vidal de Haymes, PhD, hit two milestones in 2017. This year marks her 25th year of teaching at Loyola as well as the honor of being named Faculty Member of the Year.


In the community

Eating healthy starts with picking the right foods from grocery store shelves, but what happens when the options in the aisles are much more limited? Joanne Kouba, PhD, RDN, LDN, associate professor and director of Niehoff's dietetics education programs; and Annemarie Cahill (BSN '98, MSN '06), FNP, MSN, RN, clinical nursing instructor; sent a group of 20 dietetic, nursing, and medical students from Loyola to find out.


The New York Times

On October 6, Professor Michael Khodarkovsky spoke to the New York Times about newly declassified CIA documents from the Cold War.