archive
HS Math Contest at Loyola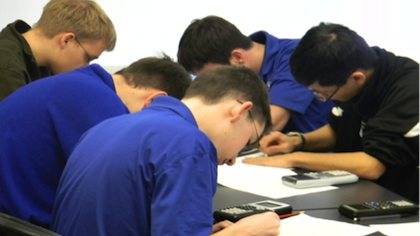 The Department of Mathematics and Statistics(*) at Loyola University Chicago and the MTA (Mathematics Teachers Association of Chicago and Vicinity) sponsored the annual math contest for the Chicagoland area Catholic High Schools on Saturday, February 8th, 2014. Students from 15 area Catholic High Schools competed on a written test in mathematics. The test was divided into individual and team competition. The schools were divided into two divisions based on enrollment.
In the AA Division, the teams placed as follows:
Fenwick
Montini
Marist
St. Ignatius
In the A Division, the teams placed as follows:
St. Francis
Providence Catholic
Nazareth
St. Viator
In the individual competition, the top honors went to: Yoon Nam (Marist), Joey Palasek (Montinit), Dan Murphy (Fenwick), Andrew Harris (St. Ignatius) in the AA Division; and in the A Division Eric Connelly (Providence Catholic) Joey Zhou (St. Francis), Grace Kwon (St. Viator), and Rachael Bamrick (Rosary).
---
(*) The local coordinators were Drs. Laurie Jordan and Steve Jordan. They are always looking for volunteers to help run the event. Drop them a line if you would like to help next year.