archive
Congratulations to 2017 Graduates!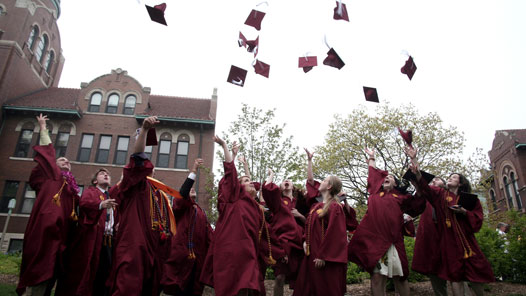 At the close of the academic year, the Department of Mathematics and Statistics wishes to recognize all of our students' outstanding achievements, especially our graduates. Our 2017 graduates have excelled in difficult classes, done amazing research and secured amazing futures for themselves. Our graduates are pursuing a wide range of activities, some of which are highlighted here:
PhD in Physics, Harvard University
PhD in Computational Biology, Yale University
PhD in Biomedical Informatics, Stanford University
MS in Applied Mathematics, Tulane University
Research Analyst, IPSOS
Actuary, PwC
With many more!
In addition, each year the Mathematics Department gives out awards to outstanding graduates for their service, leadership and academic achievement! Congratulations to all of the recipients below!
Fr. Rust, S.J. Memorial Award. The late Rev. Charles Rust, S.J. was a member of the Department of Mathematical Sciences from 1958 to 1984. This award is presented to a senior who has achieved an outstanding academic record in mathematics or statistics.
2017 awardee: Barbara Skrzypek

Dr. Robert Reisel Memorial Award. This award, in honor of the late faculty member Dr. Robert Reisel, is given to a student who has demonstrated outstanding achievement in advanced mathematics courses.
2017 awardee: Colin Williams

Fr. VandeVelde, S.J. Memorial Award. This award honors the late Fr. R.J. VandeVelde, S.J. who served as Chair and faculty member of the Department of Mathematics and Statistics and is awarded to a student who has demonstrated both academic excellence in mathematics and a commitment to service to others.
2017 awardee: Corey Kuhn
Fr. Gerst, S.J. Memorial Award. The late Francis Gerst, S.J. was a member of the Department of Mathematical and Computer Sciences from 1931 to 1962. This award is presented to a graduate who has achieved an outstanding academic record in mathematics or statistics.
2017 awardee: Colton Burns

Richard J. Driscoll Award. Dr. Richard J. Driscoll was a faculty member in the Department of Mathematics and Statistics for 35 years, retiring in 1993. This award is presented for outstanding academic achievement in mathematics.
2017 awardee: Neha Siddiqui
Dr. Laura Mayer Memorial Award. The late Dr. Laura Mayer was a faculty member in the Department of Mathematics and Computer Sciences from 1988 until 1997. The award is presented to a graduating senior who wishes to pursue a career in mathematics or mathematics education and has achieved a record of academic excellence and service.
2017 awardee: Alina Jenkins

Joseph Zajdel Memorial Award. This award, in memory of the late Professor Joseph Zajdel, is presented to a graduating senior who has exhibited remarkable academic performance in the mathematical sciences.
2017 awardee: Phillip Kulas
Departmental Honors. Conferred upon students who maintain an outstanding academic record within their mathematics and statistics courses.
2017 awardees: Saadia Ansari, Thomas Atchley, Krishna Doshi, Kajal Chokski, Patrick Fagan, Nathaniel Gross, Alexander Pizzuto, Justin Stuck Kara VanderMale