archive
A "Taste of Medieval England" included mac and cheese, pretzels, and cheesecake – who knew?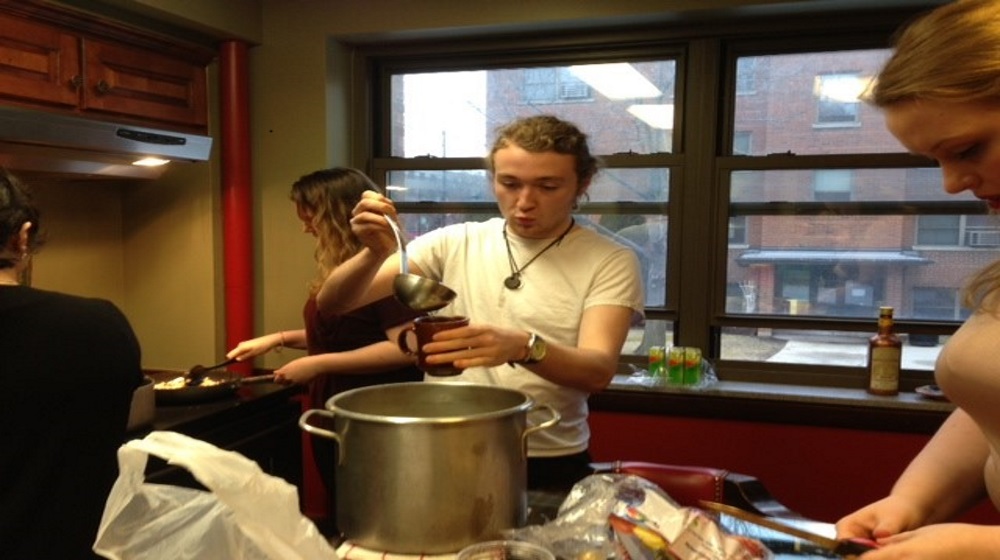 A "Taste of Medieval England" included mac and cheese, pretzels, and cheesecake – who knew?
We found out as we researched material culture in Medieval England (HIST 329). Using cookbooks from fourteenth-century England and France, we created a menu such as might have been enjoyed at the abbot's table of a fairly unreformed Benedictine monastery: no meat, but plenty of cheese and eggs. (No beer or wine, of course, per University regulations… ) Our recipes came from Forme of Cury, the Liber Cure Cocorum, and Le Ménagier de Paris, by way of scholarly editions by R. Morris, Constance Hieatt and Sharon Butler , and Eileen Power; handily made available through websites Godecookery and Medieval Cookery. We decided that during dinner we would "share news" about the goings-on in England and elsewhere during the Anarchy. We worked on the reasonable assumption that the recipes and ingredients would not have changed a great deal in England in the period after the Norman Conquest but before the sixteenth century.
We began with a potage de Crécy, made from carrots (a specialty of the Norman city of Crécy – right across the Channel and part of "greater England" at this time). This soup would later be enjoyed on the anniversary of England's victory over French forces near that town in 1346, during the Hundred Years War. Since we were in England, we added parsnips to the traditional recipe. The soup course was followed by makerouns (a dish of cheddar cheese and egg noodles that tasted curiously familiar), frutours (apple sliced fried in beer batter), mushroom pasty (or "funges in a coffyn", made with "local" English cheddar instead of a French cheese), and a refreshing salat full of herbs and tasty greens (lacking the primrose and violet petals which are, alas, in short supply in Chicago in early March). Medieval pretzels, freshly baked from scratch, helped wipe up the savory juices on our plates, and we finished on a sweet note with sambocade, a cheesecake made with aromatic elderflowers. Great goblets of small mead (sans alcohol) washed it all down as we traded news about Matilda and Stephen and their desperate contest, as well as echoes of happenings as far afield as Compostela and Rome.
We could not agree as to whether Matilda or Stephen would be the better ruler of England and Normandy; but we did agree that a 300-level "Medieval Food" course would be a great asset to Medieval Studies and the History Department!
Student participants: Vivianne Arellano, Austin Edington, John Garrity, Leah Henning, Aaron Kinskey, Alexis Kloiber, Katherine Russell, Katherine Zoibro.
Our special thanks to Fr. Daffron and Tivo, who let us use their kitchen in Campion! Click below for more pictures from the event!
--T. Gross-Diaz
Associate Professor, History
Director, Medieval Studies