Arabic Tutors
Current Tutors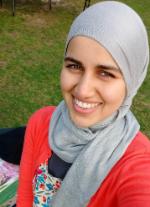 Ariane Rahim
Ariane Rahim is currently an undergraduate student at Loyola University Chicago. She is a senior majoring in French and double-minoring in Arabic and Islamic World Studies. She has recently completed her Arabic minor after studying the language for two consecutive years.
Although a non-native speaker, Ariane's passion for learning Arabic has led her to practice the language in various ways. She reads Arabic books, volunteers at non-profit organizations helping Syrian, Palestinian, and Iraqi refugees, and speaks to Arab friends and strangers alike when the opportunity arises.
Despite living in Chicago, Ariane still encounters unique situations where she can communicate and help others in Arabic. Read her blog entries to learn more about these experiences!
Anisa Hussain
I graduated from Loyola in 2017 with a degree in Biology and minors in Psychology and Arabic Language & Culture. I have tutored in a variety of subjects throughout my four years (going on five) at Loyola and this is my third year as an Arabic tutor. My interests include film and literature from around the world as well as service, specifically regarding the plight of refugees and immigrants. I am currently earning my Masters degree in Medical Sciences at Loyola and am especially interested in merging my passions for service and medicine. I'm looking forward to another year of tutoring Arabic in the LLRC!
‌Jessica Paterson
‌Jessica is a senior majoring in Political Science and International Studies, with minors in Arabic, Islamic World Studies, and Peace Studies. She has taken Arabic at Loyola for two years, completing her 104 level class last spring. She has a passion for helping other students learn an understand not only the Arabic language, but also its relating culture and history. As a non-native speaker, Jessica understands the difficulties of learning a new foreign language and is able to assist in mastering the basic principles of the Arabic language. In the future, Jessica hopes to utilize her Arabic language skills in both her work and personal travels.
Former Tutors