home_news
Academic Award Polish American Congress
Bożena Nowicka McLees Receives the Academic Award at the 51st Annual Polish American Heritage Award Banquet
The Department of Modern Languages & Literatures program at Loyola congratulates Bożena Nowicka McLees, the director of the Interdisciplinary Polish Studies for receiving the Academic Award from the Polish American Congress (PAC) Illinois Division at their 51st Annual American Heritage Award Banquet, which was held on Sunday, October 24th, 2021.
Founded in 1944 to contribute to the Allied war effort and to support the freedom of Poland once the war was over, the Polish American Congress is a national umbrella organization that represents up to ten million people of Polish American descent nationwide and "is comprised of fraternal, educational, veteran, religious, cultural, social, business, political organizations and individual membership" (PAC History).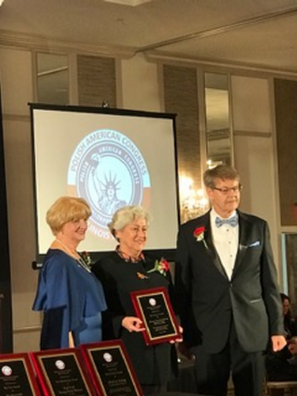 The event, which drew over 300 members of Chicago's Polonia community, featured speeches by Michael Niedzinski, the President of the PAC-IL, Frank Spula, the National President of the PAC, and local Illinois politicians and civic leaders as well as an entertaining cultural program featuring a series of Polish dances by the Polonia Ensemble of the Polish Roman Catholic Union of America (PRCUA), including an elegant Polonaise.
The well-deserved honor recognizes the tireless work Bożena has put in since 2008 in expanding the Polish Studies program from its original incarnation to become a truly interdisciplinary program offering a range of courses in language, literature, history, film, and political science that attract hundreds of Loyola students per year and form the basis of a minor in Polish Studies. Under her leadership, Polish Studies has also served as host for several national (Chicago Catholic Immigrants Conference: The Poles, Roman Puciński) and international (Jan Karski) conferences, drawing writers, scholars, and artists from around the world to Loyola. She has also built strong ties to Chicago's Polonia community by hosting meetings of civic and educational organizations, connecting Loyola students with local organizations to complete their Capstone courses, and supporting local cultural events in the Polish community like the Polish Film Festival in America, the Chopin Theatre, and the Trapdoor Theatre.

The Dean of the College of Arts & Sciences, Dr. Peter Schraeder, joined the Chair of Modern Languages & Literatures, Dr. Susana Cavallo, two members of the Polish Studies program, Dr. John Merchant and Dr. Agnieszka Oskiera as well as by the artistic director of the Lira Ensemble, Lucyna Migała, the Jazz singer and composer Grażyna Auguścik, and the Polish American film historian, Joseph Zurawski.