Press Release - November 3, 2022
Primary Contact:
Matthew McDermott
mbedugnis@luc.edu
617.778.3346
Mark C. Reed, EdD,

F

ormally

I

nstalled

as Loyola University Chicago's 25th

P

resident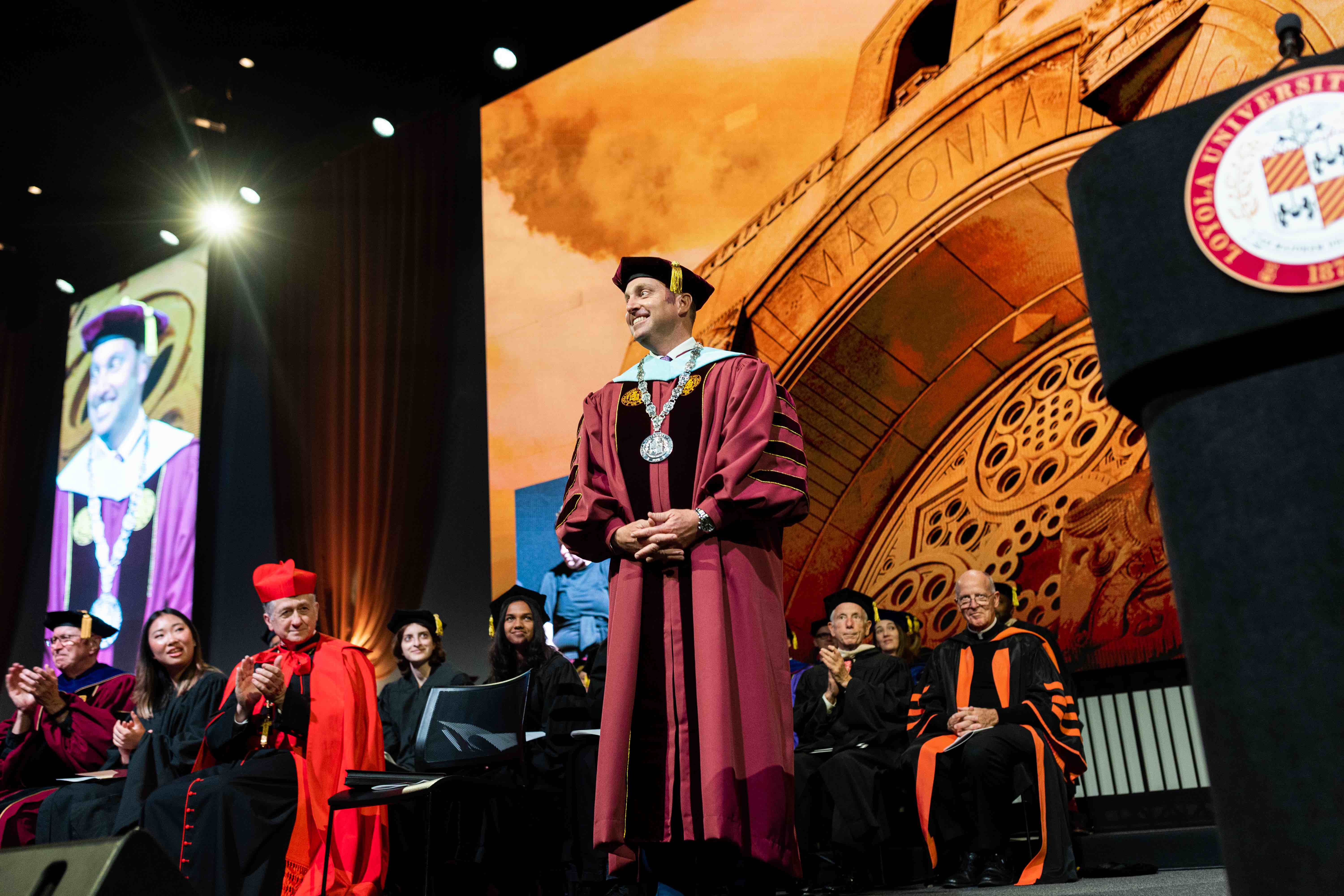 CHICAGO – November 3, 2022
On November 3, Mark C. Reed, EdD, was formally installed as Loyola University Chicago's 25th president. Students, faculty, staff, alumni, dignitaries, and delegates from 46 colleges and universities gathered at Gentile Arena at Loyola's Lake Shore Campus to celebrate the Inauguration of Dr. Reed, who assumed his role in October. The festivities drew some 1000 guests and began with Missioning Mass at Madonna della Strada Chapel followed by an inaugural luncheon. The installation ceremony included an academic procession, a color guard, musical performances, formal greetings by key institutional constituencies, and a keynote address by Dr. Reed. The ceremony was followed by a community reception in Damen Student Center.
In his inaugural address, Dr. Reed shared his inspiring experiences of accompaniment at Loyola so far and encouraged the audience to live out the Ignatian principle of age quod agis – pursuing one's passions with purpose and intention.
"I am deeply honored to join this community and to put myself in its service. Today I pledge to you to bring my full capacity, my full experience, and my full heart to the work of Loyola University Chicago," said Dr. Reed. "Together, we will accompany our students and each other to help create a future filled with the good works that foster possibility, opportunity, and hope."
Dr. Reed was elected unanimously by the Board of Trustees as the 25th president of Loyola University Chicago in May of 2022. Dr. Reed joins Loyola after seven years as the first non-Jesuit president at Saint Joseph's University, and before that, 15 years in senior leadership roles across Fairfield University. His career has focused on strengthening the institutions he has served, particularly in the areas of expanded academic programs, strategic partnerships, university finances and endowment, student formation, and advancement of the Jesuit, Catholic mission.
"Dr. Reed has an outstanding track record of strong leadership and a deep understanding of the life-changing power of a Jesuit education," said Susan Sher, Chair of the Board of Trustees of Loyola University Chicago. "He is well-prepared to lead Chicago's Jesuit, Catholic university, a diverse community working to expand knowledge in the service of humanity through learning, justice, and faith."
Several speakers offered their greetings on behalf of faculty, staff, and alumni. Students were represented by Hannah Kwak, president of Student Government, who said, "Dr. Reed, we are excited to work with you and engage with your passion as we continue to uplift our peers." Emanuel Chris Welch, Speaker of the Illinois House of Representatives, offered his greetings on behalf of the state of Illinois.
More information about Dr. Reed and inauguration can be found at luc.edu/inauguration.
------
About Loyola University Chicago
Founded in 1870, Loyola University Chicago is one of the nation's largest Jesuit, Catholic universities, with nearly 17,500 students. The University has four campuses: three in the greater Chicago area and one in Rome, Italy, as well as a course location in Vernon Hills, Illinois (Cuneo Mansion and Gardens), and a Retreat and Ecology Campus in Woodstock, Illinois. The University features 15 schools, colleges, and institutes. Ranked a top national university by U.S. News & World Report, Loyola is also among a select group of universities recognized for community service and engagement by prestigious national organizations including AmeriCorps and the Carnegie Foundation. To learn more about Loyola, visit LUC.edu or follow us on Twitter via @LoyolaChicago.