New pathways to new opportunities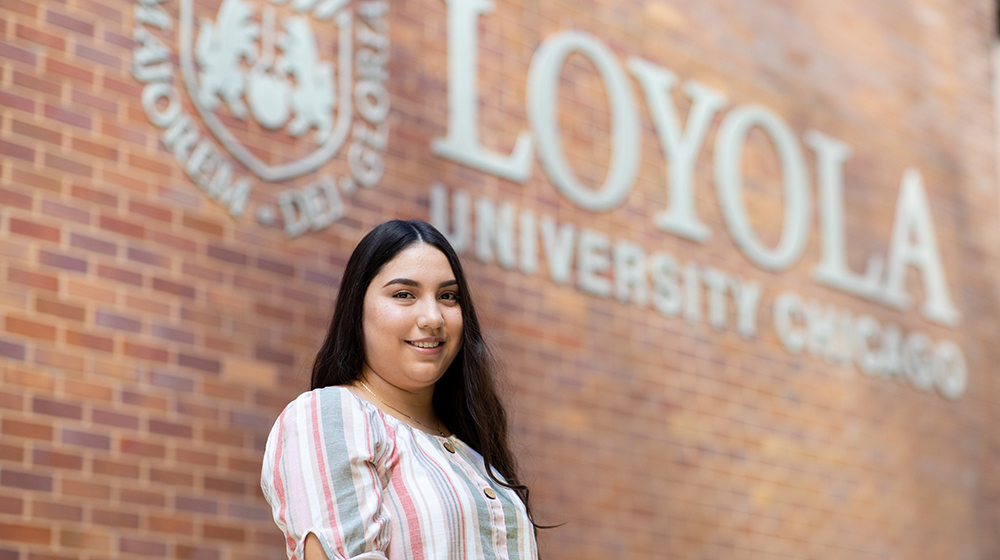 By Taylor Utzig
Diana Duarte always knew she wanted to work with children. Growing up on Chicago's South Side, she was often the go-to babysitter for her younger cousins, entertaining and caring for them when their parents were busy or working. Then, three years ago, as she sat next to her 4-year-old cousin's hospital bed after a tonsillectomy, Duarte discovered the career path she wanted to pursue. "Watching the nurses care for her, calm[ing] her down when she was nervous and scared, that's when it hit me: I wanted to be a pediatric nurse."
Duarte, who was in high school at the time, immediately began searching for nursing programs in the Chicago area. Shortly after, she heard her counselor mention Loyola University Chicago was developing a new "pathway program" for students to earn their Associate of Arts (AA) at Arrupe College and Bachelor of Science in Nursing (BSN) at the Marcella Niehoff School of Nursing. The more she learned about the program, the more certain she was that it was the right option for her. "I applied to other schools, but in my head, I knew I wanted Loyola," says Duarte. "It checked off all the boxes, financially and size-wise."
Loyola created Arrupe College as an affordable, accessible two-year degree program for students with the capacity and motivation to thrive in college but who could use extra financial or educational support. Most who enroll are first-generation students of color from working families in or around Chicago. It created a natural pathway for students to transition to baccalaureate degree programs, and soon after its opening in 2015, students began to express an interest in nursing and other health professions.
Such an opportunity didn't exist at the time, but both schools recognized the need. "The nursing world needs this," says Jorgia Connor, assistant dean of the BSN program. "Increased diversity in the nursing profession will increase understanding and improve the quality of care for all patients."
Over the next few years, leaders from both Arrupe and Loyola Nursing met and developed the BSN Pathway program, with funding support from the Hearst Foundations. In Fall 2019, the program admitted its first students, which includes Duarte. "It's uplifting to have this opportunity," she says. "To be able to go to one of the best nursing schools."
---
"The nursing world needs this. Increased diversity in the nursing profession will increase understanding and improve the quality of care for all patients."
-Jorgia Connor, assistant dean of the BSN program
---
To enter the BSN Pathway program, students enroll in Arrupe's Associate of Arts (AA) in Social and Behavioral Sciences degree program with a pre-nursing concentration. After their first year at Arrupe, students can apply to the BSN Pathway program. If accepted, students begin coursework for the BSN degree while completing their second year of studies at Arrupe. "The structure of the BSN Pathway is unique because we have students starting their nursing courses while still in their associate's degree program," says Lee Schmidt, executive associate dean, Loyola Nursing.
By overlapping the AA and BSN courses, students can complete the program in five years instead of six or more. "That's a big draw for students," says Jennie Boyle, associate dean for academic affairs, Arrupe College. "Without the BSN Pathway program, many students would not be able to pursue a career in nursing because of finances or time. We want to make their dream achievable."
Part of making that dream achievable is funding and the contributions of generous donors like Peggy Bell (BSN '85) and her husband Tom. "I want to help finance a student's education," says Peggy. "I want to give them a chance."
Peggy worked as a registered nurse (RN) for 12 years before enrolling in Loyola's RN to BSN program. She graduated summa cum laude and went on to earn a Master of Science in Nursing from the University of Wisconsin-Madison. But for Peggy and her husband, it was Loyola that left the more lasting impact. "I watched from the sidelines as Loyola Nursing shaped her," says Tom. "Peggy's education at Loyola represented a transformation that was life-changing."
Thanks to the Bell's endowment, Loyola Nursing can continue to transform students' lives by ensuring that finances are not a barrier to their education. "I'm excited by the BSN Pathway program because I see it as a real opportunity for students who come from first-generation college families," says Peggy.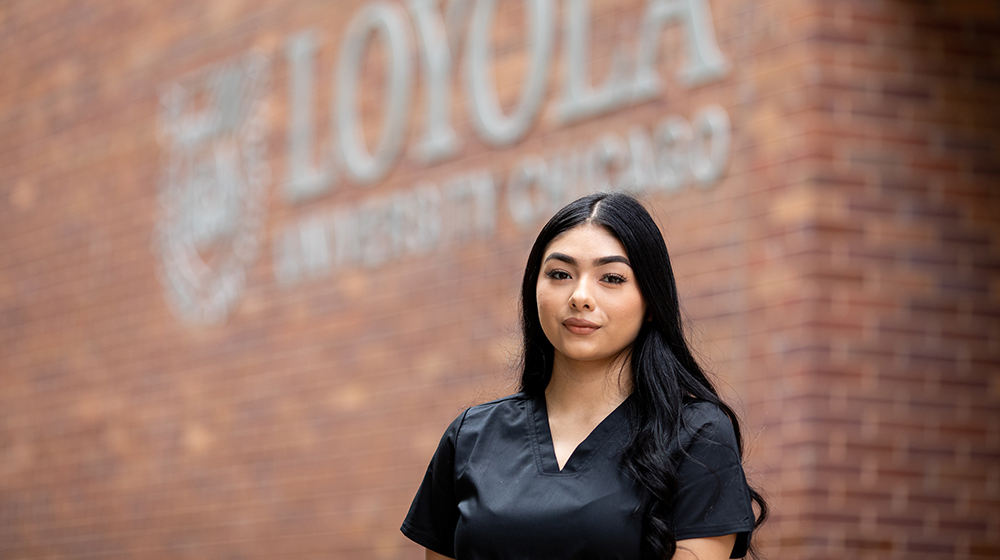 That's almost what happened to Jessica Martinez-Vega, who wasn't sure if she could cover the tuition when she first applied to Loyola. In fact, she was planning to attend another school until she discovered the BSN Pathway program. "Arrupe made it possible for me, made it affordable," says Martinez-Vega, who is eager to succeed in her first nursing-specific courses in Fall 2020, despite learning remotely because of the COVID-19 pandemic. "It didn't feel real until I ordered my books," she says. "I'm excited to learn all the material."
Like Duarte and other students in the Pathway program, Martinez-Vega has a personal connection to nursing. As a 14-year-old, she spent a great deal of time in hospitals after her father suffered a stroke. "When I was with my dad, I would watch how nurses reflected their mood on patients," she says. "Nurses can make such a difference in a patient's life."
It's experiences like these that motivate Martinez-Vega to continue pushing forward on her journey to becoming a Loyola nurse. In the meantime, she and her classmates are paving the way for future students to follow in their footsteps at Loyola. "If these students are successful, it will open the doors to other students," says Connor. "These students are pioneers."
Learn more about Loyola Nursing's Bachelor of Science in Nursing program.