The Art Of Nursing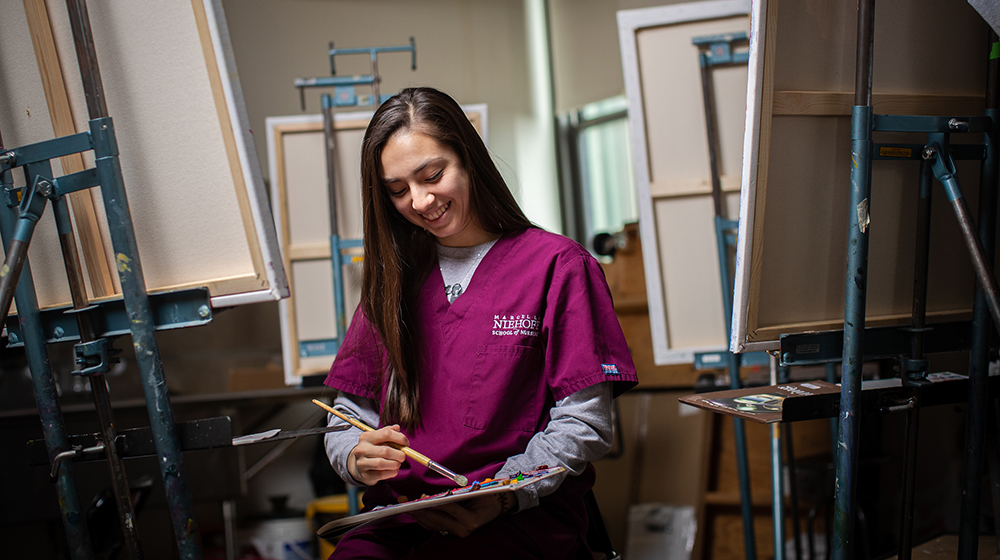 Jasmine Mirabelli uses artistic talent to express her passion for health care
By Taylor Utzig
Art and music have always been an important part of Jasmine Mirabelli's life. "Since I was young, I did musicals with my family." says Mirabelli. Her love of the arts followed her into high school where she became involved in choir and musical theater. What she didn't expect was for her artistic side to play such a big part of her college experience.
Four years ago, Mirabelli was accepted into Loyola's four-year Bachelor of Science in Nursing. Because of this rigorous program, Mirabelli didn't expect to have much time for music and art outside of studying and clinicals. Her sophomore year, though, she auditioned for Loyola Chamber Choir and was excited to be accepted. "It was a fun way for me to get back into the arts," she says.
In her junior year, Mirabelli stretched her talents again by enrolling in a drawing course, an experience she enjoyed so much, it inspired her to continue with more advanced classes. "It was difficult balancing my time, taking those classes plus a full load of nursing courses, but I don't have any regrets," she says.
In her final semester, Mirabelli is the only non-art major in her advanced studio art class. Her pieces often reflect a different perspective than her peers. "A lot of the artwork I make is nursing related," she says. As Mirabelli skims through photos of her projects, the realistic nature of her work is striking: a linoleum cut of a human heart and a vivid sketch of a baby lying next to the placenta after birth.
The images reflect what Mirabelli has been studying and experiencing during her clinical rotations. "This past summer, I interned in the cardiovascular department of the intensive care unit (ICU), which drew me to that specific system of the body," Mirabelli explains. She spent her second clinical experience in labor and delivery, which inspired her drawings of the birthing process. "It's about connecting those two worlds; art is important in nursing."
Mirabelli says another key theme in her artwork is time. One of her pieces depicts a baby at birth, when only its head is out in the world. Mirabelli chose that exact moment, because it reflects her own feelings about the end of this chapter in her nursing education. "It's an awkward time because the baby isn't out, but it's almost there. That's how I feel right now in nursing school. I'm still an undergrad. I'm not quite there, but I can feel it, we're so close to being done. It's a weird feeling," she says.
Over the past year, Mirabelli has gifted a few of her pieces to Nursing faculty. One of them is Jorgia Connor, director of the BSN program. After seeing Mirabelli's work, Connor was so inspired, she encouraged her to submit two of pieces to the Hektoen Nurses and the Humanities' exhibit in Chicago in celebration of the Year of the Nurse. "Jasmine is truly the epitome of the adage, 'Nursing is an Art and a Science,'" says Connor. "She is so inspiring."
As Mirabelli prepares to take her nursing knowledge and skills into her career, she is herself inspired that she is making this transition during the Year of the Nurse. "I feel like it's a sign that this is what I'm meant to do. I want to provide that compassionate care that every patient deserves."
Mirabelli plans to pursue a career in the ICU. One day, she hopes to become a nursing educator and teach future generations of nurses.
Learn more about the Year of the Nurse at Loyola University Chicago.