Finding his path
Alumnus Jared Stewart reflects on his journey to becoming a nurse anesthetist
By Taylor Utzig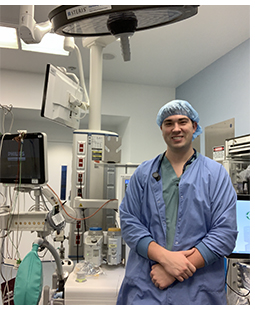 The path to becoming a nurse isn't the same for every student. For some, it's a decision they make even before stepping onto a college campus. For others, it's a calling that comes later as they expand their experience and knowledge of health care.
The latter is true for Jared Steward, a 2013 graduate of Loyola's Accelerated Bachelor of Science in Nursing (BSN) program. "This program is a great option for people who have already completed an undergraduate degree and want to go back to school to get their nursing degree," says Stewart.
Stewart originally heard about Loyola's ABSN program from his undergraduate academic advisor who knew Loyola nurses working at a local hospital. After hearing about the quality of the program and the high caliber of graduates, Stewart knew Loyola was the right choice. "To be a Loyola nurse means you are an individual that is both compassionate and competent to handle all aspects of the demanding job," says Stewart. "Patients being cared for by a Loyola nurse know they will get exceptional care and that their nurse will be their number one advocate for care."
Thinking back on his time at Loyola, Stewart remembers his instructors being that advocate for him, and, in a way, demonstrating the very advocacy that Loyola nurses are known to provide patients. "If you needed to speak to an instructor at any time, whether you're stressed, had questions about clinical or lectures, or needed to vent about life, they were available," he says. "At Loyola, the teachers are invested in you as much as you are invested in the nursing program."
Now in his clinical residency to become a nurse anesthetist, Stewart takes the lessons he learned at Loyola into his patient care, lessons reinforced during the Year of the Nurse and the COVID-19 pandemic. "Nurses devote their lives to caring for others," he says. "It is critical that we remember those nurses who go above and beyond for both patients and their family members to make all aspects of a patient's life a memorable moment."
After graduating with his BSN, Stewart spent more than a year working in the cardio-thoracic ICU at Loyola Medicine before moving to a similar unit at Rush University Medical Center. He is currently pursuing his Doctor of Nursing Practice as a Nurse Anesthetist and plans to graduate in December 2020.