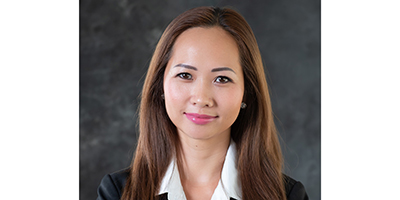 Thao Griffith, PhD, RN
Title/s: Assistant Professor
Specialty Area: Pediatrics, nursing research
Office #: Health Sciences Campus, CTRE Room 347
Phone: 708.216.5708
Email:
CV Link: 2021 Thao Griffith CV
About
Dr. Griffith graduated from the University of Illinois at Chicago with a BSN (2012) and PhD (2017) and joined Loyola University Chicago Marcella Niehoff School of Nursing in 2018. She has been teaching Pathophysiology and Nursing Research to undergraduate nursing students. Guided by the Jesuit values, her teaching philosophy is student-centered with a focus on transformative education. During didactic discussions, she encourages students to think critically of the course concepts and apply them in a holistic approach. She strives to connect with students and apply various teaching strategies to make the content more relatable/applicable and the class more enjoyable. Through the respect, kindness, knowledge, and perseverance that she demonstrates, she hopes to nourish the seeds of these qualities in students, facilitating their journeys to becoming leaders and a person for and with others.
Research Interests
Dr. Griffith has devoted her learning and research to improve neonatal care and outcomes with an emphasis on oral feeding in preterm infants. Her research goal is to utilize biobehavioral epigenetic approaches as a clinical strategy to reduce the impact of early life stress on preterm infant development, facilitate optimal individualized care for preterm infants; as well as develop parent-guided interventions to empower parents of preterm infants.
Training Opportunities for students:
Students who join Dr. Griffith's team can expect to receive training in conducting literature review, descriptive and experimental design, in addition to developing knowledge/expertise within the broader area of preterm infant neurobehaviors, oral feeding skills, feeding behavioral and physiological measures, multisensory massage intervention, the Early Feeding Skills Assessment, and Neurobehavioral Assessment of the Preterm Infants.
Selected Publications