archive
An exercise in service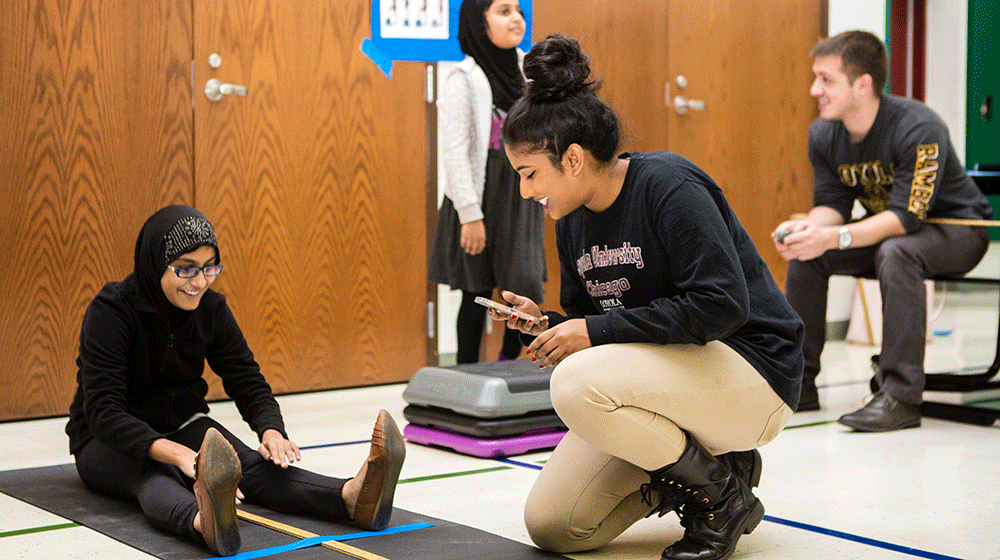 By Anna Gaynor
Sylwia Zubek is one of many students who have come to Loyola from the Chicago Public School system—but, thanks to a service-learning course, this Exercise Science major has had the chance to give something back.
MORE ONLINE
Loyola's Plan 2020 is a five-year roadmap to guide the University and promote social justice. This story falls into one of the strategic priorities outlined in the plan. Learn more here.
"It's a great experience," she said. "Especially CPS schools, they're very underfunded. They don't have as many resources as private schools do, so just giving the PE teachers an extra hand when they have too many students, it can be a great help for them."
Zubek is one of many who have taken EXCM 101: Introduction to Exercise Physiology, a service-learning course that connects Loyola students with CPS physical education and health teachers. Each student is assigned to a local school to help with activities and lessons focused on fitness and health. While other students volunteered with afterschool sports programs or developed activities to encourage more physically active recesses—Zubek worked with first through fifth graders at Kilmer Elementary School during PE classes and gave presentations on healthy lifestyles and basic safety skills.
"It was fun with the little ones because they were running around, and we brought in healthy food for them," she said. "With the older kids, it was more serious. We learned about how the body works."
A chance to give back
All of the Loyola students are helping CPS with the LearnWELL Initiative, which promotes physical activity and healthy eating choices in schools. The partnership with Loyola allows students to fulfill their service learning hours—while helping the school meet its students' needs.
"It does vary," said Karen Berg, director of clinical placements and experiential learning at the Marcella Niehoff School of Nursing. "At some schools, we are supporting afterschool sports because that's really the best fit for Loyola students to be volunteering. In others, we're in the classroom supporting the health education teachers. We're supporting PE instructors, and we're also supporting recess. It really is identified by the school themselves—they're identifying what is best for them."
Stephanie Wilson, director of the Exercise Science Program, often sees that Loyola students start the semester a little nervous, but by the end, they can see firsthand their impact in the schools.
"They truly find it rewarding," Wilson said. "These children really count on the Loyola students to show up. They almost look for these students on the day and the time that they're supposed to come. I think our students recognize that and are confident and proud in the end that they have given something back to the community."
Hands-on experience
Helping in the classroom or on the field aren't the only ways this course offers help for Chicago's schools. Another class came together to develop a Wellness Fair for the students at Goudy Elementary School.
"I thought the class did an amazing job of researching the demographics of where Goudy is," said Robyn Becker, the exercise science instructor for the class. "They didn't really need a lot of my help. I just helped organize them each class, guiding them through."
Students used that demographic research to develop the wellness fair's stations, which included showing parents alternative ways to use their Link cards, to find healthier food options, and to get fit without access to a gym. Other stations included the health benefits of water and the amount of sugar in sodas and other beverages.
"When we were looking up the amount of sugar in these things, that kind of surprised me," said Kira Hinz, a senior who helped develop the stations. "The other stuff I had a pretty good grasp on, but I know I probably take that for granted too. I grew up learning about this stuff from my mom or from my school. I had a lot of things growing up, and maybe they didn't—I'm taking that knowledge for granted."