Professor
Parkinson ,Applied Health Sciences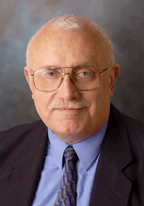 Contact
Stephen E. Kahn, Ph.D., DABCC, FAACC, is Professor (tenured) and Vice Chair of Clinical Services in Pathology and Laboratory Medicine at the Loyola University Health System (LUHS) - A Member of Trinity Health in Maywood, IL, USA. He is a faculty member in the Stritch School of Medicine and the Parkinson School of Public Health and Health Sciences. He has been a Loyola University of Chicago (LUC) employee since 1978 completing a two-year postdoctoral fellowship in clinical chemistry at the Loyola University Medical Center (LUMC) before becoming a Pathology faculty member in 1980. He earned his Ph.D. in 1979 in Biological Chemistry (researching mechanisms of mineralization) at the University of Illinois Medical Center in Chicago, IL. He is board-certified by the American Board of Clinical Chemistry and is a fellow of AACC's Academy. Dr. Kahn's clinical and scientific interests include evidence based laboratory medicine, quality management systems, quality improvement, biomarkers of cardiac disease and cardiovascular risk, laboratory stewardship and utilization, toxicology and near patient (or point of care) testing. At LUHS, he presently serves as Associate Director of Clinical Laboratories, Division Chief for Clinical Pathology and Quality Medical Director for Pathology and Laboratory Medicine as well as Director of Core Laboratory Operations, Point of Care, Referred Testing and Toxicology. He has served on numerous groups in Loyola University of Chicago's Health Sciences Division (HSD), Stritch School of Medicine (SSOM) and Department of Pathology and Laboratory Medicine. He was a member of the HSD/SSOM Committee on Academic Rank and Tenure for 16 years chairing CART from 2008 – 2014. In the Trinity Health System, he is a member of the Laboratory Services Council, Laboratory Test Stewardship Group and has chaired multiple sub-groups in TH's Transforming Operations initiative. He is actively engaged in the clinical quality programs of the LUHS. Active throughout his career, Dr. Kahn is a Past-President of the American Association for Clinical Chemistry and AACC's Academy. He presently is a member of AACC's Awards Committee. He has served on groups under the auspices of the American Medical Association, American Society for Clinical Pathology, Agency for Healthcare Research and Quality, Association for Clinical Laboratory Science, Clinical Laboratory Standards Institute, College of American Pathologists, the Centers for Disease Control's Laboratory Medicine Best Practices program, the Joint Commission and the National Institutes of Health. In 2011, he chaired the joint AACC/NACB Evidence-Based Laboratory Medicine Committee and the Arnold O. Beckman Conference on 'Glycemic Control in the Hospital: Evidence, Issues and Future Directions.' He is a recipient of AACC's Lifetime Achievement Award, AACC's Award for Outstanding Contributions in Service to the Field of Clinical Chemistry, three AACC presidential citations and several other awards. Dr. Kahn has devoted his life to service contributions at all levels and his career to education. He continues to teach a broad spectrum of trainees at the undergraduate and postgraduate levels. He has been invited to give more than 100 invited presentations in local, national and international venues. He has published over 75 peer-reviewed articles and chapters as well as nearly 100 abstracts and conference proceedings. His translational research interests include studies focusing on utility of lab testing for markers of tissue injury (particularly cardiac disease biomarkers and cardiovascular risk assessment), clinical toxicology, laboratory utilization, quality management systems and near patient testing. His interest in standardization led to his previously chairing an international subcommittee addressing harmonization of cTnI measurements and in helping to develop a framework leading to an international standardization program initiative (ICHCLR at www.harmonization.net)
---
Education
Michigan State University, Bachelors           
University of Illinois at Chicago, Ph.D.               
Fellowship: Loyola University Medical Center, Clinical Chemistry
What prompted you to pursue your field?
I pursued training and certification in clinical chemistry because I really liked biochemistry and was interested in working in healthcare, preferably in a hospital setting. That led to my career in laboratory medicine and pathology.
Why is this area of study important at this point in time?
Numerous sources identify that a large majority of objective patient data in the electronic medical record comes from the clinical laboratory or anatomic pathology divisions. While the value of the laboratory has always been critical to patient care, laboratory testing has never been more important, more visible and more needed than during the coronavirus pandemic.
Publications
Contemporary Practice in Clinical Chemistry Chin, AC, Christenson RH, Kahn SE 2016
Early Recognition and Treatment of Sepsis After the Addition of Lactate to the Laboratory's Critical Result Call List Kuttab,H. I.; Sterk,E.; Rech,M. A.; Nghiem,T.; Bahar,B.; Kahn,S. Journal of intensive care medicine 2016
Defining the Path Forward: Guidance for Laboratory Medicine Guidelines Kahn,S. E.; Jones,P. M.; Chin,A. C.; Christenson,R. H. Ejifcc 2015 ;26(3):158-167
Defining the path forward: guidance for laboratory medicine guidelines Kahn SE, Jones PM, Chin, AC, Christenson RH JOURNAL OF THE INTERNATIONAL FEDERATION OF CLINICAL CHEMISTRY 2015 ;26 (3):158-67
Klin Kab Diagn Miller, WG, Myers, GL, Gantzer ML, Kahn SE, Schoenbrunner ER, Thienpont LM, Bunk, DM, Christenson RH, Eckfeldt JH, Lo SF, Nuebling CM, Sturgeon CM 2013 ;Feb (2)
Effectiveness of barcoding for reducing patient specimen and laboratory testing identification errors: a Laboratory Medicine Best Practices systematic review and meta-analysis Snyder,S. R.; Favoretto,A. M.; Derzon,J. H.; Christenson,R. H.; Kahn,S. E.; Shaw,C. S.; Baetz,R. A.; Mass,D.; Fantz,C. R.; Raab,S. S.; Tanasijevic,M. J.; Liebow,E. B. Clinical biochemistry 2012 ;45(13-14):988-998
Roadmap for harmonization of clinical laboratory measurement procedures Greg Miller,W.; Myers,G. L.; Lou Gantzer,M.; Kahn,S. E.; Schonbrunner,E. R.; Thienpont,L. M.; Bunk,D. M.; Christenson,R. H.; Eckfeldt,J. H.; Lo,S. F.; Nubling,C. M.; Sturgeon,C. M. Clinical chemistry 2011 ;57(8):1108-1117
Analytic bias among certified methods for the measurement of hemoglobin A1c: a cause for concern?. Holmes,E. W.; Ersahin,C.; Augustine,G. J.; Charnogursky,G. A.; Gryzbac,M.; Murrell,J. V.; McKenna,K. M.; Nabhan,F.; Kahn,S. E. American Journal of Clinical Pathology 2008 ;129(4):540-547
Analytical evaluation of the Abbott ARCHITECT Sirolimus assay Maine,G. T.; Kahn,S. E.; Vazquez,D.; Meyer,P.; Dickson,D.; Kenney,D.; Edwards,M.; Haverstick,D. M. Clinical biochemistry 2008 ;41(14-15):1277-1277
Circadian characteristics of serum calcium, magnesium and eight trace elements and of their metallo-moieties in urine of healthy middle-aged men. Kanabrocki,E. L.; Sothern,R. B.; Ryan,M. D.; Kahn,S.; Augustine,G.; Johnson,C.; Foley,S.; Gathing,A.; Eastman,G.; Friedman,N.; Nemchausky,B. A.; Kaplan,E. Clinica Terapeutica 2008 ;159(5):329-346
Troponin I levels in patients with preeclampsia. Joyal,D.; Leya,F.; Koh,M.; Besinger,R.; Ramana,R.; Kahn,S.; Jeske,W.; Lewis,B.; Steen,L.; Mestril,R.; Arab,D. American Journal of Medicine 2007 ;120(9):819.e13-819.e14
Toward standardization of cardiac troponin I measurements part II: assessing commutability of candidate reference materials and harmonization of cardiac troponin I assays Christenson,R. H.; Duh,S. H.; Apple,F. S.; Bodor,G. S.; Bunk,D. M.; Panteghini,M.; Welch,M. J.; Wu,A. H.; Kahn,S. E. Clinical chemistry 2006 ;52(9):1685-1692
Association of mild transient elevation of troponin I levels with increased mortality and major cardiovascular events in the general patient population. Gudmundsson,G. S.; Kahn,S. E.; Moran,J. F. Archives of Pathology & Laboratory Medicine 2005 ;129(4):474-480
Serum lipid concentrations in six canid and four ursid species in four zoos Crissey,S. D.; Ange,K. D.; Slifka,K. A.; Sadler,W.; Kahn,S.; Ward,A. M. Journal of zoo and wildlife medicine : official publication of the American Association of Zoo Veterinarians 2004 ;35(1):34-39
Biomarker profiling of plasma from acute coronary syndrome patients. Application of ProteinChip Array analysis. Florian-Kujawski,M.; Hussain,W.; Chyna,B.; Kahn,S.; Hoppensteadt,D.; Leya,F.; Fareed,J. International Angiology 2004 ;23(3):246-254
Serum concentrations of lipids, vitamin d metabolites, retinol, retinyl esters, tocopherols and selected carotenoids in twelve captive wild felid species at four zoos Crissey,S. D.; Ange,K. D.; Jacobsen,K. L.; Slifka,K. A.; Bowen,P. E.; Stacewicz-Sapuntzakis,M.; Langman,C. B.; Sadler,W.; Kahn,S.; Ward,A. The Journal of nutrition 2003 ;133(1):160-166