Professor
Public Health Sciences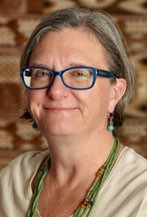 Contact
Amy Luke, Ph.D., received her doctorate in Human Nutrition and Nutritional Biology from the University of Chicago in 1994. She started at Loyola as a research associate immediately after graduation in the Department of Public Health Sciences. Her graduate training was in the objective measurement of energy expenditure/metabolism and body composition using stable isotopes. She applied that expertise to the ongoing multi-country epidemiologic and genetic studies of hypertension and has spent a significant amount of time conducting field research in West Africa (Nigeria and Ghana), the Caribbean (Jamaica) and here in Maywood. Her research is epidemiologic in nature and is focused on understanding the determinants of excess weight gain and growth in human populations.
---
Education
University of Chicago, Ph.D.               
University of Maine, Bachelors           
What prompted you to pursue your field?
My academic field is public health but my area of research is much more narrow, of course. My training is in human nutrition, broadly, energy metabolism, specifically. I was originally a biochemistry undergraduate but realized nutrition is a much more applied,tangible area of research.
What's it like to teach at Parkinson?
Teaching at Parkinson is a positive experience, overall. We have good programs, great students, exciting community engagement.
What does your department's focus mean to you?
Public health has a very broad interpretation for me - all research, scholarship, practice, and education that impacts the health of populations at any level.
Why is this area of study important at this point in time?
Public health's importance, in the time of COVID, is obvious and cannot be overstated. The recent historical trend of defunding public health has been shown to be a huge mistake in 2020. Health entrepreneurism refers to the ability to utilize and incorporate a broad range of skills from a broad range of fields.
Publications
Evolution of water conservation in humans. Pontzer, H; Brown, MH; Wood, BM; Raichlen, DA; Mabulla, AZP; Harris, JA; Dunsworth, H; Hare, B; Walker, K; Luke, A; Dugas, LR; Schoeller, D; Plange-Rhule, J; Bovet, P; Forrester, TE; Thompson, ME; Shumaker, RW; Rothman, JM; Vogel, E; Sulistyo, F; Alavi, S; Prasetyo, D; Urlacher, SS; Ross, SR Current biology : CB 2021
A standard calculation methodology for human doubly labeled water studies. Speakman, JR; Yamada, Y; Sagayama, H; Berman, ESF; Ainslie, PN; Andersen, LF; Anderson, LJ; Arab, L; Baddou, I; Bedu-Addo, K; Blaak, EE; Blanc, S; Bonomi, AG; Bouten, CVC; Bovet, P; Buchowski, MS; Butte, NF; Camps, SGJA; Close, GL; Cooper, JA; Creasy, SA; Das, SK; Cooper, R; Dugas, LR; Ebbeling, CB; Ekelund, U; Entringer, S; Forrester, T; Fudge, BW; Goris, AH; Gurven, M; Hambly, C; El Hamdouchi, A; Hoos, MB; Hu, S; Joonas, N; Joosen, AM; Katzmarzyk, P; Kempen, KP; Kimura, M; Kraus, WE; Kushner, RF; Lambert, EV; Leonard, WR; Lessan, N; Ludwig, DS; Martin, CK; Medin, AC; Meijer, EP; Morehen, JC; Morton, JP; Neuhouser, ML; Nicklas, TA; Ojiambo, RM; Pietiläinen, KH; Pitsiladis, YP; Plange-Rhule, J; Plasqui, G; Prentice, RL; Rabinovich, RA; Racette, SB; Raichlen, DA; Ravussin, E; Reynolds, RM; Roberts, SB; Schuit, AJ; Sjödin, AM; Stice, E; Urlacher, SS; Valenti, G; Van Etten, LM; Van Mil, EA; Wells, JCK; Wilson, G; Wood, BM; Yanovski, J; Yoshida, T; Zhang, X; Murphy-Alford, AJ; Loechl, CU; Melanson, EL; Luke, AH; Pontzer, H; Rood, J; Schoeller, DA; Westerterp, KR; Wong, WW Cell reports. Medicine 2021 ;2(2)
Dialysis, COVID-19, Poverty, and Race in Greater Chicago: An Ecological Analysis. Bhayani, S; Sengupta, R; Markossian, T; Tootooni, S; Luke, A; Shoham, D; Cooper, R; Kramer, H Kidney medicine 2020
Associations between self-reported sleep duration and cardiometabolic risk factors in young African-origin adults from the five-country modeling the epidemiologic transition study (METS). Rae, DE; Dugas, LR; Roden, LC; Lambert, EV; Bovet, P; Plange-Rhule, J; Forrester, T; Riesen, W; Korte, W; Crowley, SJ; Reutrakul, S; Luke, A Sleep health 2020
Family-based lifestyle interventions: What makes them successful? A systematic literature review. Arnason, A; Langarica, N; Dugas, LR; Mora, N; Luke, A; Markossian, T Preventive medicine reports 2020 ;21
The human microbiota is associated with cardiometabolic risk across the epidemiologic transition. Fei, N; Bernabé, BP; Lie, L; Baghdan, D; Bedu-Addo, K; Plange-Rhule, J; Forrester, TE; Lambert, EV; Bovet, P; Gottel, N; Riesen, W; Korte, W; Luke, A; Kliethermes, SA; Layden, BT; Gilbert, JA; Dugas, LR PLoS ONE 2019 ;14(7)
Assessment of maternal referral systems used for a rural Zambian hospital: the development of setting specific protocols for the identification of complications. Benson, AE; Benson, MJ; Luke, AH African health sciences 2019 ;19(1)
Association between 25-hydroxyvitamin D and intact parathyroid hormone levels across latitude among adults with African ancestry Durazo-Arvizu RA, Kramer H, Camacho P, Luke A, Plange-Rhule J, Bovet P, Forrester T, Dugas L, Lambert E, Harders R, Cooper RS Nutrients 2019 ;11(8):E1959
Sugar-sweetened beverage intake and relative weight among South African adults living in resource-poor communities: longitudinal data from the STOP-SA Study Okop KJ, Lambert EV, Alaba O, Luke A, Dugas L, Levitt NS, Dover RVH, Kroff J, Micklesfield LK, Kolbe-Alexander T, Smit W, Dugmore H, Bobrow K, Odunitan-Wayas FA, Puoane T International journal of obesity (2005) 2019 ;43(3):603-614
Decreased microbial co-occurrence network stability and SCFA receptor level correlates with obesity in African-origin women. Dugas, LR; Bernabé, BP; Priyadarshini, M; Fei, N; Park, SJ; Brown, L; Plange-Rhule, J; Nelson, D; Toh, EC; Gao, X; Dong, Q; Sun, J; Kliethermes, S; Gottel, N; Luke, A; Gilbert, JA; Layden, BT Scientific reports 2018 ;8(1)
Gut microbiota, short chain fatty acids, and obesity across the epidemiologic transition: the METS-Microbiome study protocol. Dugas, LR; Lie, L; Plange-Rhule, J; Bedu-Addo, K; Bovet, P; Lambert, EV; Forrester, TE; Luke, A; Gilbert, JA; Layden, BT BMC Public Health 2018 ;18(1)
The burden of chronic kidney disease and its major risk factors in Jamaica. Kramer, H; Soyibo, A; Forrester, T; Boyne, M; Markossian, T; Durazo-Arvizu, R; Luke, A; Cooper, R Kidney international 2018 ;94(5)
Sugar-sweetened beverage intake and relative weight gain among South African adults living in resource-poor communities: longitudinal data from the STOP-SA study. Okop, KJ; Lambert, EV; Alaba, O; Levitt, NS; Luke, A; Dugas, L; Rvh, D; Kroff, J; Micklesfield, LK; Kolbe-Alexander, TL; Warren, S; Dugmore, H; Bobrow, K; Odunitan-Wayas, FA; Puoane, T International journal of obesity (2005) 2018
Independent association of resting energy expenditure with blood pressure: confirmation in populations of the African diaspora Creber,C.; Cooper,R. S.; Plange-Rhule,J.; Bovet,P.; Lambert,E. V.; Forrester,T. E.; Schoeller,D.; Riesen,W.; Korte,W.; Cao,G.; Luke,A.; Dugas,L. R. BMC cardiovascular disorders 2018 ;18(1):4-017-0737-5
The Association of Dietary Fiber Intake with Cardiometabolic Risk in Four Countries across the Epidemiologic Transition. Lie, L; Brown, L; Forrester, TE; Plange-Rhule, J; Bovet, P; Lambert, EV; Layden, BT; Luke, A; Dugas, LR Nutrients 2018 ;10(5)
25-Hydroxyvitamin D and blood pressure: a plateau effect in adults with African ancestry living at different latitudes Chiang,D.; Kramer,H.; Luke,A.; Cooper,R.; Aloia,J.; Bovet,P.; Plange-Rhule,J.; Forrester,T.; Lambert,V.; Camacho,P.; Dugas,L.; Durazo-Arvizu,R. Journal of hypertension 2017 ;35(5):968-974
Early Hospital Readmissions and Mortality in Patients With Decompensated Cirrhosis Enrolled in a Large National Health Insurance Administrative Database Scaglione,S. J.; Metcalfe,L.; Kliethermes,S.; Vasilyev,I.; Tsang,R.; Caines,A.; Mumtaz,S.; Goyal,V.; Khalid,A.; Shoham,D.; Markossian,T.; Luke,A.; Underwood,H.; Cotler,S. J. Journal of clinical gastroenterology 2017
Cardiovascular risk status of Afro-origin populations across the spectrum of economic development: findings from the Modeling the Epidemiologic Transition Study Dugas,L. R.; Forrester,T. E.; Plange-Rhule,J.; Bovet,P.; Lambert,E. V.; Durazo-Arvizu,R. A.; Cao,G.; Cooper,R. S.; Khatib,R.; Tonino,L.; Riesen,W.; Korte,W.; Kliethermes,S.; Luke,A. BMC Public Health 2017 ;17(1):438-017-4318-4
Accelerometer-measured physical activity is not associated with two-year weight change in African-origin adults from five diverse populations Dugas,L. R.; Kliethermes,S.; Plange-Rhule,J.; Tong,L.; Bovet,P.; Forrester,T. E.; Lambert,E. V.; Schoeller,D. A.; Durazo-Arvizu,R. A.; Shoham,D. A.; Cao,G.; Brage,S.; Ekelund,U.; Cooper,R. S.; Luke,A. PeerJ 2017 ;5:e2902
Physical activity and central adiposity in a cohort of African-American adults McGrath,S.; Brazel,D.; Dugas,L.; Cao,G.; Durazo-Arvizu,R.; Luke,A. BMC obesity 2017 ;4:34-017-0170-4. eCollection 2017
Fibroblast Growth Factor-23 (FGF-23) Levels Differ Across Populations by Degree of Industrialization Yuen,S. N.; Kramer,H.; Luke,A.; Bovet,P.; Plange-Rhule,J.; Forrester,T.; Lambert,V.; Wolfe,M.; Camacho,P.; Harders,R.; Dugas,L.; Cooper,R.; Durazo-Arvizu,R. The Journal of clinical endocrinology and metabolism 2016 :jc20153558
ASSOCIATION BETWEEN 25-HYDROXYVITAMIN D AND INTACT PARATHYROID HORMONE LEVELS ACROSS LATITUDE AMONG ADULTS WITH AFRICAN ANCESTRY. Kramer, H; Camacho, P; Aloia, J; Luke, A; Bovet, P; Rhule, JP; Forrester, T; Lambert, V; Harders, R; Dugas, L; Cooper, R; Durazo-Arvizu, R Endocrine practice : official journal of the American College of Endocrinology and the American Association of Clinical Endocrinologists 2016 ;22(8)
Constrained Total Energy Expenditure and Metabolic Adaptation to Physical Activity in Adult Humans. Pontzer, H; Durazo-Arvizu, R; Dugas, LR; Plange-Rhule, J; Bovet, P; Forrester, TE; Lambert, EV; Cooper, RS; Schoeller, DA; Luke, A Current biology : CB 2016 ;26(3)
Metabolic acceleration and the evolution of human brain size and life history Pontzer,H.; Brown,M. H.; Raichlen,D. A.; Dunsworth,H.; Hare,B.; Walker,K.; Luke,A.; Dugas,L. R.; Durazo-Arvizu,R.; Schoeller,D.; Plange-Rhule,J.; Bovet,P.; Forrester,T. E.; Lambert,E. V.; Thompson,M. E.; Shumaker,R. W.; Ross,S. R. Nature 2016 ;533(7603):390-392
The social patterning of risk factors for noncommunicable diseases in five countries: evidence from the modeling the epidemiologic transition study (METS) Stringhini,S.; Forrester,T. E.; Plange-Rhule,J.; Lambert,E. V.; Viswanathan,B.; Riesen,W.; Korte,W.; Levitt,N.; Tong,L.; Dugas,L. R.; Shoham,D.; Durazo-Arvizu,R. A.; Luke,A.; Bovet,P. BMC Public Health 2016 ;16:956-016-3589-5
Obesity-related metabolite profiles of black women spanning the epidemiologic transition Dugas,L. R.; Chorell,E.; Plange-Rhule,J.; Lambert,E. V.; Cao,G.; Cooper,R. S.; Layden,B. T.; Scholten,D.; Olsson,T.; Luke,A.; Goedecke,J. H. Metabolomics : Official journal of the Metabolomic Society 2016 ;12(3):45. Epub 2016 Feb 5
Dietary factors and fibroblast growth factor-23 levels in young adults with African ancestry Kosk,D.; Kramer,H.; Luke,A.; Camacho,P.; Bovet,P.; Rhule,J. P.; Forrester,T.; Wolf,M.; Sempos,C.; Melamed,M. L.; Dugas,L. R.; Cooper,R.; Durazo-Arvizu,R. Journal of bone and mineral metabolism 2016
New loci for body fat percentage reveal link between adiposity and cardiometabolic disease risk Lu,Y.; Day,F. R.; Gustafsson,S.; Buchkovich,M. L.; Na,J.; Bataille,V.; Cousminer,D. L.; Dastani,Z.; Drong,A. W.; Esko,T.; Evans,D. M.; Falchi,M.; Feitosa,M. F.; Ferreira,T.; Hedman,A. K.; Haring,R.; Hysi,P. G.; Iles,M. M.; Justice,A. E.; Kanoni,S.; Lagou,V.; Li,R.; Li,X.; Locke,A.; Lu,C.; Magi,R.; Perry,J. R.; Pers,T. H.; Qi,Q.; Sanna,M.; Schmidt,E. M.; Scott,W. R.; Shungin,D.; Teumer,A.; Vinkhuyzen,A. A.; Walker,R. W.; Westra,H. J.; Zhang,M.; Zhang,W.; Zhao,J. H.; Zhu,Z.; Afzal,U.; Ahluwalia,T. S.; Bakker,S. J.; Bellis,C.; Bonnefond,A.; Borodulin,K.; Buchman,A. S.; Cederholm,T.; Choh,A. C.; Choi,H. J.; Curran,J. E.; de Groot,L. C.; De Jager,P. L.; Dhonukshe-Rutten,R. A.; Enneman,A. W.; Eury,E.; Evans,D. S.; Forsen,T.; Friedrich,N.; Fumeron,F.; Garcia,M. E.; Gartner,S.; Han,B. G.; Havulinna,A. S.; Hayward,C.; Hernandez,D.; Hillege,H.; Ittermann,T.; Kent,J. W.; Kolcic,I.; Laatikainen,T.; Lahti,J.; Mateo Leach,I.; Lee,C. G.; Lee,J. Y.; Liu,T.; Liu,Y.; Lobbens,S.; Loh,M.; Lyytikainen,L. P.; Medina-Gomez,C.; Michaelsson,K.; Nalls,M. A.; Nielson,C. M.; Oozageer,L.; Pascoe,L.; Paternoster,L.; Polasek,O.; Ripatti,S.; Sarzynski,M. A.; Shin,C. S.; Narancic,N. S.; Spira,D.; Srikanth,P.; Steinhagen-Thiessen,E.; Sung,Y. J.; Swart,K. M.; Taittonen,L.; Tanaka,T.; Tikkanen,E.; van der Velde,N.; van Schoor,N. M.; Verweij,N.; Wright,A. F.; Yu,L.; Zmuda,J. M.; Eklund,N.; Forrester,T.; Grarup,N.; Jackson,A. U.; Kristiansson,K.; Kuulasmaa,T.; Kuusisto,J.; Lichtner,P.; Luan,J.; Mahajan,A.; Mannisto,S.; Palmer,C. D.; Ried,J. S.; Scott,R. A.; Stancakova,A.; Wagner,P. J.; Demirkan,A.; Doring,A.; Gudnason,V.; Kiel,D. P.; Kuhnel,B.; Mangino,M.; Mcknight,B.; Menni,C.; O'Connell,J. R.; Oostra,B. A.; Shuldiner,A. R.; Song,K.; Vandenput,L.; van Duijn,C. M.; Vollenweider,P.; White,C. C.; Boehnke,M.; Boettcher,Y.; Cooper,R. S.; Forouhi,N. G.; Gieger,C.; Grallert,H.; Hingorani,A.; Jorgensen,T.; Jousilahti,P.; Kivimaki,M.; Kumari,M.; Laakso,M.; Langenberg,C.; Linneberg,A.; Luke,A.; Mckenzie,C. A.; Palotie,A.; Pedersen,O.; Peters,A.; Strauch,K.; Tayo,B. O.; Wareham,N. J.; Bennett,D. A.; Bertram,L.; Blangero,J.; Bluher,M.; Bouchard,C.; Campbell,H.; Cho,N. H.; Cummings,S. R.; Czerwinski,S. A.; Demuth,I.; Eckardt,R.; Eriksson,J. G.; Ferrucci,L.; Franco,O. H.; Froguel,P.; Gansevoort,R. T.; Hansen,T.; Harris,T. B.; Hastie,N.; Heliovaara,M.; Hofman,A.; Jordan,J. M.; Jula,A.; Kahonen,M.; Kajantie,E.; Knekt,P. B.; Koskinen,S.; Kovacs,P.; Lehtimaki,T.; Lind,L.; Liu,Y.; Orwoll,E. S.; Osmond,C.; Perola,M.; Perusse,L.; Raitakari,O. T.; Rankinen,T.; Rao,D. C.; Rice,T. K.; Rivadeneira,F.; Rudan,I.; Salomaa,V.; Sorensen,T. I.; Stumvoll,M.; Tonjes,A.; Towne,B.; Tranah,G. J.; Tremblay,A.; Uitterlinden,A. G.; van der Harst,P.; Vartiainen,E.; Viikari,J. S.; Vitart,V.; Vohl,M. C.; Volzke,H.; Walker,M.; Wallaschofski,H.; Wild,S.; Wilson,J. F.; Yengo,L.; Bishop,D. T.; Borecki,I. B.; Chambers,J. C.; Cupples,L. A.; Dehghan,A.; Deloukas,P.; Fatemifar,G.; Fox,C.; Furey,T. S.; Franke,L.; Han,J.; Hunter,D. J.; Karjalainen,J.; Karpe,F.; Kaplan,R. C.; Kooner,J. S.; McCarthy,M. I.; Murabito,J. M.; Morris,A. P.; Bishop,J. A.; North,K. E.; Ohlsson,C.; Ong,K. K.; Prokopenko,I.; Richards,J. B.; Schadt,E. E.; Spector,T. D.; Widen,E.; Willer,C. J.; Yang,J.; Ingelsson,E.; Mohlke,K. L.; Hirschhorn,J. N.; Pospisilik,J. A.; Zillikens,M. C.; Lindgren,C.; Kilpelainen,T. O.; Loos,R. J. Nature communications 2016 ;7:10495
Seasonal variation in natural abundance of 2H and 18O in urine samples from rural Nigeria Harbison,J. E.; Dugas,L. R.; Brieger,W.; Tayo,B. O.; Alabi,T.; Schoeller,D. A.; Luke,A. Journal of applied physiology (Bethesda, Md.: 1985) 2015 ;119(1):55-60
Evidence for daily and weekly rhythmicity but not lunar or seasonal rhythmicity of physical activity in a large cohort of individuals from five different countries Refinetti,R.; Sani,M.; Jean-Louis,G.; Pandi-Perumal,S. R.; Durazo-Arvizu,R. A.; Dugas,L. R.; Kafensztok,R.; Bovet,P.; Forrester,T. E.; Lambert,E. V.; Plange-Rhule,J.; Luke,A. ANNALS OF MEDICINE 2015 :1-8
Elevated hypertension risk for African-origin populations in biracial societies: Modeling the Epidemiologic Transition Study Cooper,R. S.; Forrester,T. E.; Plange-Rhule,J.; Bovet,P.; Lambert,E. V.; Dugas,L. R.; Cargill,K. E.; Durazo-Arvizu,R. A.; Shoham,D. A.; Tong,L.; Cao,G.; Luke,A. Journal of hypertension 2015 ;33(3):473-481
Impact of westernization on fibroblast growth factor 23 levels among individuals of African ancestry Eckberg,K.; Kramer,H.; Wolf,M.; Durazo-Arvizu,R.; Tayo,B.; Luke,A.; Cooper,R. Nephrology, dialysis, transplantation : official publication of the European Dialysis and Transplant Association - European Renal Association 2015 ;30(4):630-635
The Epidemiology of Cirrhosis in the United States: A Population-based Study Scaglione,S.; Kliethermes,S.; Cao,G.; Shoham,D.; Durazo,R.; Luke,A.; Volk,M. L. Journal of clinical gastroenterology 2015 ;49(8):690-696
A comparison of indices of glucose metabolism in five black populations: data from modeling the epidemiologic transition study (METS) Atiase,Y.; Farni,K.; Plange-Rhule,J.; Luke,A.; Bovet,P.; Forrester,T. G.; Lambert,V.; Levitt,N. S.; Kliethermes,S.; Cao,G.; Durazo-Arvizu,R. A.; Cooper,R. S.; Dugas,L. R. BMC Public Health 2015 ;15(1):895-015-2233-0
Reply to T weishaar Durazo-Arvizu,R. A.; Camacho,P.; Bovet,P.; Forrester,T.; Lambert,E. V.; Plange-Rhule,J.; Hoofnagle,A. N.; Aloia,J.; Tayo,B.; Dugas,L. R.; Cooper,R. S.; Luke,A. The American Journal of Clinical Nutrition 2015 ;101(2):413-414
Under-reporting of dietary energy intake in five populations of the African diaspora Orcholski,L.; Luke,A.; Plange-Rhule,J.; Bovet,P.; Forrester,T. E.; Lambert,E. V.; Dugas,L. R.; Kettmann,E.; Durazo-Arvizu,R. A.; Cooper,R. S.; Schoeller,D. A. The British journal of nutrition 2015 ;113(3):464-472
Daily activity patterns of 2316 men and women from five countries differing in socioeconomic development. Sani, M; Refinetti, R; Jean-Louis, G; Pandi-Perumal, SR; Durazo-Arvizu, RA; Dugas, LR; Kafensztok, R; Bovet, P; Forrester, TE; Lambert, EV; Plange-Rhule, J; Luke, A Chronobiology international 2015 ;32(5)
Leveraging social influence to address overweight and obesity using agent-based models: the role of adolescent social networks Zhang,J.; Tong,L.; Lamberson,P. J.; Durazo-Arvizu,R. A.; Luke,A.; Shoham,D. A. Social science & medicine 2015 ;125:203-213
High Frequency of Active HCV Infection Among Seropositive Cases in West Africa and Evidence for Multiple Transmission Pathways Layden,J. E.; Phillips,R. O.; Owusu-Ofori,S.; Sarfo,F. S.; Kliethermes,S.; Mora,N.; Owusu,D.; Nelson,K.; Opare-Sem,O.; Dugas,L.; Luke,A.; Shoham,D.; Forbi,J. C.; Khudyakov,Y. E.; Cooper,R. S. Clinical infectious diseases : an official publication of the Infectious Diseases Society of America 2015 ;60(7):1033-1041
Association of car ownership and physical activity across the spectrum of human development: Modeling the Epidemiologic Transition Study (METS) Shoham,D. A.; Dugas,L. R.; Bovet,P.; Forrester,T. E.; Lambert,E. V.; Plange-Rhule,J.; Schoeller,D. A.; Brage,S.; Ekelund,U.; Durazo-Arvizu,R. A.; Cooper,R. S.; Luke,A. BMC Public Health 2015 ;15:173-015-1435-9
Indwelling Peritoneal Catheters in Patients with Cirrhosis and Refractory Ascites Kathpalia,P.; Bhatia,A.; Robertazzi,S.; Ahn,J.; Cohen,S. M.; Sontag,S.; Luke,A.; Durazo-Arvizu,R.; Pillai,A. A. INTERNAL MEDICINE JOURNAL 2015 ;45(10):1026-1031
Hepatitis C in sub-saharan Africa: urgent need for attention Layden,J. E.; Phillips,R.; Opare-Sem,O.; Akere,A.; Salako,B. L.; Nelson,K.; Dugas,L.; Luke,A.; Tayo,B. O.; Cooper,R. S. Open forum infectious diseases 2014 ;1(2):ofu065
Prevalence of risk of deficiency and inadequacy of 25-hydroxyvitamin D in US children: NHANES 2003-2006 Karalius,V. P.; Zinn,D.; Wu,J.; Cao,G.; Minutti,C.; Luke,A.; Kramer,H.; Durazo-Arvizu,R. Journal of pediatric endocrinology & metabolism : JPEM 2014 ;27(5-6):461-466
Vitamin D levels are low in adult patients with sickle cell disease in Jamaica and West Africa Tayo,B. O.; Akingbola,T. S.; Salako,B. L.; McKenzie,C. A.; Reid,M.; Layden,J.; Osunkwo,I.; Plange-Rhule,J.; Luke,A.; Durazo-Arvizu,R.; Cooper,R. S. BMC hematology 2014 ;14(1):12-1839-14-12. eCollection 2014
Association between smoking and total energy expenditure in a multi-country study Gonseth,S.; Dugas,L.; Viswanathan,B.; Forrester,T.; Lambert,V.; Plange-Rhule,J.; Durazo-Arvizu,R.; Luke,A.; Schoeller,D. A.; Bovet,P. Nutrition & Metabolism 2014 ;11(1):48-7075-11-48. eCollection 2014
Comparisons of intensity-duration patterns of physical activity in the US, Jamaica and 3 African countries Dugas,L. R.; Bovet,P.; Forrester,T. E.; Lambert,E. V.; Plange-Rhule,J.; Durazo-Arvizu,R. A.; Shoham,D.; Kroff,J.; Cao,G.; Cooper,R. S.; Brage,S.; Ekelund,U.; Luke,A. BMC Public Health 2014 ;14:882-2458-14-882
25-Hydroxyvitamin D in African-origin populations at varying latitudes challenges the construct of a physiologic norm Durazo-Arvizu,R. A.; Camacho,P.; Bovet,P.; Forrester,T.; Lambert,E. V.; Plange-Rhule,J.; Hoofnagle,A. N.; Aloia,J.; Tayo,B.; Dugas,L. R.; Cooper,R. S.; Luke,A. The American Journal of Clinical Nutrition 2014 ;100(3):908-914
Distribution of metals exposure and associations with cardiometabolic risk factors in the "Modeling the Epidemiologic Transition Study" Ettinger,A. S.; Bovet,P.; Plange-Rhule,J.; Forrester,T. E.; Lambert,E. V.; Lupoli,N.; Shine,J.; Dugas,L. R.; Shoham,D.; Durazo-Arvizu,R. A.; Cooper,R. S.; Luke,A. Environmental health : a global access science source 2014 ;13:90-069X-13-90
Association between Anxiety Levels and Weight Change in the Multiethnic Study of Atherosclerosis Rieke,K.; Durazo-Arvizu,R.; Liu,K.; Michos,E. D.; Luke,A.; Kramer,H. Journal of obesity 2014 ;2014:894627
Bisphenol A (BPA) Found in Humans and Water in Three Geographic Regions with Distinctly Different Levels of Economic Development Karalius,V. P.; Harbison,J. E.; Plange-Rhule,J.; van Breemen,R. B.; Li,G.; Huang,K.; Durazo-Arvizu,R. A.; Mora,N.; Dugas,L. R.; Vail,L.; Tuchman,N. C.; Forrester,T.; Luke,A. Environmental health insights 2014 ;8:1-3
Physical activity and pre-diabetes-an unacknowledged mid-life crisis: findings from NHANES 2003-2006 Farni,K.; Shoham,D. A.; Cao,G.; Luke,A. H.; Layden,J.; Cooper,R. S.; Dugas,L. R. PeerJ 2014 ;2:e499
A mixed ecologic-cohort comparison of physical activity & weight among young adults from five populations of African origin Luke,A.; Bovet,P.; Plange-Rhule,J.; Forrester,T. E.; Lambert,E. V.; Schoeller,D. A.; Dugas,L. R.; Durazo-Arvizu,R. A.; Shoham,D. A.; Cao,G.; Brage,S.; Ekelund,U.; Cooper,R. S. BMC Public Health 2014 ;14(1):397
Multimethod analyses of discretionary time use and health behaviors among urban low-income african-american adolescents: a pilot study Bohnert,A.; Burdette,K.; Dugas,L.; Travers,L.; Randall,E.; Richards,M.; Luke,A. Journal of developmental and behavioral pediatrics : JDBP 2013 ;34(8):589-598
25-hydroxyvitamin D levels in African American and Nigerian women Durazo-Arvizu,R. A.; Aloia,J. F.; Dugas,L. R.; Tayo,B. O.; Shoham,D. A.; Bertino,A. M.; Yeh,J. K.; Cooper,R. S.; Luke,A. American Journal of Human Biology : The Official Journal of the Human Biology Council 2013 ;25(4):560-562
Prediction of fat-free mass using bioelectrical impedance analysis in young adults from five populations of African origin Luke,A.; Bovet,P.; Forrester,T. E.; Lambert,E. V.; Plange-Rhule,J.; Dugas,L. R.; Durazo-Arvizu,R. A.; Kroff,J.; Richie,W. N.; Schoeller,D. A. European journal of clinical nutrition 2013 ;67(9):956-960
Authors' response to commentaries on 'Physical activity does not influence obesity risk' Luke,A.; Cooper,R. S. International journal of epidemiology 2013 ;42(6):1848-1851
Physical activity does not influence obesity risk: time to clarify the public health message Luke,A.; Cooper,R. S. International journal of epidemiology 2013 ;42(6):1831-1836
The Nigerian antihypertensive adherence trial: a community-based randomized trial Adeyemo,A.; Tayo,B. O.; Luke,A.; Ogedegbe,O.; Durazo-Arvizu,R.; Cooper,R. S. Journal of hypertension 2013 ;31(1):201-207
Mortality rates across 25-hydroxyvitamin D (25[OH]D) levels among adults with and without estimated glomerular filtration rate <60 ml/min/1.73 m2: the third national health and nutrition examination survey Kramer,H.; Sempos,C.; Cao,G.; Luke,A.; Shoham,D.; Cooper,R.; Durazo-Arvizu,R. PLoS ONE 2012 ;7(10):e47458
Patterns of sodium and potassium excretion and blood pressure in the African Diaspora Tayo,B. O.; Luke,A.; McKenzie,C. A.; Kramer,H.; Cao,G.; Durazo-Arvizu,R.; Forrester,T.; Adeyemo,A. A.; Cooper,R. S. Journal of human hypertension 2012 ;26(5):315-324
An actor-based model of social network influence on adolescent body size, screen time, and playing sports. Shoham,D. A.; Tong,L.; Lamberson,P. J.; Auchincloss,A. H.; Zhang,J.; Dugas,L.; Kaufman,J. S.; Cooper,R. S.; Luke,A. PLoS ONE [Electronic Resource] 2012 ;7(6):e39795
Protocol for the modeling the epidemiologic transition study: a longitudinal observational study of energy balance and change in body weight, diabetes and cardiovascular disease risk Luke,A.; Bovet,P.; Forrester,T. E.; Lambert,E. V.; Plange-Rhule,J.; Schoeller,D. A.; Dugas,L. R.; Durazo-Arvizu,R. A.; Shoham,D.; Cooper,R. S.; Brage,S.; Ekelund,U.; Steyn,N. P. BMC Public Health 2011 ;11:927-2458-11-927
Assessing physical activity and its relationship to cardiovascular risk factors: NHANES 2003-2006. Luke,A.; Dugas,L. R.; Durazo-Arvizu,R. A.; Cao,G. BMC Public Health 2011 ;11:387
Adiposity is not equal in a multi-race/ethnic adolescent population: NHANES 1999-2004 Dugas,L. R.; Cao,G.; Luke,A. H.; Durazo-Arvizu,R. A. Obesity (Silver Spring, Md.) 2011 ;19(10):2099-2101
Energy expenditure in adults living in developing compared with industrialized countries: a meta-analysis of doubly labeled water studies. Dugas,L. R.; Harders,R.; Merrill,S.; Ebersole,K.; Shoham,D. A.; Rush,E. C.; Assah,F. K.; Forrester,T.; Durazo-Arvizu,R. A.; Luke,A. American Journal of Clinical Nutrition 2011 ;93(2):427-441
Genome-wide association of anthropometric traits in African- and African-derived populations Kang,S. J.; Chiang,C. W.; Palmer,C. D.; Tayo,B. O.; Lettre,G.; Butler,J. L.; Hackett,R.; Adeyemo,A. A.; Guiducci,C.; Berzins,I.; Nguyen,T. T.; Feng,T.; Luke,A.; Shriner,D.; Ardlie,K.; Rotimi,C.; Wilks,R.; Forrester,T.; McKenzie,C. A.; Lyon,H. N.; Cooper,R. S.; Zhu,X.; Hirschhorn,J. N. Human molecular genetics 2010 ;19(13):2725-2738
Increasing BMI and waist circumference and prevalence of obesity among adults with Type 2 diabetes: the National Health and Nutrition Examination Surveys Kramer,H.; Cao,G.; Dugas,L.; Luke,A.; Cooper,R.; Durazo-Arvizu,R. A. Journal of diabetes and its complications 2010 ;24(6):368-374
The evaluation of injury risk and recovery in junior competitive tennis players. Jayanthi,N. A.; Robertson,T. C.; Dugas,L.; Luke,A. Journal of medicine and science in tennis 2010 ;15(2):12-15
Sex-differences in adiponectin levels and body fat distribution: longitudinal observations in Afro-Jamaicans Boyne,M. S.; Bennett,N. R.; Cooper,R. S.; Royal-Thomas,T. Y.; Bennett,F. I.; Luke,A.; Wilks,R. J.; Forrester,T. E. Diabetes research and clinical practice 2010 ;90(2):e33-6
Obesity management in adults with CKD Kramer,H.; Tuttle,K. R.; Leehey,D.; Luke,A.; Durazo-Arvizu,R.; Shoham,D.; Cooper,R.; Beddhu,S. American Journal of Kidney Diseases 2009 ;53(1):151-165
Estimating the changes in energy flux that characterize the rise in obesity prevalence. Swinburn,B. A.; Sacks,G.; Lo,S. K.; Westerterp,K. R.; Rush,E. C.; Rosenbaum,M.; Luke,A.; Schoeller,D. A.; DeLany,J. P.; Butte,N. F.; Ravussin,E. American Journal of Clinical Nutrition 2009 ;89(6):1723-1728
Assessing validity and reliability of resting metabolic rate in six gas analysis systems. Cooper,J. A.; Watras,A. C.; O'Brien,M. J.; Luke,A.; Dobratz,J. R.; Earthman,C. P.; Schoeller,D. A. Journal of the American Dietetic Association 2009 ;109(1):128-132
Association of regions on chromosomes 6 and 7 with blood pressure in Nigerian families. Tayo,B. O.; Luke,A.; Zhu,X.; Adeyemo,A. Circulation.Cardiovascular Genetics 2009 ;2(1):38-45
Admixture mapping of quantitative trait loci for BMI in African Americans: evidence for loci on chromosomes 3q, 5q, and 15q. Basu,A.; Tang,H.; Arnett,D.; Gu,C. C.; Mosley,T.; Kardia,S.; Luke,A.; Tayo,B.; Cooper,R.; Zhu,X.; Risch,N. Obesity 2009 ;17(6):1226-1231
Impact of adiponectin and ghrelin on incident glucose intolerance and on weight change. Bennett,N. R.; Boyne,M. S.; Royal-Thomas,T. Y.; Bennett,F. I.; Luke,A.; Wilks,R. J.; Forrester,T. E. Clinical endocrinology 2009 ;70(3):408-414
Energy expenditure in young adult urban informal settlement dwellers in South Africa Dugas,L. R.; Carstens,M. A.; Ebersole,K.; Schoeller,D. A.; Durazo-Arvizu,R. A.; Lambert,E. V.; Luke,A. European journal of clinical nutrition 2009 ;63(6):805-807
Total daily energy expenditure in black and white, lean and obese South African women. Dugas,L. R.; Cohen,R.; Carstens,M. T.; Schoffelen,P. F.; Luke,A.; Durazo-Arvizu,R. A.; Goedecke,J. H.; Levitt,N. S.; Lambert,E. V. European journal of clinical nutrition 2009 ;63(5):667-673
Ethnicity and the BMI-body fat relationship Luke,A. British Journal of Nutrition 2009 ;102(4):485-487
Energy expenditure does not predict weight change in either Nigerian or African American women. Luke,A.; Dugas,L. R.; Ebersole,K.; Durazo-Arvizu,R. A.; Cao,G.; Schoeller,D. A.; Adeyemo,A.; Brieger,W. R. American Journal of Clinical Nutrition 2009 ;89(1):169-176
Relative height and weight among children and adolescents of rural southwestern Nigeria. Ayoola,O.; Ebersole,K.; Omotade,O. O.; Tayo,B. O.; Brieger,W. R.; Salami,K.; Dugas,L. R.; Luke,A. Annals of Human Biology 2009 ;36(4):388-399
Urinary incontinence prevalence: results from the National Health and Nutrition Examination Survey. Dooley,Y.; Kenton,K.; Cao,G.; Luke,A.; Durazo-Arvizu,R. A.; Kramer,H.; Brubaker,L. Journal of Urology 2008 ;179(2):656-661
Latent common genetic components of obesity traits. Tayo,B. O.; Harders,R.; Luke,A.; Zhu,X. International journal of obesity 2008 ;32(12):1799-1806
A whole-genome scan for stroke or myocardial infarction in family blood pressure program families. Sherva,R.; Miller,M. B.; Pankow,J. S.; Hunt,S. C.; Boerwinkle,E.; Mosley,T. H.; Weder,A. B.; Curb,J. D.; Luke,A.; Morrison,A. C.; Fornage,M.; Arnett,D. K. Stroke 2008 ;39(4):1115-1120
Metabolic syndrome and self-reported history of kidney stones: the National Health and Nutrition Examination Survey (NHANES III) 1988-1994. West,B.; Luke,A.; Durazo-Arvizu,R. A.; Cao,G.; Shoham,D. A.; Kramer,H. American Journal of Kidney Diseases 2008 ;51(5):741-747
Sugary soda consumption and albuminuria: results from the National Health and Nutrition Examination Survey, 1999-2004. Shoham,D. A.; Durazo-Arvizu,R. A.; Kramer,H.; Luke,A.; Vupputuri,S.; Kshirsagar,A. PLoS ONE [Electronic Resource] 2008 ;3(10):e3431
Very low levels of energy expenditure among pre-adolescent Mexican-American girls. Dugas,L. R.; Ebersole,K.; Schoeller,D.; Yanovski,J. A.; Barquera,S.; Rivera,J.; Durazo-Arvizu,R. A.; Luke,A. International Journal of Pediatric Obesity 2008 ;3(2):123-126
Rapid increases in obesity in Jamaica, compared to Nigeria and the United States. Durazo-Arvizu,R. A.; Luke,A.; Cao,G.; Dugas,L.; Adeyemo,A.; Boyne,M.; Forrester,T. BMC Public Health 2008 ;8:133
Energy expenditure and adiposity in Nigerian and African-American women Ebersole,K. E.; Dugas,L. R.; Durazo-Arvizut,R. A.; Adeyemo,A. A.; Tayo,B. O.; Omotade,O. O.; Brieger,W. R.; Schoeller,D. A.; Cooper,R. S.; Luke,A. H. Obesity (Silver Spring, Md.) 2008 ;16(9):2148-2154
Hypertension in Mexico and among Mexican Americans: prevalence and treatment patterns Barquera,S.; Durazo-Arvizu,R. A.; Luke,A.; Cao,G. Journal of human hypertension 2008 ;22(9):652-652
Body size and blood pressure: an analysis of Africans and the African diaspora. Cappuccio,F. P.; Kerry,S. M.; Adeyemo,A.; Luke,A.; Amoah,A. G.; Bovet,P.; Connor,M. D.; Forrester,T.; Gervasoni,J. P.; Kaki,G. K.; Plange-Rhule,J.; Thorogood,M. Epidemiology 2008 ;19(1):38-46
Anger types: heritability and relation to blood pressure, body mass index, and left ventricular mass. Gleiberman,L.; Greenwood,T. A.; Luke,A.; Delgado,M. C.; Weder,A. B. Journal of clinical hypertension 2008 ;10(9):700-706
A genome-wide search replicates evidence of a quantitative trait locus for circulating angiotensin I-converting enzyme (ACE) unlinked to the ACE gene. McKenzie,C. A.; Zhu,X.; Forrester,T. E.; Luke,A.; Adeyemo,A. A.; Bouzekri,N. BMC Medical Genomics [Electronic Resource] 2008 ;1:23
Multiple genes for essential-hypertension susceptibility on chromosome 1q. Chang,Y. P.; Liu,X.; Kim,J. D.; Ikeda,M. A.; Layton,M. R.; Weder,A. B.; Kardia,S. L.; Rao,D. C.; Hunt,S. C.; Luke,A.; Boerwinkle,E.; Chakravarti,A. American Journal of Human Genetics 2007 ;80(2):253-264
Association of MC3R with body mass index in African Americans. Matsuoka,N.; Patki,A.; Tiwari,H. K.; Luke,A.; Wu,X.; Johnson,S. B.; Gregersen,P. K.; Allison,D. B.; Leibel,R. L.; Chung,W. K. International journal of body composition research 2007 ;5:123-130
Comparison of dietary patterns in the Mexican and Mexican-American populations. Luke,A.; Chavez,N.; Rolle,I.; Cao,G.; Flores,M.; Macias,N.; Barquera,S.; Durazo-Arvizu,R. A. Salud Publica de Mexico 2007 ;49(1):107-108
Ethnicity, energy expenditure and obesity: are the observed black/white differences meaningful? Luke,A.; Dugas,L.; Kramer,H. Current Opinion in Endocrinology, Diabetes & Obesity 2007 ;14(5):370-373
Association between obesity and chronic disease risk in children Luke,A.; Durazo-Arvizu,R. A. Salud Publica de Mexico 2007 ;49(1):224-228
Activity, adiposity and weight change in Jamaican adults. Luke,A.; Durazo-Arvizu,R. A.; Cao,G.; Forrester,T. E.; Wilks,R. J.; Schoeller,D. A. West Indian Medical Journal 2007 ;56(5):398-403
A genome-wide scan of loci linked to serum adiponectin in two populations of African descent. Hicks,C.; Zhu,X.; Luke,A.; Kan,D.; Adeyemo,A.; Wu,X. Obesity 2007 ;15(5):1207-1214
Meta-analysis of genome-wide linkage studies in BMI and obesity. Saunders,C. L.; Chiodini,B. D.; Sham,P.; Lewis,C. M.; Abkevich,V.; Adeyemo,A. A.; de Andrade,M.; Arya,R.; Berenson,G. S.; Blangero,J.; Boehnke,M.; Borecki,I. B.; Chagnon,Y. C.; Chen,W.; Comuzzie,A. G.; Deng,H. W.; Duggirala,R.; Feitosa,M. F.; Froguel,P.; Hanson,R. L.; Hebebrand,J.; Huezo-Dias,P.; Kissebah,A. H.; Li,W.; Luke,A.; Martin,L. J.; Nash,M.; Ohman,M.; Palmer,L. J.; Peltonen,L.; Perola,M.; Price,R. A.; Redline,S.; Srinivasan,S. R.; Stern,M. P.; Stone,S.; Stringham,H.; Turner,S.; Wijmenga,C.; Collier,D. A. Obesity 2007 ;15(9):2263-2275
Obesity and kidney disease: a big dilemma Kramer,H.; Luke,A. Current Opinion in Nephrology & Hypertension 2007 ;16(3):237-241
Validity of hand-to-foot measurement of bioimpedance: standing compared with lying position. Rush,E. C.; Crowley,J.; Freitas,I. F.; Luke,A. Obesity 2006 ;14(2):252-257
The effect of genetic variation in angiotensinogen on serum levels and blood pressure: a comparison of Nigerians and US blacks. Fejerman,L.; Wu,X.; Adeyemo,A.; Luke,A.; Zhu,X.; Hicks,C. Journal of human hypertension 2006 ;20(11):882-887
Positive association between resting energy expenditure and weight gain in a lean adult population. Luke,A.; Durazo-Arvizu,R. A.; Cao,G.; Adeyemo,A.; Tayo,B.; Cooper,R. American Journal of Clinical Nutrition 2006 ;83(5):1076-1081
A spectrum of PCSK9 alleles contributes to plasma levels of low-density lipoprotein cholesterol. Kotowski,I. K.; Pertsemlidis,A.; Luke,A.; Vega,G. L.; Cohen,J. C.; Hobbs,H. H. American Journal of Human Genetics 2006 ;78(3):410-422
Increasing body mass index and obesity in the incident ESRD population. Kramer,H. J.; Saranathan,A.; Luke,A.; Durazo-Arvizu,R. A.; Guichan,C.; Hou,S.; Cooper,R. Journal of the American Society of Nephrology 2006 ;17(5):1453-1459
Haplotypes produced from rare variants in the promoter and coding regions of angiotensinogen contribute to variation in angiotensinogen levels. Zhu,X.; Fejerman,L.; Luke,A.; Adeyemo,A. Human molecular genetics 2005 ;14(5):639-643
Admixture mapping for hypertension loci with genome-scan markers Zhu,X.; Luke,A.; Quertermous,T.; Hanis,C.; Mosley,T.; Gu,C. C.; Tang,H.; Rao,D. C.; Risch,N.; Weder,A. Nature genetics 2005 ;37(2):177-181
Obesity and prevalent and incident CKD: the Hypertension Detection and Follow-Up Program. Kramer,H.; Luke,A.; Bidani,A. K.; Cao,G.; Cooper,R.; McGee,D. American Journal of Kidney Diseases 2005 ;46(4):587-594
Meta-analysis of five genome-wide linkage studies for body mass index reveals significant evidence for linkage to chromosome 8p Johnson,L.; Luke,A.; Adeyemo,A.; Deng,H. W.; Mitchell,B. D.; Comuzzie,A. G.; Cole,S. A.; Blangero,J.; Perola,M.; Teare,M. D. International journal of obesity 2005 ;29(4):413-419
An international comparative study of blood pressure in populations of European vs. African descent Cooper,R. S.; Wolf-Maier,K.; Luke,A.; Adeyemo,A.; Banegas,J. R.; Forrester,T.; Giampaoli,S.; Joffres,M.; Kastarinen,M.; Primatesta,P.; Stegmayr,B.; Thamm,M. BMC Medicine 2005 ;3:2
Angiotensin-converting enzyme gene polymorphisms and obesity: an examination of three black populations. Kramer,H.; Wu,X.; Kan,D.; Luke,A.; Zhu,X.; Adeyemo,A.; McKenzie,C.; Cooper,R. Obesity research 2005 ;13(5):823-828
A randomized trial on sodium reduction in two developing countries. Forrester,T.; Adeyemo,A.; Soarres-Wynter,S.; Sargent,L.; Bennett,F.; Wilks,R.; Luke,A.; Prewitt,E.; Kramer,H. Journal of human hypertension 2005 ;19(1):55-60
An international comparative study of blood pressure in populations of European vs. African descent Wolf-Maier,K.; Luke,A.; Adeyemo,A.; Banegas,J. R.; Forrester,T.; Giampaoli,S.; Joffres,M.; Kastarinen,M.; Primatesta,P.; Stegmayr,B.; Thamm,M. BMC Medicine 2005 ;3:2
Relationship between blood pressure and physical activity assessed with stable isotopes. Luke,A.; Kramer,H.; Adeyemo,A.; Forrester,T.; Wilks,R.; Schoeller,D.; Leman,C. Journal of human hypertension 2005 ;19(2):127-132
Genetic effects on blood pressure localized to chromosomes 6 and 7. Adeyemo,A.; Luke,A.; Wu,X.; Kan,D.; Omotade,O.; Zhu,X. Journal of hypertension 2005 ;23(7):1367-1373
A genome scan among Nigerians linking resting energy expenditure to chromosome 16. Wu,X.; Luke,A.; Zhu,X.; Kan,D.; Tayo,B. O.; Adeyemo,A. Obesity research 2004 ;12(4):577-581
Association between blood pressure and resting energy expenditure independent of body size Luke,A.; Adeyemo,A.; Kramer,H.; Forrester,T. Hypertension 2004 ;43(3):555-560
Association between markers of obesity and chronic disease risk in children Luke,A.; Durazo-Arvizu,R. A. Salud Publica de Mexico 2004 ;49:S224-S228
Angiotensin I-converting enzyme polymorphisms, ACE level and blood pressure among Nigerians, Jamaicans and African-Americans. Bouzekri,N.; Zhu,X.; Jiang,Y.; McKenzie,C. A.; Luke,A.; Forrester,T.; Adeyemo,A.; Kan,D.; Farrall,M.; Anderson,S.; Ward,R. European Journal of Human Genetics 2004 ;12(6):460-468
Energetic determinants of glucose tolerance status in Jamaican adults. Boyne,M. S.; Gaskin,P.; Luke,A.; Wilks,R. J.; Bennett,F. I.; Younger,N.; Sargeant,L. A.; Adeyemo,A. A.; Forrester,T. E. European journal of clinical nutrition 2004 ;58(12):1666-1668
Association between evolutionary history of angiotensinogen haplotypes and plasma levels. Fejerman,L.; Bouzekri,N.; Wu,X.; Adeyemo,A.; Luke,A.; Zhu,X.; Ward,R. Human genetics 2004 ;115(4):310-318
Higher income is more strongly associated with obesity than with obesity-related metabolic disorders in Jamaican adults. Mendez,M. A.; Luke,A.; Wilks,R.; Bennett,F.; Forrester,T. International Journal of Obesity & Related Metabolic Disorders: Journal of the International Association for the Study of Obesity 2004 ;28(4):543-550
Genome scan for hypertension in nonobese African Americans: the National Heart, Lung, and Blood Institute Family Blood Pressure Program. Morrison,A. C.; Cooper,R.; Hunt,S.; Lewis,C. E.; Luke,A.; Mosley,T. H.; Boerwinkle,E. American Journal of Hypertension 2004 ;17(9):834-838
Income, education, and blood pressure in adults in Jamaica, a middle-income developing country. Mendez,M. A.; Cooper,R.; Wilks,R.; Luke,A.; Forrester,T. International journal of epidemiology 2003 ;32(3):400-408
Linkage disequilibrium and haplotype diversity in the genes of the renin-angiotensin system: findings from the family blood pressure program. Zhu,X.; Yan,D.; Luke,A.; Ikeda,M. A.; Chang,Y. P.; Weder,A.; Chakravarti,A. Genome research 2003 ;13(2):173-181
Racial differences in susceptibility to obesity. Cooper,R.; Luke,A. American Journal of Clinical Nutrition 2003 ;77(3):751; author reply 751-2; discussion 752-3
Associations between hypertension and genes in the renin-angiotensin system. Zhu,X.; Chang,Y. P.; Yan,D.; Weder,A.; Cooper,R.; Luke,A.; Kan,D.; Chakravarti,A. Hypertension 2003 ;41(5):1027-1034
Combined analysis of genomewide scans for adult height: results from the NHLBI Family Blood Pressure Program Wu,X.; Cooper,R. S.; Boerwinkle,E.; Turner,S. T.; Hunt,S.; Myers,R.; Olshen,R. A.; Curb,D.; Zhu,X.; Kan,D.; Luke,A. European journal of human genetics : EJHG 2003 ;11(3):271-274
An association study of angiotensinogen polymorphisms with serum level and hypertension in an African-American population Wu,X.; Luke,A.; Rieder,M.; Lee,K.; Toth,E. J.; Nickerson,D.; Zhu,X.; Kan,D. Journal of hypertension 2003 ;21(10):1847-1852
A genome-wide linkage analysis investigating the determinants of blood pressure in whites and African Americans. Thiel,B. A.; Chakravarti,A.; Luke,A.; Lewis,S.; Lynn,A.; Tiwari,H.; Schork,N. J.; Weder,A. B. American Journal of Hypertension 2003 ;16(2):151-153
Body composition of children in south-western Nigeria: validation of bio-electrical impedance analysis. Leman,C. R.; Adeyemo,A. A.; Schoeller,D. A.; Luke,A. Annals of Tropical Paediatrics 2003 ;23(1):61-67
Linkage for BMI at 3q27 region confirmed in an African-American population Luke,A.; Wu,X.; Zhu,X.; Kan,D.; Su,Y.; Cooper,R. Diabetes 2003 ;52(5):1284-1287
A genome-wide scan for body mass index among Nigerian families. Adeyemo,A.; Luke,A.; Cooper,R.; Wu,X.; Tayo,B.; Zhu,X.; Rotimi,C.; Bouzekri,N.; Ward,R. Obesity research 2003 ;11(2):266-273
Heritability of blood pressure in Nigerian families. Adeyemo,A. A.; Omotade,O. O.; Rotimi,C. N.; Luke,A. H.; Tayo,B. O. Journal of hypertension 2002 ;20(5):859-863
The feasibility of implementing a dietary sodium reduction intervention among free-living normotensive individuals in south west Nigeria. Adeyemo,A. A.; Prewitt,T. E.; Luke,A.; Omotade,O. O.; Rotimi,C. N.; Brieger,W. R. Ethnicity & disease 2002 ;12(2):207-212
Genome scan among Nigerians linking blood pressure to chromosomes 2, 3, and 19 Luke,A.; Zhu,X.; Kan,D.; Adeyemo,A.; Rotimi,C.; Bouzekri,N.; Ward,R. Hypertension 2002 ;40(5):629-633
Activity energy expenditure and adiposity among black adults in Nigeria and the United States. Luke,A.; Durazo-Arvizu,R. A.; Rotimi,C. N.; Iams,H.; Schoeller,D. A.; Adeyemo,A. A.; Forrester,T. E.; Wilks,R. American Journal of Clinical Nutrition 2002 ;75(6):1045-1050
A genome-wide scan for obesity in African-Americans Zhu,X.; Cooper,R. S.; Luke,A.; Chen,G.; Wu,X.; Kan,D.; Chakravarti,A.; Weder,A. Diabetes 2002 ;51(2):541-544
A combined analysis of genomewide linkage scans for body mass index from the National Heart, Lung, and Blood Institute Family Blood Pressure Program Wu,X.; Cooper,R. S.; Borecki,I.; Hanis,C.; Bray,M.; Lewis,C. E.; Zhu,X.; Kan,D.; Luke,A.; Curb,D. American Journal of Human Genetics 2002 ;70(5):1247-1256
Genome scan among Nigerians linking blood pressure to chromosomes 2, 3, and 19 Cooper,R. S.; Luke,A.; Zhu,X.; Kan,D.; Adeyemo,A.; Rotimi,C.; Bouzekri,N.; Ward,R. Hypertension 2002 ;40(5):629-633
Localization of the Q1 mutation by cladistic analysis Zhu,X.; Cooper,R. S.; Chen,G.; Luke,A.; Elston,R. C. Genetic epidemiology 2001 ;21 Suppl 1:S594-9
Distribution and functional consequences of nucleotide polymorphisms in the 3'-untranslated region of the human Sep15 gene. Hu,Y. J.; Korotkov,K. V.; Mehta,R.; Hatfield,D. L.; Rotimi,C. N.; Luke,A.; Prewitt,T. E.; Stock,W.; Vokes,E. E.; Dolan,M. E.; Gladyshev,V. N.; Diamond,A. M. Cancer research 2001 ;61(5):2307-2310
Heritability of obesity-related traits among Nigerians, Jamaicans and US black people. Luke,A.; Guo,X.; Adeyemo,A. A.; Wilks,R.; Forrester,T.; Lowe,W.,Jr; Comuzzie,A. G.; Martin,L. J.; Zhu,X.; Rotimi,C. N. International Journal of Obesity & Related Metabolic Disorders: Journal of the International Association for the Study of Obesity 2001 ;25(7):1034-1041
The beta 3-adrenergic receptor gene and obesity in a population sample of African Americans. Lowe,W. L.,Jr; Rotimi,C. N.; Luke,A.; Guo,X.; Zhu,X.; Comuzzie,A. G.; Schuh,T. S.; Halbach,S.; Kotlar,T. J. International Journal of Obesity & Related Metabolic Disorders: Journal of the International Association for the Study of Obesity 2001 ;25(1):54-60
Nutritional consequences of the African diaspora Luke,A.; Cooper,R. S.; Prewitt,T. E.; Adeyemo,A. A.; Forrester,T. E. Annual Review of Nutrition 2001 ;21:47-71
Linkage and association analysis of angiotensin I-converting enzyme (ACE)-gene polymorphisms with ACE concentration and blood pressure Zhu,X.; Bouzekri,N.; Southam,L.; Cooper,R. S.; Adeyemo,A.; McKenzie,C. A.; Luke,A.; Chen,G.; Elston,R. C.; Ward,R. American Journal of Human Genetics 2001 ;68(5):1139-1148
Comparability of resting energy expenditure in Nigerians and U.S. blacks. Luke,A.; Rotimi,C. N.; Adeyemo,A. A.; Durazo-Arvizu,R. A.; Prewitt,T. E.; Moragne-Kayser,L.; Harders,R. Obesity research 2000 ;8(5):351-359
Bioelectrical impedance analysis prediction equations differ between African Americans and Caucasians, but it is not clear why. Schoeller,D. A.; Luke,A. Annals of the New York Academy of Sciences 2000 ;904:225-226
Heritability of angiotensin-converting enzyme and angiotensinogen: A comparison of US blacks and Nigerians Cooper,R. S.; Guo,X.; Rotimi,C. N.; Luke,A.; Ward,R.; Adeyemo,A.; Danilov,S. M. Hypertension 2000 ;35(5):1141-1147