Professor
Medical Physics
Parkinson ,Applied Health Sciences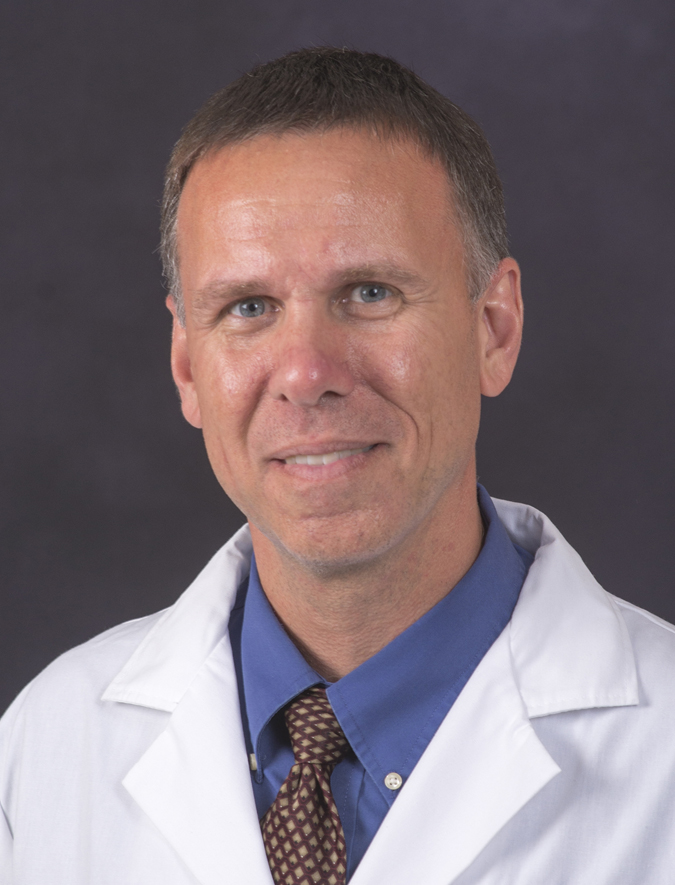 Contact
Dr. Roeske is Professor and Chief of the Division of Medical Physics, Department of Radiation Oncology at Loyola University Medical Center. An accomplished researcher, Dr. Roeske has over 100 peer reviewed journal articles, has co-edited two textbooks related to IMRT and IGRT, and is an NIH-funded investigator. His current research interests include advanced imaging techniques, motion tracking and adaptive radiotherapy.
---
Education
De Paul University, Bachelors           
De Paul University, Masters             
University of Chicago, Ph.D.               
What prompted you to pursue your field?
When I was in college, I learned about the field of Medical Physics from a fellow student. He would describe how he was going to the Radiation Oncology clinic, and all of the Physics that was involved in treating patients. I was fascinated that one could use the principles of Physics to help patients in their time of need, and decided this was the career I wanted to pursue.
What would you tell a student about why your field is exciting/important/the potential impact s/he could make?
Medical Physics is an exciting field with technology that is ever evolving to better diagnose and treat patients. However, well-trained Medical Physicists are needed to ensure this technology is being used optimally. There is a satisfaction knowing that the daily work of a Medical Physicist improves the lives of countless patients.
Publications
Fully automated planning and delivery of hippocampal-sparing whole brain irradiation. Rusu, I; Roeske, J; Solanki, A; Kang, H Medical dosimetry : official journal of the American Association of Medical Dosimetrists 2021
Dosimetric assessment of brass mesh bolus and transparent polymer-gel type bolus for commonly used breast treatment delivery techniques. Fiedler, DA; Hoffman, S; Roeske, JC; Hentz, CL; Small, W; Kang, H Medical dosimetry : official journal of the American Association of Medical Dosimetrists 2021
Dosimetric feasibility of brain stereotactic radiosurgery with a 0.35 T MRI-guided linac and comparison versus a C-arm mounted linac. Slagowski, JM; Redler, G; Malin, MJ; Cammin, J; Lobb, EC; Lee, BH; Sethi, A; Roeske, JC; Flores-Martinez, E; Stevens, T; Yenice, KM; Green, O; Mutic, S; Aydogan, B Medical physics 2020
Microdosimetry-based determination of tumour control probability curves for treatments withAc-PSMA of metastatic castration resistant prostate cancer. Minguez Gabina, P; Roeske, JC; Mínguez, R; Rodeño, E; Gomez de Iturriaga, A Physics in Medicine and Biology 2020
Characterization of Markerless Tumor Tracking Using the On-Board Imager of a Commercial Linear Accelerator Equipped With Fast-kV Switching Dual-Energy Imaging. Roeske, JC; Mostafavi, H; Haytmyradov, M; Wang, A; Morf, D; Cortesi, L; Surucu, M; Patel, R; Cassetta, R; Zhu, L; Lehmann, M; Harkenrider, MM Advances in radiation oncology 2020 ;5(5)
Technical Note: The development of a multi-physics simulation tool to estimate the background dose by systemic targeted alpha therapy. Xu, T; Liu, T; Li, G; Dugal, C; Aydemir, NA; Liu, Y; Roeske, JC Medical physics 2020 ;47(6)
Failure mode and effects analysis of linac-based liver stereotactic body radiotherapy. Rusu, I; Thomas, TO; Roeske, JC; Mescioglu, I; Melian, E; Surucu, M Medical physics 2020 ;47(3)
Adaptive weighted log subtraction based on neural networks for markerless tumor tracking using dual-energy fluoroscopy. Haytmyradov, M; Mostafavi, H; Cassetta, R; Patel, R; Surucu, M; Zhu, L; Roeske, JC Medical physics 2020 ;47(2)
Fast-switching dual energy cone beam computed tomography using the on-board imager of a commercial linear accelerator. Cassetta, R; Lehmann, M; Haytmyradov, M; Patel, R; Wang, A; Cortesi, L; Morf, D; Seghers, D; Surucu, M; Mostafavi, H; Roeske, JC Physics in Medicine and Biology 2020 ;65(1)
Efficient quality assurance method with automated data acquisition of a single phantom setup to determine radiation and imaging isocenter congruence. Kang, H; Patel, R; Roeske, JC Journal of Applied Clinical Medical Physics 2019 ;20(10)
The Impact of Transitioning to Prospective Contouring and Planning Rounds as Peer Review. Surucu, M; Bajaj, A; Roeske, JC; Block, AM; Price, J; Small, W; Solanki, AA Advances in radiation oncology 2019 ;4(3)
Markerless tumor tracking using fast-kV switching dual-energy fluoroscopy on a benchtop system. Haytmyradov, M; Mostafavi, H; Wang, A; Zhu, L; Surucu, M; Patel, R; Ganguly, A; Richmond, M; Cassetta, R; Harkenrider, MM; Roeske, JC Medical physics 2019 ;46(7)
A novel phantom for characterization of dual energy imaging using an on-board imaging system. Haytmyradov, M; Patel, R; Mostafavi, H; Surucu, M; Wang, A; Harkenrider, MM; Roeske, JC Physics in Medicine and Biology 2019 ;64(3)
Comparison of microdosimetry-based absorbed doses to control tumours and clinically obtained tumour absorbed doses in treatments with Ra. Mínguez, P; Roeske, JC; Mínguez, R; de Iturriaga, AG; Rodeño, E Physics in Medicine and Biology 2018 ;63(14)
Transitioning From a Low-Dose-Rate to a High-Dose-Rate Prostate Brachytherapy Program: Comparing Initial Dosimetry and Improving Workflow Efficiency Through Targeted Interventions. Solanki, AA; Mysz, ML; Patel, R; Surucu, M; Kang, H; Plypoo, A; Bajaj, A; Korpics, M; Martin, B; Hentz, C; Gupta, G; Farooq, A; Baldea, KG; Pawlowski, J; Roeske, J; Flanigan, R; Small, W; Harkenrider, MM Advances in radiation oncology 2018 ;4(1)
Evaluation of Radiomics to Predict the Accuracy of Markerless Motion Tracking of Lung Tumors: A Preliminary Study. Nguyen, K; Haytmyradov, M; Mostafavi, H; Patel, R; Surucu, M; Block, A; Harkenrider, MM; Roeske, JC Frontiers in oncology 2018 ;8
A Medicare cost analysis of MRI- versus CT-based high-dose-rate brachytherapy of the cervix: Can MRI-based planning be less costly? Bajaj,A.; Harmon,G.; Weaver,J.; Martin,B.; Mysz,M.; Surucu,M.; Roeske,J. C.; Konski,A. A.; Small,W. Jr; Harkenrider,M. M. Brachytherapy 2018 ;17(2):326-333
Early outcomes and impact of a hybrid IC/IS applicator for a new MRI-based cervical brachytherapy program Harkenrider,M. M.; Surucu,M.; Harmon,G.; Mysz,M. L.; Shea,S. M.; Yacoub,J.; Goldberg,A.; Liotta,M.; Winder,A.; Potkul,R.; Roeske,J. C.; Small,W. Jr Brachytherapy 2018 ;17(1):187-193
How one institution overcame the challenges to start an MRI-based brachytherapy program for cervical cancer Harkenrider,M. M.; Shea,S. M.; Wood,A. M.; Chinsky,B.; Bajaj,A.; Mysz,M.; Yacoub,J. H.; Goldberg,A.; Liotta,M.; Potkul,R.; Surucu,M.; Roeske,J.; Small,W.,Jr Journal of contemporary brachytherapy 2017 ;9(2):177-186
Evaluation of Deformable Image Registration-Based Contour Propagation From Planning CT to Cone-Beam CT Woerner,A. J.; Choi,M.; Harkenrider,M. M.; Roeske,J. C.; Surucu,M. Technology in Cancer Research & Treatment 2017 :1533034617697242
Spectral characterization of tissues in high spectral and spatial resolution MR images: Implications for a classification-based synthetic CT algorithm Wood,A. M.; Shea,S. M.; Medved,M.; Karczmar,G. S.; Surucu,M.; Gros,S.; Small,W.,Jr; Roeske,J. Medical physics 2017
A novel surrogate to identify anatomical changes during radiotherapy of head and neck cancer patients. Gros, SA; Xu, W; Roeske, JC; Choi, M; Emami, B; Surucu, M Medical physics 2017 ;44(3)
Improving the Accessibility of Patient Care Through Integration of the Hospital and Radiation Oncology Electronic Health Records. Solanki, AA; Surucu, M; Bajaj, A; Kaczmarz, B; Martin, B; Price, J; Perino, C; McCoo, T; Payonk, G; Roeske, JC; Small, W JCO clinical cancer informatics 2017 ;1
Early outcomes and impact of a hybrid IC/IS applicator for a new MRI-based cervical brachytherapy program Harkenrider,M. M.; Surucu,M.; Harmon,G.; Mysz,M. L.; Shea,S. M.; Yacoub,J.; Goldberg,A.; Liotta,M.; Winder,A.; Potkul,R.; Roeske,J. C.; Small,W.,Jr Brachytherapy 2017
Observer Evaluation of a Metal Artifact Reduction Algorithm Applied to Head and Neck Cone Beam Computed Tomographic Images. Korpics, Mark; Surucu, Murat; Mescioglu, Ibrahim; Alite, Fiori; Block, Alec M.; Choi, Mehee; Emami, Bahman; Harkenrider, Matthew M.; Solanki, Abhishek A.; Roeske, John C. International journal of radiation oncology, biology, physics 2016 ;96(4)
A survey on table tolerances and couch overrides in radiotherapy. Chinsky, B; Patel, R; Panfil, J; Surucu, M; Roeske, JC Journal of Applied Clinical Medical Physics 2016 ;17(6)
Observer Evaluation of a Metal Artifact Reduction Algorithm Applied to Head and Neck Cone Beam Computed Tomographic Images Korpics,M.; Surucu,M.; Mescioglu,I.; Alite,F.; Block,A. M.; Choi,M.; Emami,B.; Harkenrider,M. M.; Solanki,A. A.; Roeske,J. C. International journal of radiation oncology, biology, physics 2016 ;96(4):897-904
Adaptive Radiotherapy for Head and Neck Cancer: Implications for Clinical and Dosimetry Outcomes Surucu,M.; Shah,K. K.; Roeske,J. C.; Choi,M.; Small,W.,Jr; Emami,B. Technology in Cancer Research & Treatment 2016
A survey on table tolerances and couch overrides in radiotherapy Chinsky,B.; Patel,R.; Panfil,J.; Surucu,M.; Roeske,J. C. Journal of Applied Clinical Medical Physics 2016 ;17(6):405-420
Evaluation of a template-based algorithm for markerless lung tumour localization on single- and dual-energy kilovoltage images Block,A. M.; Patel,R.; Surucu,M.; Harkenrider,M. M.; Roeske,J. C. The British journal of radiology 2016 ;89(1068):20160648
SU-E-J-188: Theoretical Estimation of Margin Necessary for Markerless Motion Tracking Patel,R.; Block,A.; Harkenrider,M.; Roeske,J. Medical physics 2015 ;42(6):3308
Markerless motion tracking of lung tumors using dual-energy fluoroscopy Patel,R.; Panfil,J.; Campana,M.; Block,A. M.; Harkenrider,M. M.; Surucu,M.; Roeske,J. C. Medical physics 2015 ;42(1):254
Technical Note: Estimation of lung tumor thickness from planar dual-energy kV images Jung,F.; Patel,R.; Campana,M.; Panfil,J.; Pankuch,M.; Roeske,J. C. Medical physics 2015 ;42(9):5055
Metal Artifact Reduction in Cone-Beam Computed Tomography for Head and Neck Radiotherapy Korpics,M.; Johnson,P.; Patel,R.; Surucu,M.; Choi,M.; Emami,B.; Roeske,J. C. Technology in Cancer Research & Treatment 2015
Planar IGRT dose reduction: A practical approach Block,A. M.; Luce,J.; Lin,J. Y.; Hoggarth,M. A.; Roeske,J. C. Practical radiation oncology 2015 ;5(3):e239-44
TU-AB-303-02: A Novel Surrogate to Identify Anatomical Changes During Radiotherapy of Head and Neck Cancer Patients Gros,S.; Roeske,J.; Surucu,M. Medical physics 2015 ;42(6):3590
Decision Trees Predicting Tumor Shrinkage for Head and Neck Cancer: Implications for Adaptive Radiotherapy Surucu,M.; Shah,K. K.; Mescioglu,I.; Roeske,J. C.; Small,W.,Jr; Choi,M.; Emami,B. Technology in Cancer Research & Treatment 2015
SU-E-T-756: Tissue Inhomogeneity Corrections in Intra-Operative Radiotherapy Sethi,A.; Chinsky,B.; Gros,S.; Diak,A.; Roeske,J.; Emami,B.; Small,W. Medical physics 2015 ;42(6):3511
SU-E-J-207: Effect of Pulse Sequence Parameters On Geometric Distortions Induced by a Titanium Brachytherapy Applicator Shea,S.; Diak,A.; Surucu,M.; Harkenrider,M.; Yacoub,J.; Roeske,J.; Small,W. Medical physics 2015 ;42(6):3313
A multi-institutional study to assess adherence to lung stereotactic body radiotherapy planning goals Woerner,A.; Roeske,J. C.; Harkenrider,M. M.; Fan,J.; Aydogan,B.; Koshy,M.; Laureckas,R.; Vali,F.; Campana,M.; Surucu,M. Medical physics 2015 ;42(8):4629
SU-E-T-84: A Survey On Radiotherapy Table Tolerances and Couch Overrides of Over 350 Institutions Chinsky,B.; Patel,R.; Panfil,J.; Surucu,M.; Roeske,J. Medical physics 2015 ;42(6):3350
Prospective evaluation of dual-energy imaging in patients undergoing image guided radiation therapy for lung cancer: initial clinical results. Sherertz, Tracy; Hoggarth, Mark; Luce, Jason; Block, Alec M; Nagda, Suneel; Harkenrider, Matthew M; Emami, Bahman; Roeske, John C International journal of radiation oncology, biology, physics 2014 ;89(3)
Prospective evaluation of dual-energy imaging in patients undergoing image guided radiation therapy for lung cancer: initial clinical results Sherertz,T.; Hoggarth,M.; Luce,J.; Block,A. M.; Nagda,S.; Harkenrider,M. M.; Emami,B.; Roeske,J. C. International journal of radiation oncology, biology, physics 2014 ;89(3):525-531
Dual energy imaging using a clinical on-board imaging system Hoggarth,M. A.; Luce,J.; Syeda,F.; Bray,T. S.; Block,A.; Nagda,S.; Roeske,J. C. Physics in Medicine and Biology 2013 ;58(12):4331-4340
Role of image guided radiation therapy in obese patients with gynecologic malignancies Bray,T. S.; Kaczynski,A.; Albuquerque,K.; Cozzi,F.; Roeske,J. C. Practical radiation oncology 2013 ;3(4):249-255
A system for continual quality improvement of normal tissue delineation for radiation therapy treatment planning Breunig,J.; Hernandez,S.; Lin,J.; Alsager,S.; Dumstorf,C.; Price,J.; Steber,J.; Garza,R.; Nagda,S.; Melian,E.; Emami,B.; Roeske,J. C. International journal of radiation oncology, biology, physics 2012 ;83(5):e703-8
Radiation-related predictors of hematologic toxicity after concurrent chemoradiation for cervical cancer and implications for bone marrow-sparing pelvic IMRT. Albuquerque,K.; Giangreco,D.; Morrison,C.; Siddiqui,M.; Sinacore,J.; Potkul,R.; Roeske,J. International journal of radiation oncology, biology, physics 2011 ;79(4):1043-1047
Implementation of Electronic Checklists in an Oncology Medical Record: Initial Clinical Experience Albuquerque,Kevin, V.; Miller,Alexis, A.; Roeske,John, C. Journal of Oncology Practice 2011 ;7(4):222-226
Dose-volume factors to select patient-specific image-guidance action thresholds in prostate cancer. Block,A. M.; Lin,J.; Hoggarth,M. A.; Quinn,M.; Garza,R.; Mantz,C. A.; Roeske,J. C. Technology in Cancer Research & Treatment 2011 ;10(3):211-217
Small-scale dosimetry: challenges and future directions Roeske,J. C.; Aydogan,B.; Bardies,M.; Humm,J. L. Seminars in nuclear medicine 2008 ;38(5):367-383
Can MRI-only replace MRI-CT planning with a titanium tandem and ovoid applicator? Harkenrider, MM; Patel, R; Surucu, M; Chinsky, B; Mysz, ML; Wood, A; Ryan, K; Shea, SM; Small, W; Roeske, JC Brachytherapy ;17(5)