Associate Professor
Health Systems and Adult Health Nursing
Parkinson ,Healthcare Administration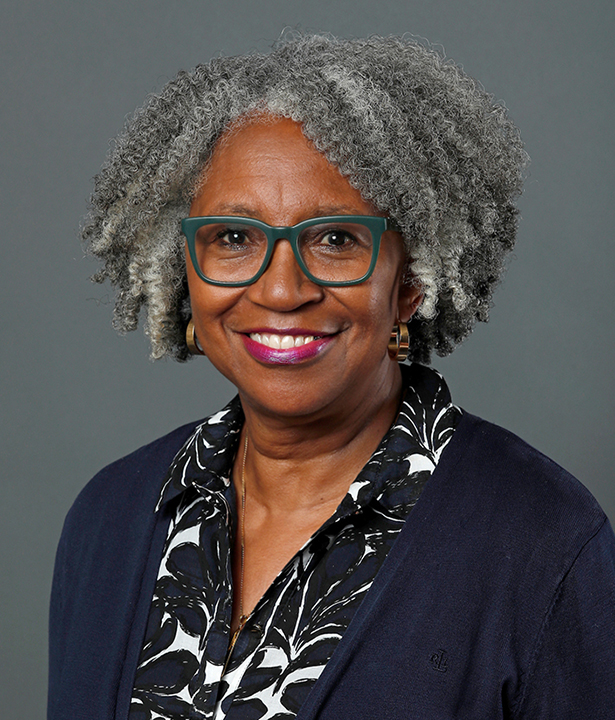 Contact
Dr. Conway-Phillips teaches in the undergraduate health systems management and undergraduate and graduate nursing programs at the Marcella Niehoff School of Nursing. The courses she has taught include Nursing Research, Concepts of Professional Nursing Practice, Introduction to Professional Nursing Practice, Nursing Ethics and Leadership in Nursing. In the Parkinson school she teaches Health Care in America and Healthcare Management Research. Dr. Conway-Phillips has taught in the online programs and developed an online course for the Health Care Administration program. She has also been director of both masters and DNP students comprehensive exams and capstone project, as well as reviewer for PhD dissertation projects. Regina Conway-Phillips' research interests are in the areas of breast cancer screening, health disparities, cancer disparities and spirituality. She specializes in Qualitative Research Methodologies and Mixed-Methods approach. Her dissertation research focused on breast cancer screening behavior in African American women utilizing the Salutogenic Framework. Her most recent qualitative study utilized the grounded theory approach to study African American women who have never or rarely participated in breast cancer screening to explore the reasons these individuals have not adopted breast cancer screening behaviors. Dr. Conway-Phillips maintains memberships in several professional nursing organizations, including AAACN, ANA, MNRS, ABNF.
---
Education
Chicago State University, Bachelors           
Loyola University Chicago, Masters             
Loyola University Chicago, Ph.D.               
What does your department's focus mean to you?
Health care administration means those individuals who are concerned with health care quality, access and cost, but not clinicians.
Why is this area of study important at this point in time?
Because there is a huge disparity in health care access, quality and outcomes in this country that needs to be addressed. These disparities have gone ignored for too long. Statistics for Black and Brown patients would not be tolerated if they were the statistics for Whites. Something would have been done about it by now.
What would you tell a student about why your field is exciting/important/the potential impact s/he could make?
I told my students that it is up to them to change what needs to be changed in the US health care system. They will have the knowledge, the skills and the ability and drive to make the necessary changes.
Publications
Clinical Nurses' Perspectives on Discharge Practice Changes from Participating in a Translational Research Study. Bobay, KL; Conway-Phillips, R; Hughes, RG; Costa, L; Bahr, SJ; Siclovan, D; Nuccio, S; Weiss, M Journal of nursing management 2020
Qualitative evidence for Resilience, Stress, and Ethnicity (RiSE): A program to address race-based stress among Black women at risk for cardiovascular disease. Conway-Phillips, R; Dagadu, H; Motley, D; Shawahin, L; Janusek, LW; Klonowski, S; Saban, KL COMPLEMENTARY THERAPIES IN MEDICINE 2019 ;48
Making It All Work: Qualitative Descriptions of Hispanic Adults Managing Type 2 Diabetes With Limited Resources Thomas,A.; Ashcraft,A. S.; Owen,D. C.; Conway-Phillips,R. Global qualitative nursing research 2017 ;4:2333393617691860
Sisters Saving Lives: Instituting a Protocol to Address Breast Cancer Disparities Smith,M. A.; Conway-Phillips,R.; Francois-Blue,T. Clinical journal of oncology nursing 2016 ;20(4):427-432
Exploring Spirituality Among African American Women: Implications for Promoting Breast Health Behaviors Conway-Phillips,R.; Janusek,L. W. Holistic nursing practice 2016 ;30(6):322-329
Influence of sense of coherence, spirituality, social support and health perception on breast cancer screening motivation and behaviors in African American women. Conway-Phillips, R; Janusek, L The ABNF journal : official journal of the Association of Black Nursing Faculty in Higher Education, Inc 2014 ;25(3)
Spirituality in nursing practice Conway-Phillips,R. Narrative inquiry in bioethics 2014 ;4(3):E3-5