Department of Health Informatics and Data Science and
Center for Health Outcome and Informatics Research
HEALTH INFORMATICS SEMINAR SERIES
"Public Health Informatics, COVID-19, and Vaccination Roll-out"
Presented by:
Richard Cooper, MD
Loyola University Chicago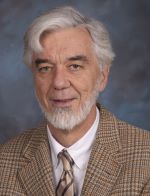 Abstract: While the discipline of informatics has progressed rapidly in recent decades with the growth of computer capacity, access to enormous data sets, and newer analytic methods, the basic principles have been core practice in public health centuries. This presentation will provide a historical perspective on this important component of the field, emphasizing the unique requirements of addressing the full scope of the community, the wide range of health issues, and the requirements to focus on key practical problems that require urgent solutions. Needless to say, each of those elements has been highlighted by the current pandemic.
About the Speaker: Richard Cooper, M.D. is Professor Emeritus and former Chair of the Department of Public Health Sciences (until July, 2020) at Loyola University Chicago. He received training in Clinical Cardiology, and completed an NIH fellowship in Cardiovascular Prevention, Epidemiology, and Nutrition. His major research focus has been a description of the evolution of cardiovascular disease across the course of the African diaspora. Dr. Cooper received a MERIT award from the NIH in 1998 and has served on numerous advisory and review panels. He is a consultant to the WHO, the CDC on issues related to control of cardiovascular disease in developing countries, and is Course Director for an annual training program in sub-Saharan Africa. In the last several years he has written widely on the topic of genetics and race and has been a frequent speaker at professional meetings. He was a member of the National Advisory Council of the National Human Genome Research Institute (NIH) from 2008-2011.
Wednesday, January 27th 11:00 am – 12:00 pm
Join via Zoom:
Please see attachment for CME information
* Visit here to watch previous presentations and to find more information about future seminars.