Department of Health Informatics and Data Science and
Center for Health Outcome and Informatics Research
"Deep Learning and Natural Language Processing Methods for Mining Electronic Medical Records"
Presented by: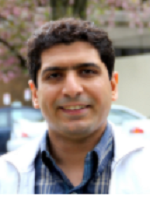 Dr. Masoud Rouhizadeh, PhD, MSc, MA
Assistant Professor, Pharmaceutical Outcomes & Policy, University of Florida
Abstract: Without access to unstructured free-text clinical notes, many types of clinical data such as symptoms, severity, history of illness, and events at other institutions remain inaccessible. In this talk, I will discuss my work at the Johns Hopkins Precision Medicine Analytics Platform, including clinical concept extraction, identifying social and behavioral determinants of health, and extracting COVID-19 symptoms from hospital admission notes.
When: Wednesday, November 30th 11:00 am – 12:00 pm
About the Speaker: Dr. Masoud Rouhizadeh is an Assistant Professor in the University of Florida College of Pharmacy, Department of Pharmaceutical Outcomes, under the AI in the Health Sciences Initiative. The primary focus of Dr. Rouhizadeh's research involves applying machine learning and natural language processing methods for identifying clinical concepts from unstructured text and converting them into structured data. Another major part of his research has been developing clinical ontologies and lexical resources, as well as computational models for identifying social and behavioral determinants of health. Before joining the UF, Dr. Rouhizadeh was a Faculty Instructor at Biomedical Informatics and Data Science and the Natural Language Processing lead at the Institute for Clinical and Translational Research at the Johns Hopkins University School of Medicine. Prior to JHU, he was a postdoctoral fellow at the University of Pennsylvania's World Well-Being Project and then at the Penn Institute for Biomedical Informatics. He obtained his Master's and Ph.D. in Computer Science and Engineering from Oregon Health and Science University and his Master's in Human Language Technology from the University of Trento, Italy.
Visit here to watch previous presentations and to find more information about future seminars.