home_right
Get to know a biophysics major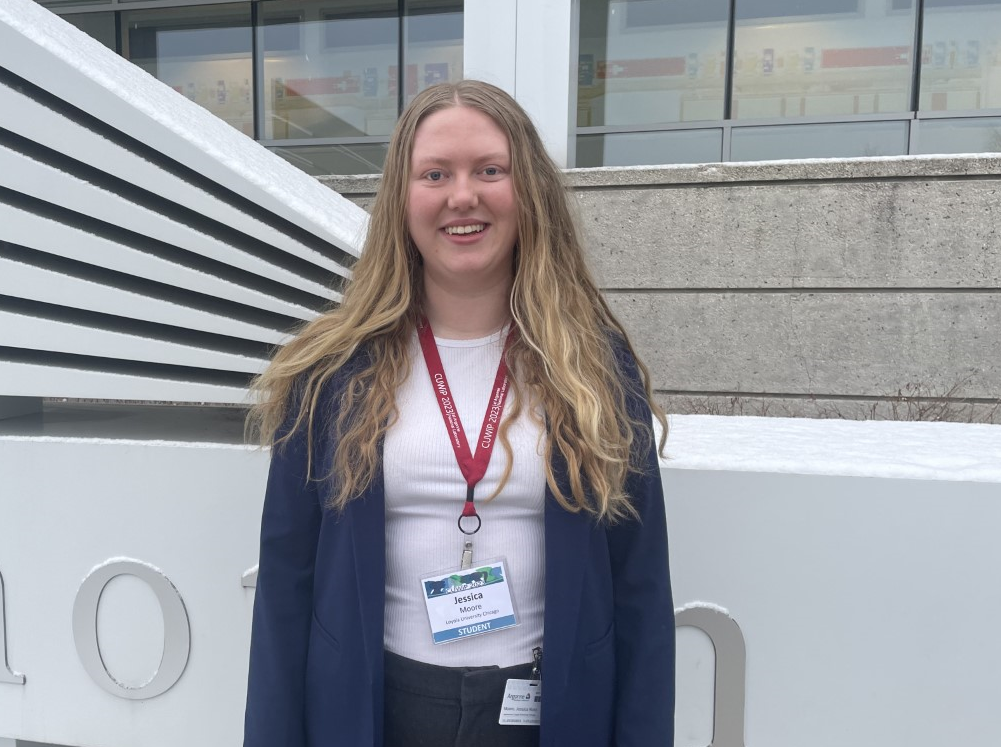 Jessica Moore ('23) is a senior in the Biophysics program. Born in Chicago, Jessica is from Staten Island, New York and started at Loyola in the Fall of 2019. Jessica is working toward a B.S. in Biophysics with a minor in Anthropology. She is preparing for a career in the medical sciences after graduation in the Spring.
What have you enjoyed about Loyola? I really enjoy walking by the lake (except during winter!) and being in such close proximity to the city. What has really made my time at Loyola special is the physics department. I never expected that I would find my second home in the Cudahy science building. The physics department is such a close knit community, and I have been able to form strong connections with my classmates and professors.
What interested you about physics? I began to develop an interest in physics during my first high school physics class when we learned kinematics. I loved how math could be used to explain all kinds of physical phenomena, and I wondered what the limits were to its applications. It turns out that there are no limits, and I have been able to connect it to my passion for music and medicine. To whoever wants to combine their interests in seemingly disparate fields, physics is the perfect subject.
What research have you done and in what lab? My first research experience was for Freshman Projects and our group created a mathematical model based on astronomical data that points to the theoretical existence of dark matter. For the past year and a half, I have been working on a research project with Dr. Gordon Ramsey to understand the physical properties of the guitar with a focus on how musicians can use our data to craft their own sound. I recently presented this project at the Conference for Undergraduate Women in Physics which was a great opportunity to practice giving an academic talk and getting feedback. I have also worked on research with a Medical Physicist at Loyola's Stritch School of Medicine. Our project consisted of analyzing a lung cancer patient's treatment plan to see if they would have benefited from using an on-site adaptive radiation treatment software. Additionally, during the summer before my senior year, I did a summer research internship at Rutgers Institute for Translational Medicine and Science and I worked in a lab on various asthma treatment projects.
What do enjoy outside of class? I love to sing and play the guitar when I have free time. I was a part of the band at the Physics Department Christmas party this past December along with a couple of students and professors which was a lot of fun. I also have a passion for learning languages so I am often practicing one or two at a time. Whenever I have the opportunity, I love to ride horses. Up until last year, I volunteered at a therapeutic horseback riding facility and enjoyed taking care of the horses and working with student riders.
What are your post-Loyola plans? After I graduate, I will work as a medical scribe to gain more clinical experience while I apply to medical and graduate schools. I am interested in cardiovascular medicine and am currently shadowing a cardiologist at a hospital. I hope to someday conduct biophysics research focusing on the cardiovascular system.
Do you have any advice for incoming physics/biophysics students? I would strongly advise first-year students to put themselves out there and talk to their professors and advisors. This can improve your learning experience and open up many future opportunities to do research. I was very intimidated by professors in my freshman year, but taking advantage of office hours made all the difference in my college experience. Another piece of advice is to make sure you find a healthy school-life balance. I usually have a very hectic schedule during the semester, but I always make sure to spend time with friends and explore the city.