Pope Francis visits the United States
For the next few days, all eyes will be on Pope Francis—the first Jesuit Pope—as he comes to the United States to spread his message of mercy. As a Jesuit university, Loyola shares the Pope's mission and is deeply committed to helping the poor and marginalized. We are happy to welcome Pope Francis and have created this website so you can follow the Pope on his historic trip and learn more about the power of a Jesuit education.
Watch live streaming coverage • See the Pope's itinerary • Learn about Loyola's mission
Jesuit reactions
We asked four Jesuits on campus: "What does Pope Francis's first visit to the U.S. mean to you?" Here's what they had to say.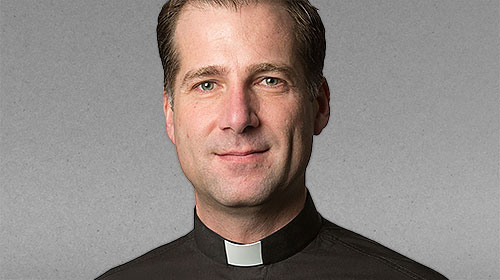 Justin Daffron, S.J.
Vice President, Advancement
"Gratitude. I'm very grateful that we are blessed with so many outstanding leaders in the Jesuits who, like Pope Francis, envision a Church engaged in the world to make a difference where it is needed most."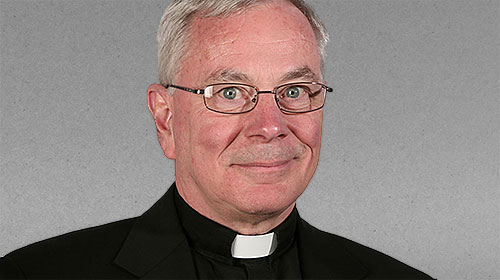 Thomas Regan, S.J.
Dean, College of Arts & Sciences
"I'm really looking forward to his visit and hearing what he has to say. He's been mixing up the pot a little bit because he speaks for those who do not have a voice. It's a very, very powerful message that comes right from the Gospel."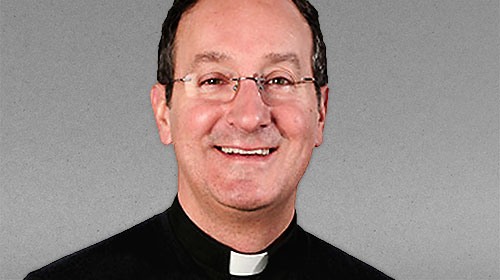 Mark Bosco, S.J.
Director, The Hank Center for the Catholic Intellectual Heritage
"I feel like I understand this Pope better than previous ones because I share in his Ignatian spirituality. He has given himself to God and to Christ's church completely, and he is not worried about anything that gets in the way of the gospel of love, mercy, and reconciliation."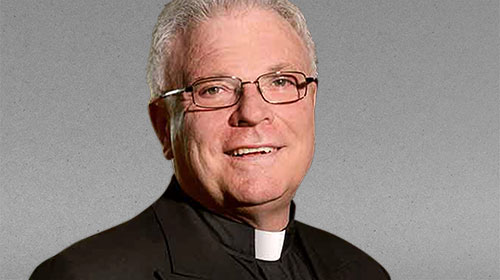 Michael J. Garanzini, S.J.
Chancellor, former President and CEO of Loyola University Chicago
"I was in high school when John Kennedy ran for president. His critics said if he got elected he'd be asking for advice from the Pope. And now Pope Francis has been invited to Congress and the White House to give them his opinion—which is great because they could use his advice."
Loyolans discuss Pope Francis
Monica Hortobagyi Siniff, a Loyola graduate and former USA TODAY editor, writes about Pope Francis, what a Jesuit education means to her, and how her time at Loyola shaped her life. Read more
"A Tale of Two Countries": Loyola professor Miguel Diaz, PhD, reflects on his Cuban-American heritage and Pope Francis's journey to "nuestra America." Read more
Diaz, a former U.S. ambassador to the Holy See, discusses the Pope's upcoming visit during an interview on The Catholic Channel. Listen to podcast
Diaz, who was in Washington, D.C, for the Pope's White House visit, is quoted in the Chicago Tribune. "This Pope comes as a prophet of mercy." Read more
Michael Murphy, PhD, director of Loyola's Catholic Studies program, appears in a CNN piece about Pope Francis and the complex world of international politics. Watch video
Thomas Regan, S.J., dean of the College of Arts & Sciences, discusses the Pope's message of caring for others in this interview with NBC-5. Watch video
Loyola students react to Pope Francis's visit to the U.S. Watch video
A unique education
Watch Loyola alum Ian Brennan (right), the award-winning co-creator and executive producer of TV's "Glee," give a rousing Commencement speech about the value of a Jesuit education. See the full address
Visit the AJCU website to learn about the transformative power of a Jesuit education—and to see how all Jesuit schools share the same values as Pope Francis. Read more
Take part in the AJCU's #JesuitEducated campaign, a weekly series of reflections about studying, teaching, and working at a Jesuit university. Read more
Join the Pope Francis conversation on Loyola's Twitter account. Read more
Joining together for justice
In July, close to 200 Jesuit higher education leaders met in Melbourne, Australia. Their goal? To promote social justice initiatives at Jesuit universities around the world. The challenges and opportunities are laid out in this video, "Social Justice and the Jesuit University." You can also go to our Melbourne conference website to learn more about the project—plus watch an interview about social justice with Adolfo Nicolás, S.J., Superior General of the Society of Jesus. Visit site