archive
Professor's work helps children, their families live with spina bifida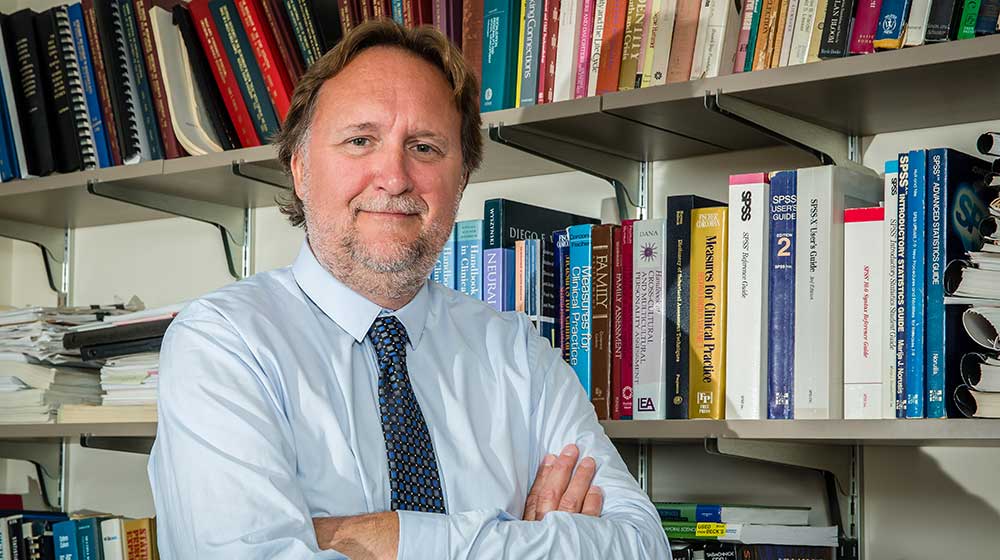 "We tell the children we're studying that this is their chance to have their voices heard," Professor Grayson Holmbeck says. (Photo: Natalie Battaglia.)
By Drew Sottardi
Psychology Professor Grayson Holmbeck has been studying children with spina bifida for more than 20 years. His research has been published in numerous academic journals and has helped shape the way mental health professionals care for these children and their families.
But Holmbeck also has a far less scientific message that he likes to get out about children with spina bifida.
"They like to laugh and play like other kids," he said. "At the same time, they're dealing with some very serious health issues."
Spina bifida is a congenital birth defect in which the vertebrae don't form properly around a baby's spinal cord. It can cause various neurological and physical disabilities, and its effects can range from mild to severe. Some children with spina bifida have limited verbal skills and mobility, and they require significant amounts of care. Others, meanwhile, go on to graduate from college, establish professional careers, and lead typical lives.
It's this broad spectrum of outcomes that intrigues Holmbeck and his research team.
"You have two children with the exact same medical condition. One of them thrives, and the other one has more challenges," said Holmbeck, who has been at Loyola since 1988. "So we're trying to answer the question: Why do we see different outcomes for these children?"
Giving them a voice
As a pediatric psychologist, Holmbeck studies children with chronic conditions to track their development and to understand how they think—but also to understand how they are feeling. Some adolescents with spina bifida are lonely and depressed, Holmbeck said, and they sometimes have suicidal thoughts. And taking care of a child with spina bifida can be challenging for family members as well.
That's where Holmbeck comes in.
By studying these children and their families, he can gather information to help them get the support services they need and to help others living with spina bifida do the same.
"We tell the children we're studying that this is their chance to have their voices heard," he said. "What they share with us has a direct impact on the lives of others."
Holmbeck started his first study of children with spina bifida in 1993, and it's still going strong today. It initially involved lengthy home visits and detailed interviews every two years with the children and their families. Once the children turn 18, however, they are sent a questionnaire every other year to fill out on their own.
"My first research participants were 8 years old when we started," he said. "Today they're almost 30 years old, which is amazing when you think about it."
Building social skills
From that first study, Holmbeck found that children with spina bifida often have difficulty making new friends. That led to his second study, which started in 2006 and focuses primarily on peer relationships.
"For many of these kids, it can be extremely difficult to develop friendships," he said. "A lot of them walk with crutches or use a wheelchair, and there's a stigma involved with that, especially around other adolescents."
How does Holmbeck and his team approach this challenge?
"We try to help parents get their children out with other kids as much as possible at a young age so their children can develop social skills," he said. "It's kind of a vicious cycle. If they don't develop social skills, then when they enter a peer group, they are more likely to get rejected. In turn, if they are not in a peer group, they don't have as many opportunities to develop their social skills—and the cycle continues."
A few years ago, Holmbeck began a third research project focused on spina bifida. This one takes place at Camp Independence, a summer getaway in northern Illinois specially designed to help people with spina bifida develop their social skills and become more self-sufficient.
So far, the results from the camp have been promising.
After attending a weeklong session, the campers said they improved on their self-care and social goals, which Holmbeck and his team hope will lead to increased independence down the road.
"We want to keep these children and young adults from becoming marginalized," Holmbeck said, "and we believe there's a lot of hope for them to eventually go on to college and get jobs if they become more independent."
Making a real difference
When he's not conducting his spina bifida research, Holmbeck is busy teaching courses at Loyola. His classes this year include statistics and research methods.
And if that weren't enough, Holmbeck also mentors graduate students as the director of Loyola's PhD program in clinical psychology and serves as editor of the Journal of Pediatric Psychology. This year, he received the University's Hayes Award for Advising and Mentoring for his efforts.
"I love working with graduate students," Holmbeck said. "It's so fun watching them develop and seeing them publish their own work. I absolutely love it."
Over the years, Holmbeck has received more than $3 million from various agencies and organizations to conduct his spina bifida research. Although the money is certainly helpful—"It allows me to hire research assistants, which is very important," Holmbeck said—it's not the driving force behind his work.
"We knew very little about these children when I started my research 20 years ago, and I feel like we now understand them a lot better," Holmbeck said. "Their mental health concerns are now on everybody's radar, and that's a huge improvement over where we were.
"We've learned a lot about what their problems and issues are, what we can do to help them, and more importantly, what they're capable of."
---