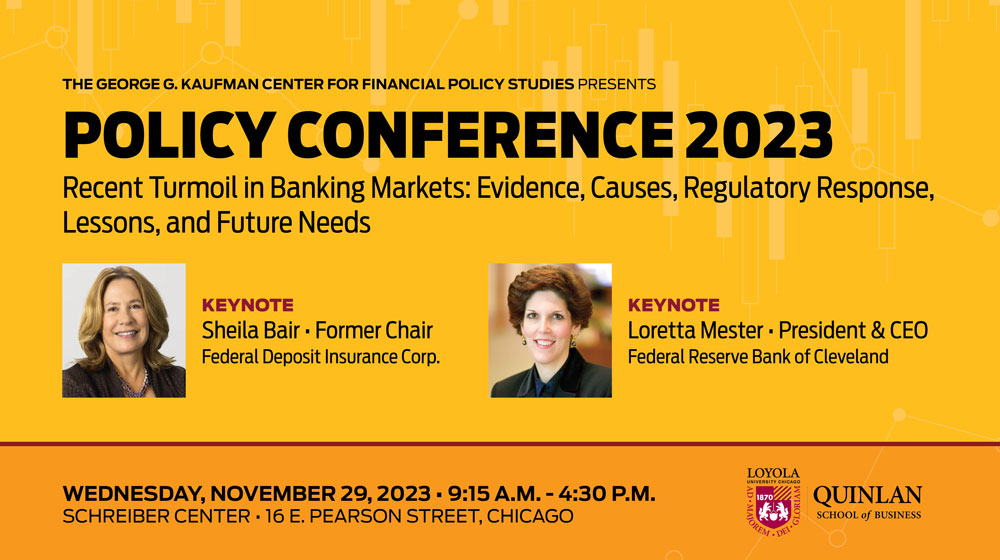 Recent Turmoil in Banking Markets: Evidence, Causes, Regulatory Response, Lessons, and Future Needs
About the event
The George G. Kaufman Center for Financial Policy Studies was introduced to evaluate and contribute to the debate concerning current policy issues associated with the financial services industry. Thanks to a generous gift, the center was created to honor the role of Professor Kaufman in financial sector policy research over the past 50 years, and to continue his legacy by encouraging a critical review of public policy options going forward.
On Wednesday, November 29, 2023 the center will hold its annual conference to bring together researchers, policy makers, and financial industry executives to review and discuss relevant policy issues affecting the financial services sector. The event will feature keynote presentations by Sheila Bair, Former Chair of the Federal Deposit Insurance Corporation; and Loretta Mester, President and CEO of the Federal Reserve Bank of Cleveland. Both have been major contributors to the policy debates over the past three decades.
---
Research and policy presentations will cover three areas:
Our lead session will discuss issues associated with the recent turmoil in banking markets. What were the causes of the problems in the spring of 2023? How were they addressed? What is the current situation? What lessons were learned? What additional precautions need to be taken? The financial problems seen in recent months revitalize policy debates that have been ongoing for decades (e.g., the role of market discipline, TBTF, capital requirements, liquidity requirements, stress tests effectiveness).
We will discuss issues associated with the mortgage loan search process. There is typically an expected positive relationship between applicant credit quality and loan application acceptance. Are there exceptions? Why? What are the lessons for mortgage market policy?
Topics emphasizing the research efforts of George Kaufman. During his career he conducted research and generated special publications on issues associated with bank regulatory reform, the effectiveness of monetary policy, unanticipated consequences of regulatory policies, and the effectiveness of regulations imposed to achieve specific social goals in the financial services industry. Current work in these area will be discussed.
---
The research presented, while backed by rigorous analysis, will be presented for a broader audience with an emphasis on the implications for public policy.
Agenda
8:30 a.m.
Registration Opens
9:15 a.m.
Conference Introduction
Michael Behnam, Dean, Quinlan School of Business, Loyola University Chicago

Keynote Address
Sheila Bair, Former Chair, Federal Deposit Insurance Corporation
10:05 a.m.
Break
10:20 a.m.
Session 1: Recent Turmoil in Banking Markets
Moderator: Douglas Evanoff, Executive Director, Kaufman Center for Financial Policy Studies, Loyola University Chicago

Gregor Matvos, Northwestern University
Charles W. Calomiris, Columbia University
Carl R. Tannenbaum, Northern Trust
Edward Prescott, Federal Reserve Bank of Cleveland
Noon
Luncheon
12:45 p.m.
Luncheon Presentation
Loretta Mester, President and CEO, Federal Reserve Bank of Cleveland
1:30 p.m.
Session 2: Accessing Credit
Moderator & Discussant: Lamont Black, DePaul University

Loan Product Steering in Mortgage Markets
Sumit Agarwal, National University of Singapore
Gene Amromin, Federal Reserve Bank of Chicago
Itzhak Ben-David, Ohio State University

Searching for Approval
Sumit Agarwal, National University of Singapore
John Grigsby, University of Chicago
Ali Hortacsu, University of Chicago
Gregor Matvos, Northwestern University
Amit Seru, Stanford University
Vincent Yao, Georgia State University

Bank Branch Access: Evidence from Geolocation Data
2:55 p.m.
Break
3:05 p.m.
Session 3: Financial Markets Policy Research: Honoring the Research of George G. Kaufman
Moderator & Discussant: Robert DeYoung, University of Kansas



The Fed and its Shadow: A Historical View


Charles M. Kahn, University of Illinois
Stephen Quinn, Texas Christian University
William Roberds, Federal Reserve Bank of Atlanta

Credit for Me But Not for Thee: The Effects of the Illinois Rate Cap
J. Brandon Bolen, Mississippi College
Gregory Elliehausen, Board of Governors of the Federal Reserve System
Thomas W. Miller, Mississippi State University

Public Sector Banks—A 'Secret Sauce'?: Understanding the Success of the State Bank of North Dakota
Robert S. Chirinko, University of Illinois at Chicago
4:30 p.m.
Adjourn