Adding value with accounting and analytics expertise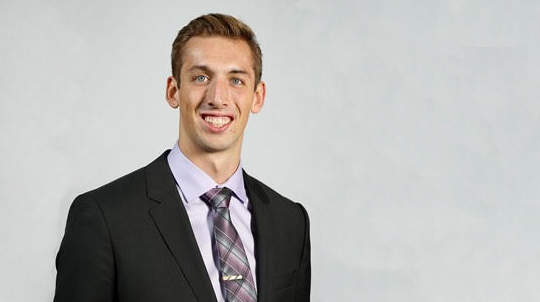 Degree: BBA '18, MS in Accountancy '19
Occupation: Accountant at CoinFlip
Richard Gevis (BBA '18, MSA '19) came to Loyola to play volleyball, winning the NCAA championship as part of the 2015 team, and discovered an education that enables him to add value to his company every day.
Today, he is an accountant, just like others in his family, but he is differentiating himself with hands-on business data analytics knowledge and skills.
Below, Gevis reflects on how his Quinlan experience helped shape his career.
Why Loyola?
My decision to attend Loyola has unequivocally been one of the best decisions of my life as the University set me up for success in my career. My main reason for choosing Loyola was because I was recruited to play on the men's volleyball team. I visited a few other schools but the differentiating factor for Loyola was the academics.
I majored in accounting with a minor in information systems during undergrad and then completed my MS in Accountancy degree along with a graduate certificate in data analytics. I grappled with the idea of applying to other schools for my fifth year, but ultimately decided to remain at Loyola because of the various relationships I built, along with the opportunity to delve deeper into data analytics with the certificate program.
Why accounting?
My dad and grandpa both made successful careers as accountants, so I guess you could say accounting is in my blood. Then after taking the first accounting course at Loyola I realized I really enjoyed it. As I continued though the business core classes at Loyola during my freshman and sophomore year, I realized accounting was my favorite and best subject, so I continued down the accounting path.
The accounting curriculum at Loyola is very strong and I was able to use the knowledge gained at Loyola to pass the CPA exams and be able to apply what I learned to the real world.
Why Business Data Analytics?
The opportunity to obtain the graduate certificate in data analytics while still working toward my MSA degree has been instrumental in my career so far. In the current business environment, data is everything. The ability to know how to work with data and analyze it with an accounting or business background is quickly becoming more than just a differentiator in interviews, but rather a requirement for success.
I began my career at Deloitte in the audit practice and this is where I first realized how beneficial the graduate certificate in data analytics program was to my career. By being able to work with the large data sets I was given, I was able to perform my job at a high level. Not only was I able to perform quality audits, but I was also given the opportunity to create presentations for my clients with novel observations about their business using my data analytics background. These data analytics skills have grown to be even more relevant in my day-to-day duties at CoinFlip.
What are you doing now?
In November of 2020, I was presented with an opportunity to help build and develop the accounting department at CoinFlip, currently the largest cryptocurrency ATM operator in the world. In my new position, data analytics has become a larger part of my day-to-day work. I consistently work with the data analytics group to analyze an abundance of data and ensure our financial reporting is complete and accurate.
Our small accounting department has more-or-less been tasked with standardizing our company's processes and with finding ways to turn the company from a start-up to a well-oiled machine. As accountants, we are in a position to understand all elements of the business as we see the financial impact of everything that is going on.
By having a strong accounting background in addition to the skills I learned in the data analytics certificate program, I can provide more value in the workplace. Quinlan's accounting and analytics curriculum provided me with a skillset that will enable me to achieve success as I move forward with my career.
Learn more