Alum Chris Benning is creating opportunity through healthcare analytics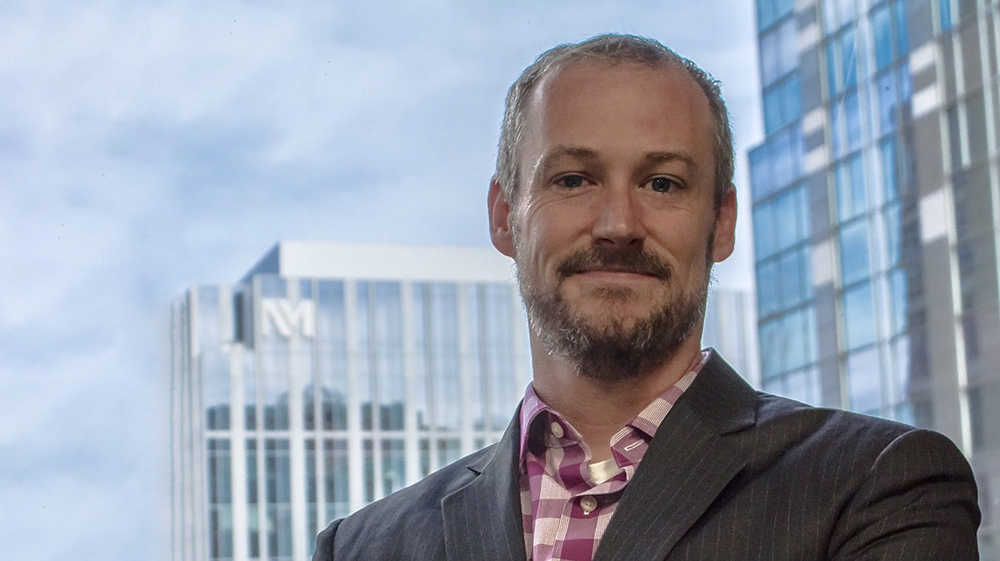 Degree: MBA in Healthcare Management '11
Occupation: Director of Analytics at Northwestern Medicine
"One of my favorite parts of my job is the joy of jumping into a detailed data set and being able to solve real problems," says Chris Benning (MBA '11).
He combines passions for data, analytics, and healthcare as the director of analytics for Northwestern Medicine. While developing and leading analytics as a new function for the heath system, Chris is also breaking down barriers in an effort to diversify the analytics industry through education and job opportunities.
Below, Chris shares his Quinlan experience and how he is creating meaningful change in the healthcare industry.
Why Quinlan and the MBA-HCM?
In 2008, I was working at the Shirley Ryan AbilityLab as a business analyst, and I knew I wanted to continue my career in healthcare. Most leaders on the business side of healthcare have MBAs, so I began looking at programs. One of my coworkers was starting the Healthcare Management MBA at Quinlan and encouraged me to apply.
I was drawn to Quinlan's unique program that focused specifically on healthcare. The healthcare-focused classes like risk and healthcare ethics were my favorites in the program. I was able to hear the perspectives of people in the healthcare industry and see a different side of the story than I saw in my business background.
What are you doing now?
In short, I try to improve the lives of patients using data to provide insights to key decision makers. As the director of analytics at Northwestern Medicine working on the clinical data my teams focus on service lines, such as cardiology and oncology, and population health, which is about value-based care contracts with insurance companies. We analyze medical data from our healthcare system and insurance claims to find more holistic ways to treat patients through preventative measures and other means.
How are you creating change?
Through the events of the summer of 2020 and the Black Lives Matter movement, my team took the opportunity to reflect on our hiring practices and find new ways to ensure our teams reflect the communities we work in. One of the ways we're doing this is by working on removing the requirement to have a bachelor's degree for entry-level positions because so much of what we do is really learned on the job.
We're currently working on an initiative to create training modules and work with the City Colleges of Chicago to train their students in data analytics. So, with the combination of analytics modules for the basics and on-the-job training, we can help create pathways into data analytics for people who don't have access to a bachelor's degree. Our goal is to close gaps in educational and career opportunities and increase diverse representation in STEM fields.
I'm also the vice chair of Northwestern Medicine's LGBTQ+ network. The network is a community of support with over 700 members and used as a way to create employee-led change. For example, we're currently doing a survey to determine what our focus areas should be, both internally for employees and externally for our patients, and looking for ways we can create a more equitable system for LGBTQ+ team members and patients.
What is a favorite Loyola memory?
My favorite part of the program was definitely the travel. At the end of the program, the group travelled to England and Germany to learn about other healthcare systems. By that point in the program, I had built friendships and relationships with my classmates, so being able to go abroad with them and celebrate how far we'd come was special.
Any advice for students?
If you have a passion for healthcare, keep pushing it forward. Healthcare can be an industry where things move slowly or don't feel like they're moving at all. But if you have a passion for improving the lives of others, improving quality, and focusing on patients, keep pushing those things forward. We need passionate people who are focused on the mission of healthcare to continue to challenge the industry to be better.
Learn more