Alumna leads the way in green education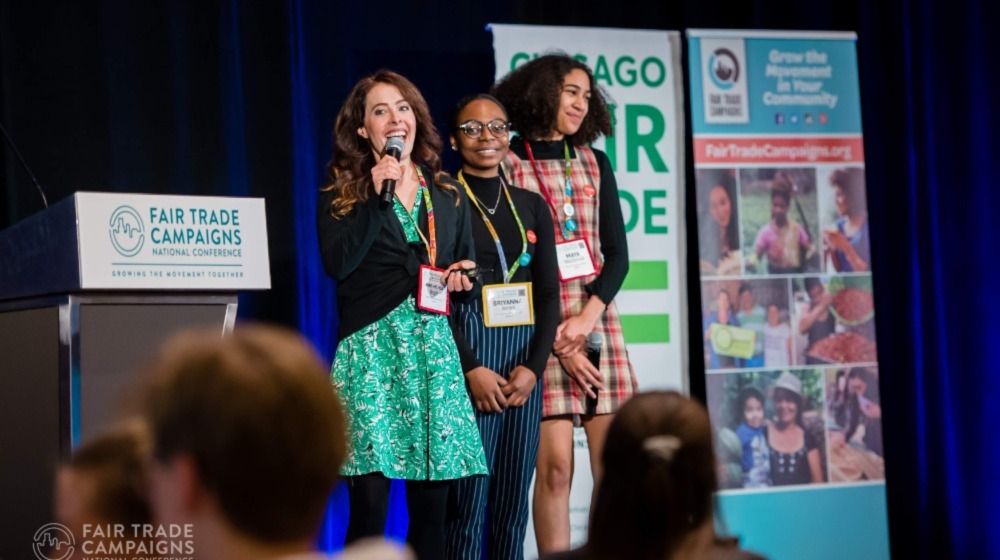 Anne-Michele Boyle graduated from the Quinlan School of Business in 2001 with a strong marketing education and impressive internships under her belt. But after starting a business career, she felt called to teach in Chicago Public Schools, and subsequently created the first course in the school district to explore world issues through the lens of the United Nations Sustainable Development Goals. She also is an award-winning sponsor of her school's fair trade club.
Below, Boyle discusses her professional journey and how she combines teaching, business, and her passion for sustainability.
Tell me about your journey to Loyola.
I only looked at Big Ten colleges when I was in high school and attended the University of Iowa for my freshman year. While I was thriving academically, it was not the place for me. I missed the hustle and bustle of city life, and I knew I could be learning a lot more with smaller class sizes.
I signed up for a Summer Session class at Loyola and I immediately fell in love with the breathtaking Lake Shore Campus, the action of the Water Tower Campus, the small class sizes, and the Jesuit focus. I transferred to Loyola the summer after my freshman year. A lot of what I learned in those classes is echoed today in my teaching and the course I created and now teach.
Tell me about your Quinlan experience.
My experience was amazing! All my professors loved their fields and were so passionate about teaching. I haven't seen Professor McGrath since 2000 but I can still picture her showing so much passion for her class and the engaging assignments in her consumer marketing class.
I also really appreciated Business Career Services, which helped me with my resume, interviews, and internships. I frequented the career center, and I got a lot of great advice which allowed me to get a great public relations internship my sophomore year and a paid internship at the Chicago Tribune the following year, which is where I began my career as a marketing analyst once I graduated from Quinlan. The full-time position was posted as requiring an MBA, but because I had proven myself during the internship during my undergrad that the career center helped me with, I was accepted.
Why teaching?
After the Chicago Tribune, I moved towards selling and advertising, and while I enjoyed it, I realized I was being called to teach. I started working at Whitney M. Young Magnet High School in 2006 and have loved it ever since.
What is a key accomplishment as a teacher?
This is my 17th year at Whitney M. Young Magnet High School where I teach both AP World History and a sustainable development course that I developed called Global Citizenship, Local Citizenship. The course is service-oriented and explores world issues through the lens of the United Nations Sustainable Development Goals. It challenges students to embrace their roles as global citizens by delving into topics such as global hunger, poverty, health, equity, climate change, sustainability, and more.
Within the fair labor ethical consumption section of the course, we explore what it means to be an ethical business and how certifications that reward transparency and sustainability are leading the way in how businesses can embrace sustainable development.
What motivated you to develop a new course?
I've always been interested in the world. There was no course like the one I created at Whitney Young or even in Chicago Public Schools, so I spent over a year developing, pushing, and promoting it. Eventually, CPS agreed to the course, and while it is a course at Whitney Young, any Chicago public school can offer the course if they want.
Tell me about your school's fair trade club.
Our fair trade club is very active and has been since it began in 2018. The club was born the day that Katherine Bissell Cordova from Chicago Fair Trade helped me bring Nasreen Sheikh to speak with my students about her lived experience as a child sweatshop worker in Nepal.
My students at the time immediately following this presentation, asked me to sponsor a fair trade club, and thus it was born! My students and I have been volunteering and working with Chicago Fair Trade since 2018. We have a fair trade coffee shop, plan several fair trade events including a school-wide clothing swap, and do numerous field trips.
Because of our work, Whitney Young became the first public high school in Illinois to be recognized by Fair Trade Campaigns, which is the campus and community campaign supported by Fair Trade USA, Fairtrade America, Fair Trade Federation, and Fair for Life. Also, I won the 2019 GlobalFest Changemaker award for my work with the fair trade club, which was an amazing experience.
How does a business degree help your teaching?
Lots of ways! I was initially hired to teach business, and originally, I did teach intro to business. My Quinlan marketing courses hammered home key marketing points which helped me engage my students such as knowing your audience when delivering your product or service, which is crucial to being an effective teacher.
One of the reasons that the Global Citizenship course I developed is so popular is that I bring in expert guest speakers for each unit. Business students are taught the importance of networking and learning from others. I relay this to my students. About 40% of my speakers come from networking, which is a pivotal marketing skill that I use to this day and has proven effective.
Tell me about your other Loyola ties.
Right before I began teaching, my husband Shay Boyle and I moved back to Lake Shore Campus because my husband was the assistant coach of the men's basketball team! While he was there, he started the Loyola student section, which was called the "Rambler Rowdies" back then! We frequent the games and cheer on the Ramblers every year.
Also, Loyola School of Law instructor and former Loyola Vice Chancellor Rev. John F. Costello, S.J., baptized our three kids!
Describe Quinlan in 10 words.
Quinlan is a transformational education rooted in curiosity, ethics, and innovation.
Learn more