Alumni and clients bring real-world connections to marketing research course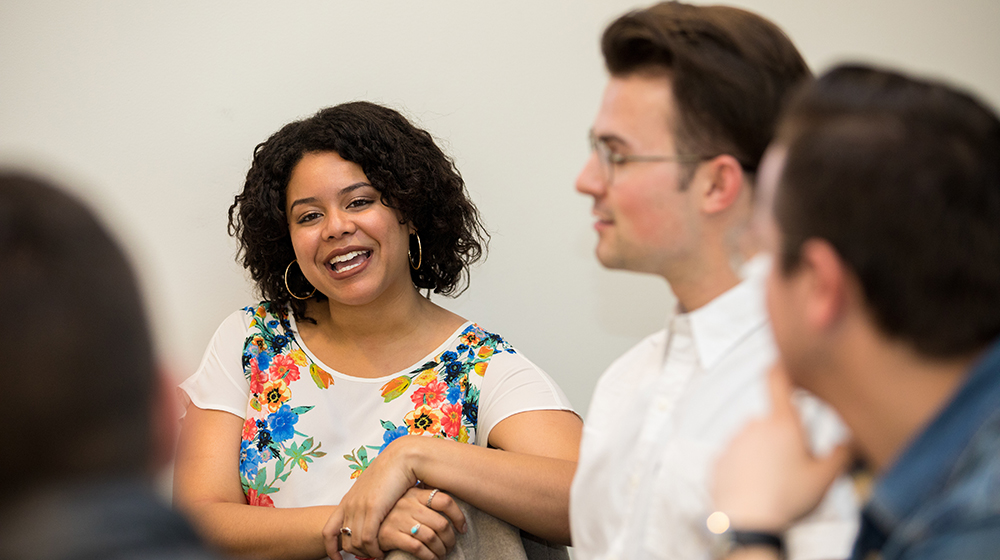 By Monica Sather | Student reporter
To celebrate ten years of teaching Quinlan's marketing research course, Stacy Neier Beran, PhD, decided to throw a party. But it wasn't a typical party. Her "party" invited her network of Quinlan alumni into her Marketing Research course to connect with students as the students worked on client projects.
Beran's marketing research course integrates clients into the classroom to give students hands-on experience with real-world research challenges and to provide insights to the client organizations. Course clients have included Hoy, BMO Harris and the Magnificent Mile Association, Epic Burger, the Loyola athletics program, and 25 other Chicago clients.
But in fall 2017, Beran introduced Quinlan alumni into the equation.
All-star alumni
Over the course of the 2017-18 academic year, 38 of Beran's former students—who she affectionately calls her "all-star alumni"—answered her "party" invitation. These alumni are actively engaged and thriving within the marketing research industry across the U.S.
"I wanted our students to see who they may become in this industry," says Beran. "A Loyola education is not as much about what you do in the classroom; it is about what you do outside of a classroom, beyond graduation. It is about the person you become."
Building the team
The alumni served as another resource for the students: they coached, guided, and challenged the students to approach their work in different ways.
The students communicated with alumni—who live in three different U.S. time zones—solely through Slack, a team collaboration and communication tool, during class sessions. Alumni answered student questions in the classroom in real-time.
"The alumni not only gave my team valuable feedback related to our marketing research class project, but were also more than willing to answer any questions we had," says Nicole LoDuca, BBA '18. "They helped me better understand the industry and its potential career paths."
Beran sees the alumni as her colleagues and co-hosts of the party, co-educating the marketing research industry's future all-stars.
"Combining my Loyola education and work experience, I am able to help the students bring real-world solutions to the classroom," says Sara Schaeffer, BBA '14, one of Beran's All-Star Alumni and a quantitative researcher at Grubhub. "It makes me extremely proud to be a part of the Loyola community and to be able to give back to current students."
Celebrating milestones
Beran plans to continue the project and incorporate more alumni into the experience after she conducts a research project of her own, collecting data on what did and did not work for the students and alumni.
"Seeing the careers that the alumni from this class now have achieved in such a short amount of time is profound and remarkable," says Beran. "They have passed through so many milestones I never could have dreamed for them when they were sitting in the classroom. This proves the extraordinary lives that our students are preparing to live. It is something to celebrate."