An incredible basketball run, fueled by sports analytics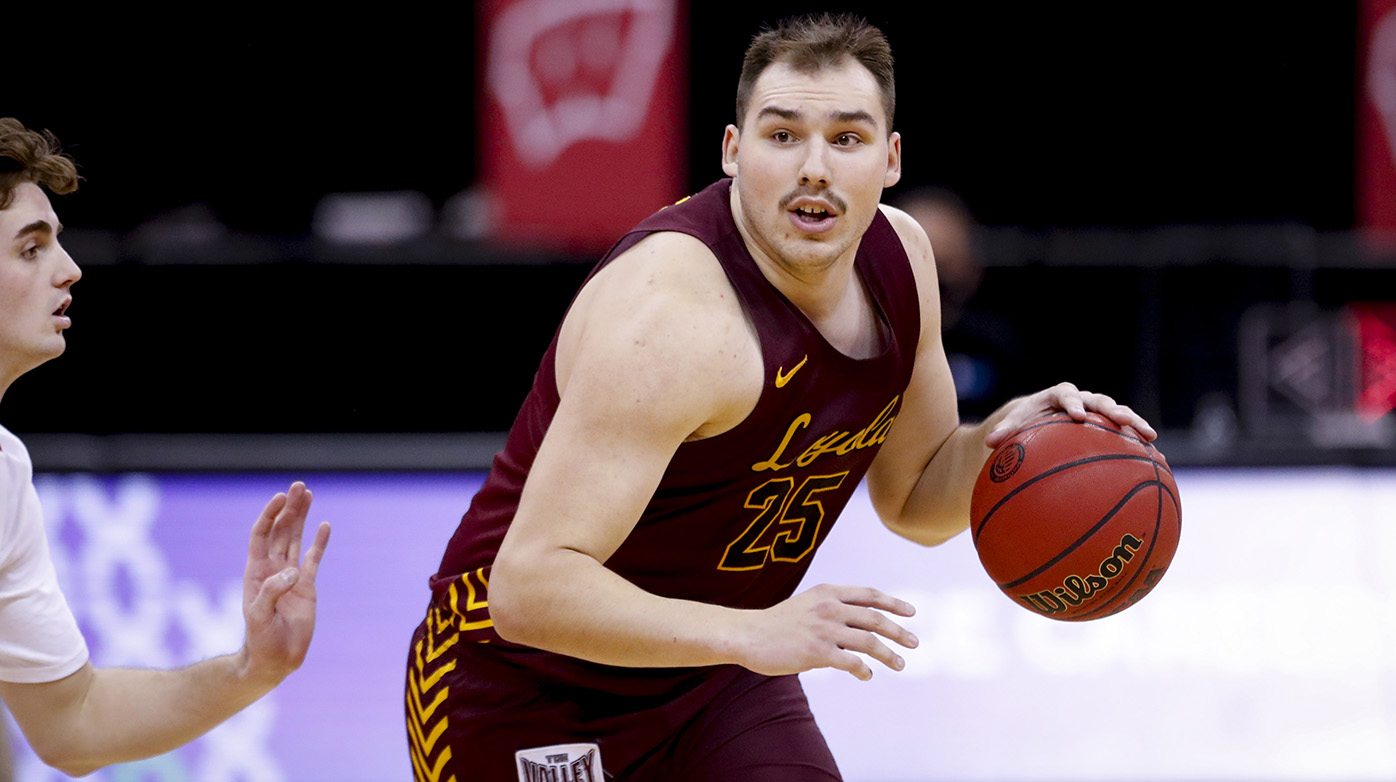 "We continue to play hard-nosed, smart basketball, and we continue to have hard-working, smart students on the men's basketball team," said Dean Kevin Stevens during his remarks at this year's Quinlan Alumni Men's Basketball event.
For this year's version of the signature Dean's Alumni Series event, alumni were given access to an exclusive conversation on sports analytics before the Ramblers took on Southern Illinois University on February 26, 2021.
Quinlan's Rick Sindt, associate director of alumni relations and special events, spoke with Zach Binkley, clinical lecturer of sports management, and two members of the Loyola men's basketball coaching staff: Clayton Custer (BBA '18, MBA '19), director of player development, and Patrick Wallace, men's basketball video coordinator. Together, they explored applications of sports analytics and how the team is using analytics to improve player performance.
Key takeaways
Below are four key takeaways from the conversation.
Five categories of data
According to Binkley, a player's health needs to be the first priority.
"I always take a holistic approach to working with athletes, trying to take care of their mental and their physical health first," said Binkley. "If those two things aren't in check then the rest of the data, regardless of points per game, doesn't really matter."
Binkley identified five main categories of sports data:
Health and medical: Measuring basic health and medical data is the first step before anything else and must be done in tandem with the athletic training department.
Performance health and nutrition: Things like sleep quality and nutrition impact overall player performance. If an athlete is not getting enough sleep, they won't be able to perform at the level they're capable.
Old school performance: Traditional stats, such as points per game, assists, and rebounds, have value as measurement tools and are easily communicable to players, coaches, and the wider public.
Advanced metrics: Beyond traditional stats, analytics can be applied using platforms like Synergy to to pull in match-up data and look at tendencies of opponents.
Internet of Things: As new technology develops, there are possibilities to put sensors into sporting equipment such as shot trackers, smart basketballs, and wearable tech.
Choosing what data to track
Just because we can track a data point, doesn't mean we should.
"We do have an issue where we over-collect data…that we aren't going to use, and it kind of clouds up our judgement, or makes our decision-making process a little muddier," said Binkley.
He suggested that sports analytics personnel work with coaches, athletic directors, and other decision-makers to identify what data points add value to their decision-making process.
"Some leaders, some decision-makers, rely on more data than others," said Binkley. "Some want to trust their gut. Some might only use analytics and data to back up their gut instinct."
He continues, "Every team is going to use data differently because their value systems differ and they might not be collecting data on something, because they don't want to use it in their decision-making process or two, they don't know how to use it."
Stats don't tell the whole story
Raw statistics don't carry the context and information necessary to make decisions, pointed out Binkley.
"There's no context to it. When we add analytics over that, when we start making sense of that stat, then we can start to act on it," said Binkley. "And that's where some teams adjust better than others. Some coaching staffs, some decision-makers, will adapt quicker than that. They'll look beyond just that stat and think about why is that stat showing up."
Patrick Wallace, men's basketball video coordinator, understands the importance of looking beyond the statistics to make decisions.
"The biggest thing with the numbers is you don't want it to make your decision for you, but you want it to help you make an educated guess of what you should be doing," said Wallace.
Clayton Custer added, "We're making decisions based on the analytics. Obviously, there's still a lot of the 'eye test' and us making decisions based off what we think about the players, not just the numbers."
Applying analytics to the Ramblers
The men's basketball team uses data analytics to better inform coaching decisions and game strategy in the lead up to every game.
"It's important because it gives you a competitive advantage," said Wallace. "Seeing those numbers, taking the time to learn the numbers, but let it guide you."
There are limits to what analytics can do, of course. Mid-game adjustments when players are hot or cold are important decisions even if it goes against what the analytics would otherwise suggest.
"We had a case in one of our games this season where a guy's analytics was kind of defied in the game because he hit a couple off-the-dribble shots when we were giving that up," said Wallace. "And when he hit them, you have to consider an adjustment despite the numbers because it could potentially win or lose you the game."
Wallace and Custer use analytics to help Coach Porter Moser make educated decisions.
"We sift through all of the numbers and we give [Coach Moser] something that he can look at," said Custer. "We want to make it easy for him to make decisions, right? Because he has a lot of decisions on his plate every game."
An exciting season
Due to the COVID-19 pandemic, this year's season has had its share of challenges, from not being able to host fans at Gentile Arena to last-minute schedule changes.
"The part about it that is the worst is that we can't fill up Gentile Arena every week," said Custer. "The passion that our fanbase has is big time and that's the part that we miss the most about it."
Despite the season's challenges, Custer and Wallace are excited about the team's momentum and how far the team has come.
"We've gotten our program to the point where we expect to win any game that we show up to, and I think that's a sign of a good program," said Custer.
Heading into the final weekend of regular conference play, the team is taking the season one game at a time with their eyes on another NCAA tournament appearance.
"We always talk about our process and this not being the destination, right?" said Wallace. "It's a continual process and that's kind of what Coach Moser is building. We're still hungry for more."
Back to the Big Dance
The Ramblers returned to the NCAA tournament in March 2021 with another exciting run. The team had a rousing win over University of Illinois in the second round before losing to Oregon State in the Sweet Sixteen.
Live Analysis
Zach Binkley and his sport analytics class took over Quinlan's Twitter feed during the Ramblers' game against Southern Illinois, and Binkley continued the takeover in Round 2 of March Madness. See their takeovers:
Learn more