Baumhart Center's transformational moment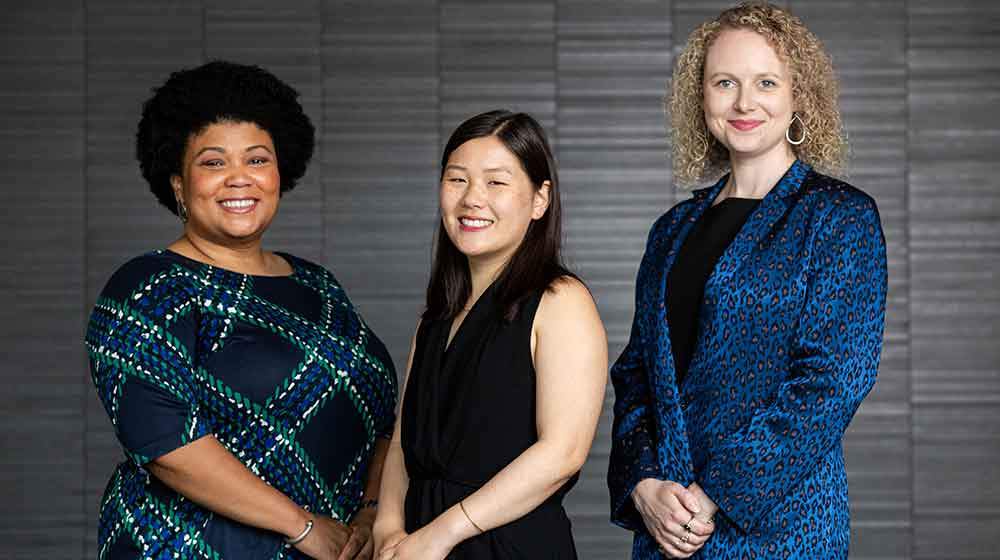 Over the last four years, the Baumhart Center for Social Enterprise and Responsibility has grown in leaps and bounds and earned national prominence in the social impact field.
The center is now in a transformational moment. It said a bittersweet goodbye to its founding director, Seth Green, and began preparing for a national search for a new director. It also welcomed two new staff members: Ella McCann, external relations and strategic partnerships manager, and Erin Lippert, program coordinator.
Interim director Emily Nordquist has been an active member of the Baumhart Center community for more than five years, including serving as the center's senior program manager since 2019. Below, she discusses the future of the Baumhart Center and the power of its mission and reach.
What is the center's future?
During the pandemic, people across the globe had a powerful moment to reflect on society's most pressing challenges from racial justice to climate change. This time also demonstrated the power that each of us holds to re-evaluate and re-imagine a different future as members of society, as community members, and even as employees.
These opportunities for reflection and change are where the Baumhart Center has lived in since its founding and where we will continue to lean in. At the center, we have the opportunity to set new standards for the most trusted institution in our society, which today is business. We get to do that by reimagining what business education can look like, who we design business education for, and ultimately how business schools can engage in impact and effectively prepare leaders for the future.
The Baumhart Center is committed to moving the needle on society's most pressing challenges through the power of business, and I could not be more thrilled about our plans for the year ahead.
What is planned for the next year?
It will be a busy year! We have the joy of welcoming our third class to the Baumhart Scholars MBA this fall and continuing to build on the successful program, which has grown three times larger in three years. In partnership with Loyola's new Institute for Racial Justice, we are welcoming our second cohort of Leading for DEI and launching the new DEI Leadership Lab. The lab will bring anti-racism and racial justice research to practice in the corporate sector.
We will continue our executive and leadership programming through our Purposeful Careers Initiative, Fundraising for Good, Impact Leader Series, and the Responsible Business Leaders Program. Our goal is to help leaders expand their tool kits and maximize their social impact.
The Baumhart Center will also continue to celebrate and amplify the work of companies that are truly leading with a sense of higher purpose through our Innovator Awards and other efforts. And we are launching the Abrams Sustainable Business Challenge with Loyola's School of Environmental Sustainability. The challenge will enable Loyola students to envision, plan, launch, and scale ventures that positively impact the environment.
Tell me about Baumhart's network effect.
Our power is truly in the network effect – that is, being at the intersections of many social impact conversations. Institutions and conversations don't stand still, and we are continuing to expand our partnerships and community while we search for a new director for the center.
Looking forward, we're exploring how best to scale our impact in Chicago and nationwide through cross-sector collaborations. I am thrilled to help grow the Baumhart Center's reach and thought leadership.
Search for a new director
The next director for the Baumhart Center will be selected through a national search. Sign up for the Baumhart Center newsletter for the latest center news, including when the search will formally begin accepting candidates.
Learn more