Building a new future through LoyolaLinked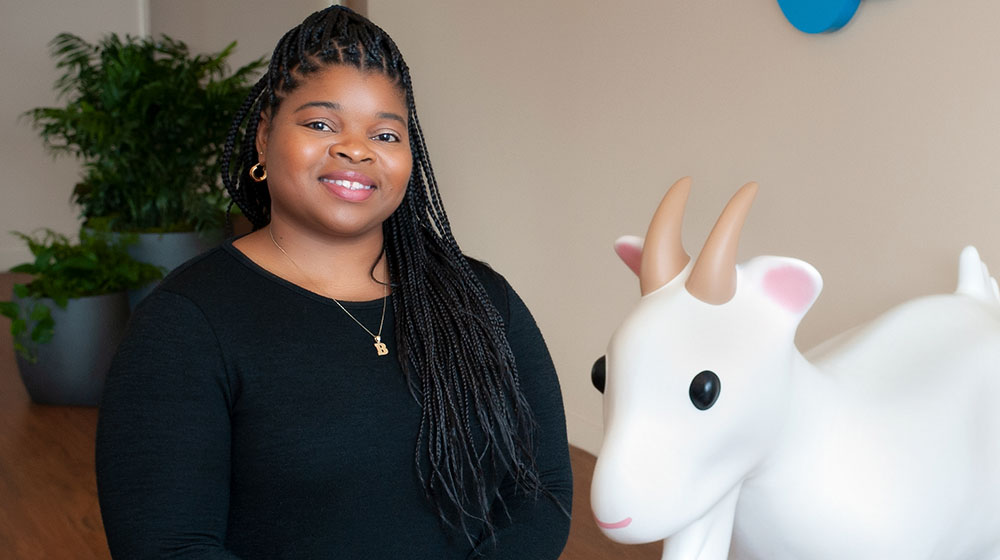 Former Loyola women's basketball player Brittney Marshall (BASC '09, MSM '22) is using the Quinlan alumni network to transform her career trajectory. After spending a decade as a division one NCAA basketball coach, Marshall returned to Loyola to pursue a master's in marketing.
Along the way, she gained a new teammate who would guide her to a new career in technology. They connected on Quinlan's mentoring and networking platform, which is called LoyolaLinked.
"Initially, I wanted to learn more about the tech industry," Marshall said. "Reaching out to people and networking is already tough and so most people are trying to find the common denominator."
With LoyolaLinked, that common denominator is already known. Marshall says being able to connect directly with fellow Quinlan alumni makes the networking process less daunting.
"You both are Ramblers, you've gone through the rigor of Loyola, you know what it means to do good for others, and then there is a want to really reach and exceed goals. That's the makeup of Ramblers," Marshall said.
Building new connections
She was looking for a new perspective when she reached out through LoyolaLinked to fellow Loyola alum Matt Brooks (BBA '06, MBA '07), who was working at IBM. Brooks was eager to help Marshall after she expressed her ambitions.
"She said, 'I would like to pivot coming out of this degree program. I'd like to get into this degree program adjacent to what you're doing, can you help me?' And I said, 'Amen, absolutely,'" Brooks said.
As they began to work together, their focus was more than just aiding in career advancement. Marhall and Brooks were building a connection.
"I got to meet somebody who I probably walked by on campus," Brooks said. "I got to meet somebody who I could have easily been friends with years ago. It's a unique way to make connections now."
That connection paid off beyond a mentorship for Marshall too. With Brooks' networking and her new marketing degree in hand, Marshall joined the Salesforce team as a project account manager.
Making the system work
Marshall and Brooks believe wholeheartedly in the LoyolaLinked network and its ability to connect Ramblers. The colleagues say it works when you focus on building relationships.
"Understanding how people operate but also understanding people's journeys and getting a point of view from them is important," Marshall said. "Go in with a purpose but understand who you are as well. Be willing to show who you are as an individual and be focused on building that connection rather than just getting something from somebody."
Bringing a gameplan to your meetings is another key factor, according to Brooks. He says knowing where you want your life to end up will help you find the right mentor.
"State your objective, be super clear, put your cards on the table," Brooks said. "Have a desired outcome, because that helps find the right match quicker. Anybody who has opted into the system wants to help, but not everybody will be the perfect fit."
Brooks believes that mindset helps from the student's perspective too.
"You need to have done the pre-work to narrow down your options because coming and saying you're open to everything.It's hard for somebody to help in those situations," Marshall said.
Learn more