Professor helps organize Vietnamese conference on marketing and sustainability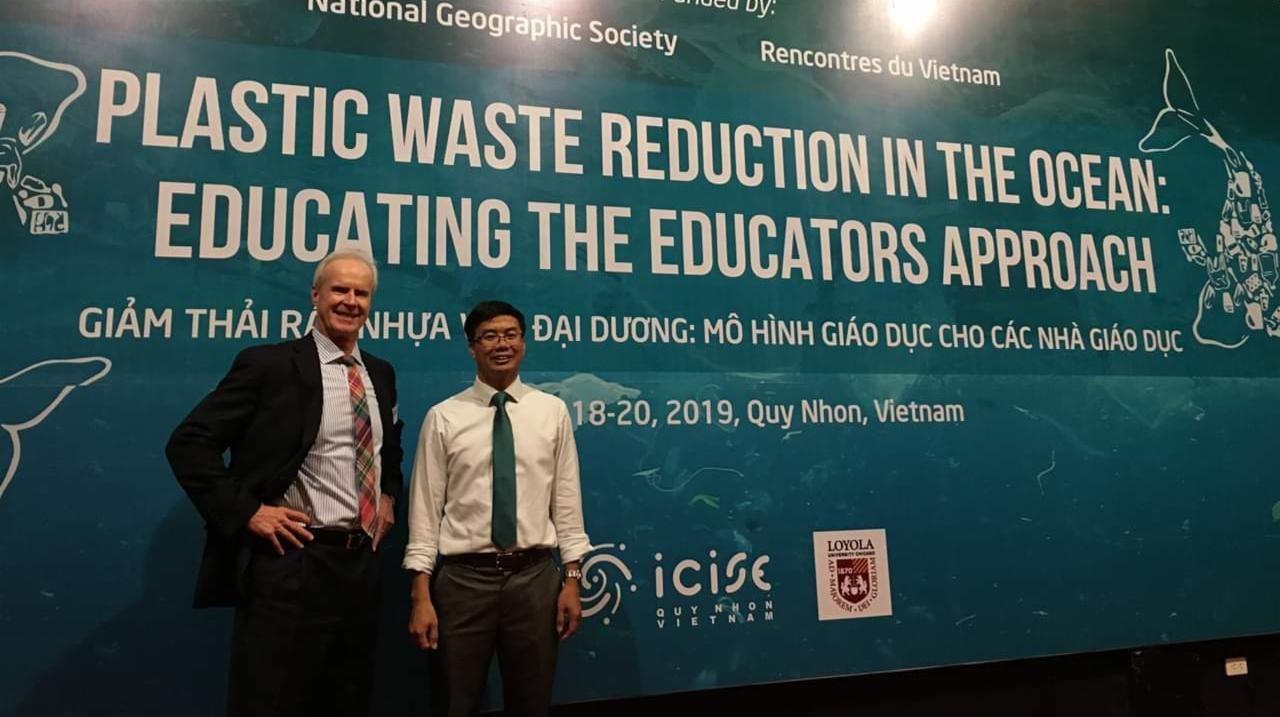 Where do marketing and plastic waste clean-up intersect? According to Professor Cliff Shultz, it's a place of responsibility and opportunity.
"There is no plastic waste without plastic and marketing," says Shultz. "Marketing was instrumental in designing the product, pricing the product, communicating to the market, and distributing the product.
"Where we've fallen short is the reuse and disposal of the product; its replacement with more sustainable alternatives. As marketing is part of the plastics-pollution problem, marketers must be part of the solution."
To help drive that conversation, Shultz and Professor Tham Hoang from Loyola's School of Environmental Sustainability joined forces with other scholars, NGOs, teachers, and the Vietnamese government to organize a conference, "Plastic Waste Reduction in the Ocean: Educating the Educators Approach." That event, held in Quy Nhon, Vietnam, is now spurring an international push for innovative ways to reduce plastics waste.
Reducing plastics waste in Vietnam
According to Shultz, Vietnam is key to reducing and cleaning up global plastics waste. Half of ocean plastics is estimated to come from Asia. Vietnamese fishermen report finding one fish to three plastics while fishing.
"Vietnam is a place to make a leap forward in how to deal with plastics pollution, and Vietnamese are very keen to be leaders in this endeavor" says Shultz.
At the conference, Shultz discussed the ways marketers can collaborate with environmentalists, educators, governments, NGOs, multinational corporations, and entrepreneurs to create a sustainable future. Afterward, as word spread across the Internet, colleagues around the world began expressing interest.
"Colleagues from Croatia, Italy, Spain, Indonesia, and Finland said we should do one of these conferences in their countries," says Shultz. "There's clear interest in understanding the plastics pollution problem and hunger for a team of experts to provide tools to resolve the problem."
How you can help
Shultz offers the following tips for helping address plastic waste:
Live the mantra: We can all "live life every day with the mantra 'refuse, replace, reuse, recycle' every time we are confronted with plastic."
Create market pressure: "As consumers, we can create market pressure," says Shultz. "We can suggest to retailers and other companies not to use plastics or to use plastics more sustainably. Let them know that if they don't reduce plastics pollution, you'll be shopping elsewhere and switching brands."
Engage with legislators: "At a larger civic level, we need to organize and demand change," he says. "Governments can create incentives for companies to use environmentally friendly materials, for example. We need to give consumers the opportunity to purchase and consume sustainably, in a more circular economy."
However we choose to create solutions for this problem, we must act now.
"This is a very serious problem. It may even pose an existential threat to our species," says Shultz.
"I challenge our Loyola community to act in ways consistent with our unique mission, who we are, what we stand for, the impressive Jesuit network, and our encouragement to work across disciplines. I'm quite excited about the change we could make in the world."
Shultz's presentation at Q Talks: Live!
Shultz gave a version of his Vietnam conference presentation at Q Talks: Live! in October 2019. Watch his talk "Marketing and Our Obligations to the Commons":
Learn more
About Professor Cliff Shultz →