Combining entrepreneurial spirit and Jesuit values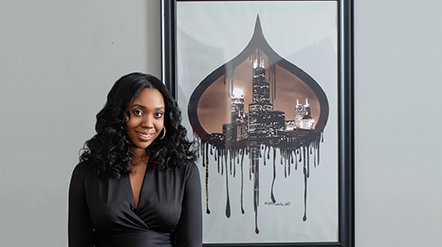 Degree: MBA '21
Occupation: Entrepreneur and Founder/CEO at House of Logic, Inc.
"Quinlan School of Business has always represented a beacon of hope and aspiration in my life," says Nikiya Price (MBA '21).
Born and raised in Chicago, Price always knew she wanted to earn her MBA from Quinlan School of Business. After starting her own successful creative and animation agency, she felt it was time to return to school and take her business to the next level.
Below, Nikiya shares her experience in the Next Gen MBA program and how she is investing in her communities.
Why the Next Gen MBA?
I'm looking to grow my business and grow as a person, and this program helps me to do both. This is more than an MBA program or graduate program. Quinlan is here for the whole person and to cultivate the leader is us all.
It provides the analytical skillsets I need to delve into data and apply business language to my business. On the personal side, I earned my undergraduate degree at Regis University, and I love Jesuit education and values. I want to be a business leader grounded in Jesuit values.
I knew that there was no other graduate school I would have chosen other than Quinlan. I knew that it would be here where I would invest in the future for my family and businesses. I'm grateful to able to live through this time in history as a Quinlan MBA student.
How will the MBA help your career?
I am an ambitious entrepreneur in the fields of tech and animation entertainment. I am the co-founder and CEO at House of Logic, Inc., which is a hybrid creative agency and animation studio specializing in comic books, licensing, media design, digital innovation, and entertainment production. I want to create solutions for the greater community through my company.
My MBA will play a great role in my ability to strategically grow and navigate my ventures. The world-class lessons and thought leaders I'm being exposed to and learning from are invaluable. I'm being provided with the tools and in-depth understandings and analytical methods that are necessary for my personal future successes with my companies and greater community projects. It's been especially useful in my role as an evolving business leader.
Key takeaways from the MBA?
I've already seen the impacts of the MBA program in my business even within my first few quarters. This program continues to empower me to be a part of the solution for future generations in regard to business, innovation, economics, global policy, and leadership.
The program has kept me fully engaged and is providing me with a variety of in-depth experiences both within and outside of the lectures. It has allowed me to look at both the interpersonal side and the big picture of business challenges in order to make the right decisions for my company and the people I work with.
Tell me about your student activities.
I'm enjoying being able to participate in the greater Loyola and Chicago community as co-chair for the annual Black Lives Matter Conference at Loyola hosted by Graduate, Professional, & Adult Student Life and co-sponsored by Loyola's new Institute for Racial Justice.
I can see how fast the University is responding during such uncertainty and unprecedented times to glaring social and racial issues. It's because of the way Jesuit education reasons and actively responds that I stand with this institution. I am proud to be continuing my education under the Jesuit values.
Any advice for prospective students?
My best advice would be to get involved even as a graduate student. The experience is invaluable. Jump in and make the effort to find communities to get involved in while you're here. I'm thankful to be able to make an impact during these times and intentionally work towards personal progress and progress for the greater good of humanity.
Learn more