Congratulations, Class of 2020!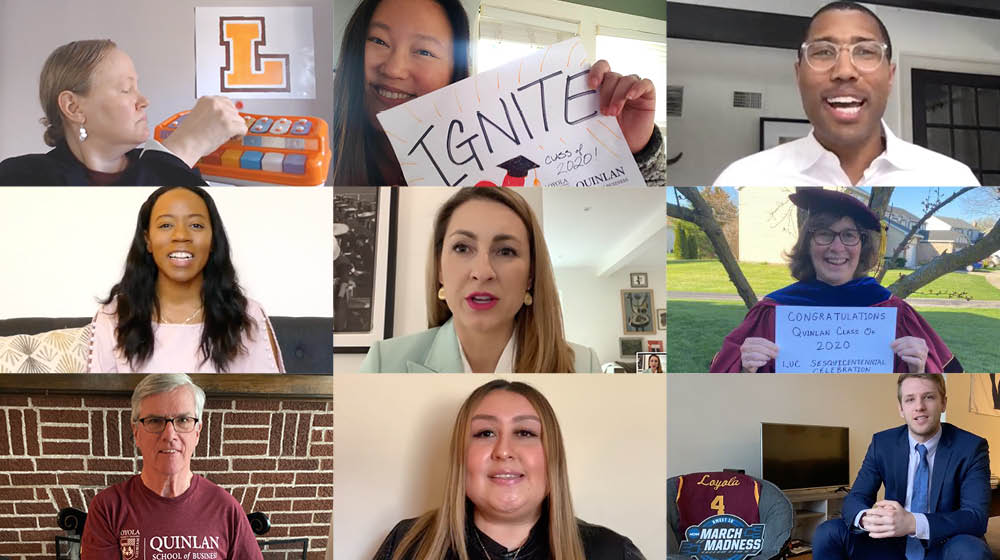 Congratulations to the 840 members of Quinlan's Class of 2020!
Even now, there is much to celebrate. Scroll down for our Class of 2020 Digital Send-off in May 2020, featuring messages from Dean Kevin Stevens, faculty, staff, students, and alumni.
A message from Dean Stevens
In May, Dean Kevin Stevens sent a special message from home: "Quinlan graduates are dedicated to a more just, humane, and sustainable world. Has there ever been a time when those skills are more in demand? Your leadership skills will be exactly what the world needs."
Watch his message:
Congrats from Quinlan faculty and staff
Flip through messages of congratulations below or on Flickr:
Warm welcome from alumni
Quinlan alumni welcome the Class of 2020 and offer advice.
Watch student send-offs
Members of the Class of 2020 recorded brief reflections to celebrate and inspire their classmates. Watch the send-offs →
Undergraduate students
Brooke Landrum (BBA '20)
Loyola transforms students into bolder, smarter, more empowered, and less boring people, says Brooke Landrum.
Maria Pimentel (BBA '20)
Overcoming a cancer diagnosis helped Maria Pimentel find her mission in life and learn to keep fighting.
Bruno Skokna (BBA '19)
Bruno Skokna reflects on playing for the men's basketball team during its historic Final Four run and his mentor, the late Bob Parkinson.
Christopher Trinkus (BBA '20)
Measure success by how you help others, just like Michael Quinlan, the namesake of the Quinlan School of Business, did, says Christopher Trinkus.
Graduate students
Gabrielle Hanke (JD '20, MBA '20)
Gabrielle Hanke challenges her peers to live the Jesuit values, especially radical generosity, as they are more important now than ever.
Jennifer Mulligan (MBA '20)
Jennifer Mulligan reflects on the experience of being part of the Loyola community, and thanks the friends and family that got this year's class to where they are.
Libby O'Donoghue (EMBA '20)
This spring's "corona capstone" proves that Loyola students are agile, flexible, and can succeed at anything life throws at them, says Libby O'Donoghue.
Jenā Thomas (MBA '20, MSHR '20)
There is no box for the Class of 2020, says Jenā Thomas. It is truly prepared to take on life's challenges.
Congratulations, Class of 2020!
As St. Ignatius of Loyola said, "Go forth, and set the world on fire."
Learn more