Experience Q Talks: Live! Spring 2022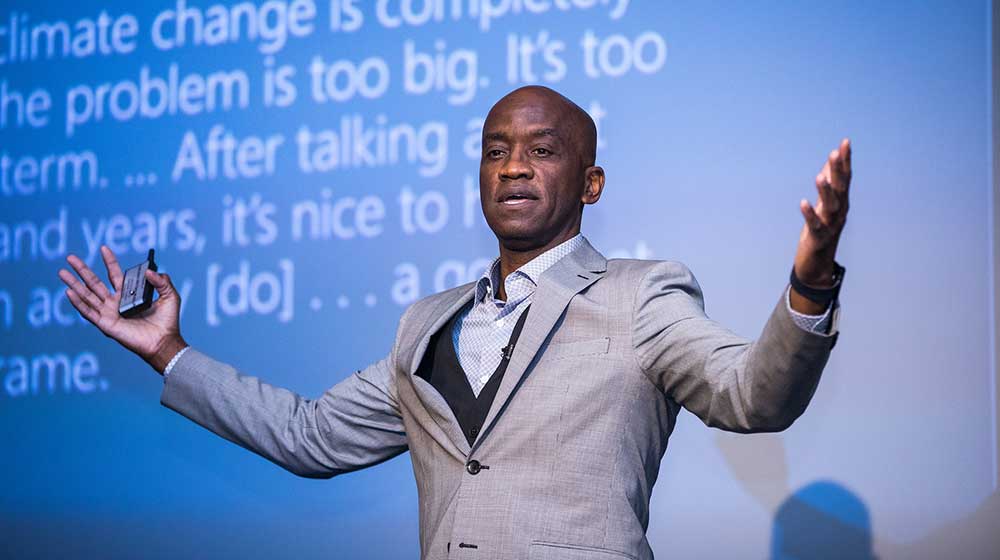 Two Quinlan professors and an alumna gave inspiring 15-minute talks at the May 2022 installment of Q Talks: Live!, a semiannual event featuring unique insights and ideas.
The Quinlan community gathered at the Chicago History Museum for the event, which was moderated by Interim Dean Maciek Nowak. The presentations were:
Melissa Ballate (BBA '01, MBA '03), President, Blue Daring
At the Heart of Change
Cedric Dawkins, Associate Professor of Management
Failing Forward: Navigating the Divestment-Engagement Paradox
Joel Han, Assistant Professor of Economics
New Perspectives on Neighborhood Disparities
Experience the event through video, photos, and social media below.
Watch the presentations
Melissa Ballate
At the Heart of Change
Melissa Ballate discussed how the pressure to evolve and change is as constant for business leaders as the innovation that's driving it. Reflecting on almost two decades as a business owner, Melissa offered insights into how to balance and respond to the need to stay relevant while never wavering on the fundamental principles that help you stand the test of time.
Cedric Dawkins
Failing Forward: Navigating the Divestment-Engagement Paradox
Professor Cedric Dawkins examined the question of whether conscientious investors who want to have a favorable impact, particularly regarding fossil fuels and climate change, should divest or engage in the corporate relationship. Dawkins argued that this is not a simple either-or approach and explored the nuance and sensitivities of when and how to leave in order to influence corporate behavior for the better.
Joel Han
New Perspectives on Neighborhood Disparities
Professor Joel Han explored the current picture of location-based disparities in the U.S., with a focus on Chicago. Disadvantaged groups see a very different side of the city compared to those who are better-off in terms of lived experiences: who they meet, where they go, and what environments they are exposed to.
Event photos
View photos from Q Talks: Live! in the gallery below or in Quinlan's Flickr album.
Social media
See below what the Quinlan School of Business was posting during the event. You can also view it on Wakelet.
Learn more